Von Joffre Castilla Breininger
Eine Änderung der Verordnung zur Garantie von Gehältern ist im Oktober 2014 in der Sonderwirtschaftszone Shenzhen in Kraft getreten. Die Neuerung zur ursprünglichen Verordnung aus dem Jahre 1997 besagt unter anderem, dass ein Arbeitnehmer, dem ein "beträchtlicher Teil" seines Gehalts nicht ausgezahlt wurde, das Unternehmen dem Shenzhen Bonitätsprüfungssystem für Betriebe und Einzelpersonen melden kann. 
Jedes Unternehmen muss jährlich einen Betrag von RMB 400 im ersten Quartal des Fiskaljahres in einen Arbeitnehmerschutzfonds des städtischen Arbeits- und Sozialversicherungsamts zahlen. Falls dieser Betrag nicht innerhalb der vom Amt festgesetzten Frist beglichen wird, muss der Betrieb eine Strafe von RMB 2000 zahlen.
Im Fall, dass ein Unternehmen einem oder mehreren Angestellten eine "beträchtlichen" Summe des zustehenden Gehalts nicht zahlt, haben Angestellte von nun an das Recht, dies der lokalen Arbeitsverwaltungsbehörde mitzuteilen. Sollte das Unternehmen sich außerhalb Shenzhens befinden, müssen die Angestellten den Bericht an die entsprechenden Behörden des Ortes leiten, in dem das Unternehmen registriert ist. Dem Arbeitnehmer kann möglicherweise ein Vorschuss des unrechtmäßig einbehaltenen Gehaltes gewährleistet werden. Dieser Vorschuss wird aus dem "Topf" des Arbeitnehmerschutzfonds gezahlt. Des Weiteren erhält das entsprechende Unternehmen eine schlechte Wertung im Shenzhener Bonitätsprüfungs-System. Wenn fünf oder mehr Angestellte der selben Firma diesen Vorschuss beantragen muss ein oder mehrere Vertreter für die Gruppe gewählt werden, wobei die Gesamtzahl der Repräsentanten nicht mehr als fünf betragen darf.
Sie sind für das Zusammentragen aller nötigen Unterlagen und eventueller Beweise, die für die Untersuchung notwendig sind, sowie das Unterschreiben aller Dokumente verantwortlich. Der Höchstbetrag des Vorschusses ist der niedrigere von beiden Beträgen – die Summe von sechs Monaten nicht ausgezahltem Gehalt oder die Gesamtsumme der nicht ausbezahlten Löhne.
Folgende Handlungen eines Unternehmens werden direkten Einfluss auf die Wertung im Bonitätssystem haben:
•Löhne nicht oder verspätet auszahlen
•Die öffentliche Ordnung in großem Maße stören
•Falls keine verantwortliche Person oder deren Vertreter eines Unternehmens innerhalb von 24 Stunden zur Kooperation zur Verfügung steht, wenn die Arbeitsverwaltungsbehörde eine Untersuchung einleitet.
•Wenn eine verantwortliche Person oder deren Vertreter Fakten unterschlägt oder sich der Behördengewalt entzieht, während eine Untersuchung im Gange ist.
Bei Fragen zu Wirtschaftsthemen, Steuern, Buchhaltung und Unternehmensgründungen in Asien kontaktieren Sie bitte:
Fabian Knopf, Sr. Associate, Co-Head of German Desk, Dezan Shira & Associates Fabian.Knopf@dezshira.com
Silke Neugebohrn, Sr. Associate, Co-Head of German Desk, Dezan Shira & Associates Silke.Neugebohrn@dezshira.com
Für weitere Information oder um mit Dezan Shira & Associates in Kontakt zu treten, senden bitte Sie eine Email an germandesk@dezshira.com oder besuchen Sie uns auf www.dezshira.com/de wo Sie unsere Unternehmensbroschüre herunterladen können. Bleiben Sie auf dem Laufenden über die aktuellsten Wirtschafts- und Investitionstrends in Asien durch unseren Newsletter. Jetzt abonnieren!
Weiterführende Lektüre (Kostenlos zum Download):
Sozialversicherung und Lohnbuchhaltung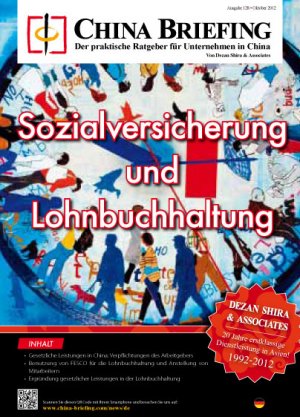 In dieser Ausgabe: Wo genau fließen die etwa 35 bis 40 Prozent des Angestelltengehaltes hin? Was sind Sozialversicherungsbeitragsraten, Basisbeiträge und Steuerbefreiungen? Wie passt das alles in den Lohnbuchhaltungsprozess? FESCOs und Hukou, Chinas "innerländischen Ausweis".
Das könnte Sie auch interessieren:
Das Handbuch für Chinamanager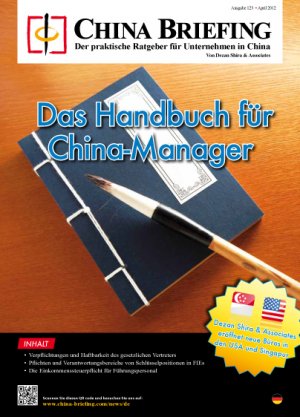 Die vielen unglücklichen Geschichten von Expats, deren Name auf der "schwarzen Liste" gelandet ist oder die in China aufgrund rechtlicher Maßnahmen "festsitzen", motivieren dazu, der Auswahl von Personen in Schlüsselpositionen in ausländischen Unternehmen mehr Aufmerksamkeit zu schenken. Im Handbuch für China-Manager möchten wir die verschiedenen Positionen in einem Unternehmen und die verbundenen Konsequenzen genauer beleuchten.