China Raises Consumption Tax on Cigarettes
Earlier this month, the Ministry of Finance and the State Administration of Taxation jointly announced that the consumption tax rate of cigarettes would be raised from the current 5 percent to 11 percent starting May 10. Further, a special duty of RMB 0.005 would be imposed on each cigarette. Consumption tax in China is levied on five categories of products: 
Products the over-consumption of which is harmful to health, social order and the environment (such as tobacco, alcohol, and fireworks)
Luxury goods and non-necessities (such as precious jewelry and cosmetics)
High-energy consumption and high-end products (such as passenger cars and motorcycles)
Non-renewable and non-replaceable petroleum products (such as gasoline and diesel oil)
Financially significant products (such as motor vehicle tires) 
Attention: 2014 Benchmark Survey of U.S. Direct Investment Abroad
US investors need to pay close attention to the deadline of non-tax form, BE-10, 2014 Benchmark Survey of U.S. Direct Investment Abroad. The survey was issued by the U.S. Department of Commerce Bureau of Economic Analysis (BEA) and is now compulsory for any applicable US investors. American investors who own at least 10 percent of a foreign business are required to complete and remit the BE-10 by May 29, 2015. Previously, completing the survey was only mandatory if the BEA requested an investor to do so. Failure to submit the survey can result in penalties ranging from US$2,500 to US$25,000, as well as other monetary and non-monetary penalties. 
Beijing to Further Open up Service Industry for Foreign Investors
On May 21, the State Council released an announcement allowing Beijing to carry out a pilot reform of the service industry. The pilot program has a trial period of three years, starting May 5. The regulation cancels the foreign equity restrictions on providing aircraft maintenance servicing. Foreign investment is encouraged in internet and information technology industry, especially in software development and cloud computing. In the education industry, foreign investors are encouraged to set up schools exclusively for international students. 
RELATED: China to Allow One Location/Multiple Office Registrations
China Allows Preliminary Approval for Business License
On May 21, the Administration for Industry and Commerce (AIC) launched a preliminary approval system for business licenses, allowing enterprises to apply for business licenses prior to receiving administrative approval. However, certain business activities can only be carried out with the approval of the relevant departments. Enterprises are required to publicize their relevant information via the enterprise credit information disclosure system within 20 days from the date of the receipt of the approval documents.
Earlier this month, China announced that a unified Business Registration Code will replace the previous three codes used for company registration within this year. These were the tax registration code, national organization code and business registration code. The Beijing AIC recently issued the first business license with only the unified Business Registration Code.

About Us
Asia Briefing Ltd. is a subsidiary of Dezan Shira & Associates. Dezan Shira is a specialist foreign direct investment practice, providing corporate establishment, business advisory, tax advisory and compliance, accounting, payroll, due diligence and financial review services to multinationals investing in China, Hong Kong, India, Vietnam, Singapore and the rest of ASEAN. For further information, please email china@dezshira.com or visit www.dezshira.com.
Stay up to date with the latest business and investment trends in Asia by subscribing to our complimentary update service featuring news, commentary and regulatory insight.
 ‍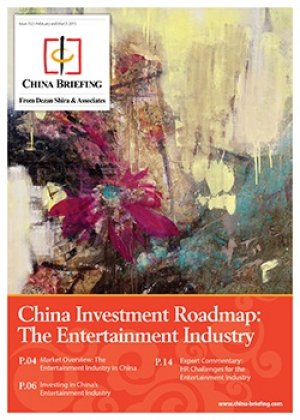 China Investment Roadmap: The Entertainment Industry
In this special edition China Briefing Industry Report, we cast our gaze over the broad landscape of China's entertainment industry, identifying where the greatest opportunities are to be found and why. Next, we detail some of the most important issues for foreign investors to be aware of, including legal, regulatory, and tax considerations specific to the industry. Lastly, we provide an insider analysis of the sector's unique HR & payroll challenges.

Adapting Your China WFOE to Service China's Consumers
In this issue of China Briefing Magazine, we look at the challenges posed to manufacturers amidst China's rising labor costs and stricter environmental regulations. Manufacturing WFOEs in China should adapt by expanding their business scope to include distribution and determine suitable supply chain solutions. In this regard, we will take a look at the opportunities in China's domestic consumer market and forecast the sectors that are set to boom in the coming years.
Doing Business in China
The China Briefing Business Guide to Doing Business in China is the definitive guide to one of the fastest growing economies in the world, providing a thorough and in-depth analysis of China, its history, key demographics and overviews of the major cities, provinces and autonomous regions highlighting business opportunities and infrastructure in place in each region.