By Dezan Shira & Associates
Editor: Elizabeth Leclaire
With a GDP of US$122.31 billion in 2014, Ningbo is a major economic hub along China's eastern coastline. Much of Ningbo's economic success can be attributed to the city's ports which connect the Yangtze River Delta to the East China Sea. Over 10.5 million twenty-foot equivalent units (teu) passed through Ningbo's ports from January to June of this year, surpassing Hong Kong's throughput volume of 10.1 million teu over the same period. Ningbo's profitable overseas trading sector, in addition to its bustling manufacturing industry, has placed the city among China's largest commercial centers.
Ningbo's Import and Export Growth
In 2014, Ningbo's total import and export volume amassed US$ 219.51 billion, an increase of 2.1 percent from the year prior. As a result of the city's expanding domestic production, imports accounted for only US$ 73.94 billion of total throughput volume in 2014 (a 6.6 percent decrease from 2013), while exports rose by 7.1 percent and totaled US$ 145.56 billion.
The European Union and the United States remained Ningbo's top two bilateral trading partners in 2014. Trade between Ningbo and the EU reached US$ 41.01 billion last year, while trade with the US grew by 5.8 percent from 2013 and amounted to US$ 27.15 billion. In addition to the EU and US, significant trade partners for Ningbo include Iran, ASEAN, Russia, Iraq, Saudi Arabia, Japan, and Australia.
RELATED: Investment Opportunities in Ningbo, China
Where the city once relied solely on its favorable coastal location to ship goods, Ningbo has worked to expand its transportation methods in recent years. Imports and exports by air transport reached US$ 2.08 billion last year, while railway throughput amassed US$ 356 million.  From 2013 to 2014, trade by air and railway grew by 12.74 percent and 17.3 percent, respectively.
Ningbo's Top Industries
In addition to its booming import and export sector, Ningbo serves as one of China's largest industrial locations. One of city's most profitable industries is electromechanical product manufacturing. Over 30 percent of China's total home electronic appliances are produced in Ningbo. In January of 2015 alone, Ningbo's electromechanical product exports totaled US$ 5.99 billion, an increase of 10.9 percent from 2014 January.
Ningbo's textile sector is responsible for 12 percent of the city's total industrial production. Textile exports rose by 5.2 percent from January of 2014 to January of 2015, valuing at US$ 1.81 billion.
Additionally, Ningbo has grown into one of China's largest garment production locations. Approximately 12 percent of all garments manufactured across China originate from Ningbo, and the city's shoe, garment, and clothing accessories sectors accumulated US$ 1.73 billion worth of exports in the first month of the year.
Ningbo is also home to over 130 plastic machine manufacturers, which contribute to approximately 50 percent of total global plastic machinery production.
E-Commerce
Ningbo also provides e-commerce businesses with considerable advantages over those operating in other cities across China. In November of 2013, Ningbo was established as a pilot city for cross border e-commerce. As a result, Ningbo no longer imposes commercial import duties on foreign items purchased for e-commerce. Instead, products are taxed only after a consumer purchase and at a significantly lower rate of 10 to 50 percent of the product's cost.
RELATED: China Vamps Up Hangzhou's E-Commerce Model
Since its establishment a year and a half ago, cross border e-commerce in Ningbo valued at over US$ 163 million and has served 1.74 million consumers. The industry is anticipated to witness rapid growth in the coming months, as Ningbo opened its first e-commerce assembly line in April of 2015. The line is expected to increase customs clearance speed by up to 80 percent.
Solar Energy
Ningbo's is also home to a budding photovoltaic industry, which produces machinery to convert solar energy directly to current energy. Currently, Ningbo is home to over 103 photovoltaic power projects, with investment totaling US$ 170 million.
 In 2014, solar cell exports yielded US$ 8.6 million, up a whopping 75.4 percent from 2013. In November of 2014 alone, Ningbo exports of solar energy batteries to the ASEAN region surpassed 8 million, a volume over 91 times larger than in November of the year prior.
Foreign Investment Opportunities
In order to cultivate increased trade and industrial development, Ningbo has encouraged increased foreign investment in recent years. In 2014, total foreign capital investment grew by 23 percent and surpassed US$ 4 billion for the first time.  Ningbo has allowed for the establishment of 468 new foreign investment projects last year, together totaling US$ 13.5 billion.
Ningbo's Free Trade Zone also boasts a multitude of foreign investment advantages, such as import and export tax exemptions for certain goods, a diminished corporate income tax rate, and VAT refunds for Chinese equipment usage.

About Us
Asia Briefing Ltd. is a subsidiary of Dezan Shira & Associates. Dezan Shira is a specialist foreign direct investment practice, providing corporate establishment, business advisory, tax advisory and compliance, accounting, payroll, due diligence and financial review services to multinationals investing in China, Hong Kong, India, Vietnam, Singapore and the rest of ASEAN. For further information, please email china@dezshira.com or visit www.dezshira.com.
Stay up to date with the latest business and investment trends in Asia by subscribing to our complimentary update service featuring news, commentary and regulatory insight.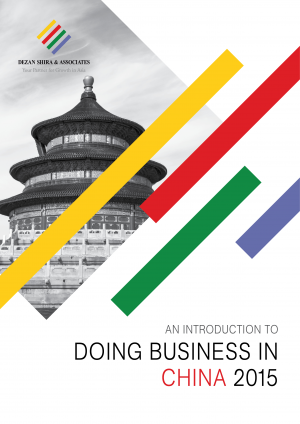 An Introduction to Doing Business in China 2015
Doing Business in China 2015 is designed to introduce the fundamentals of investing in China. Compiled by the professionals at Dezan Shira & Associates, this comprehensive guide is ideal not only for businesses looking to enter the Chinese market, but also for companies that already have a presence here and want to keep up-to-date with the most recent and relevant policy changes.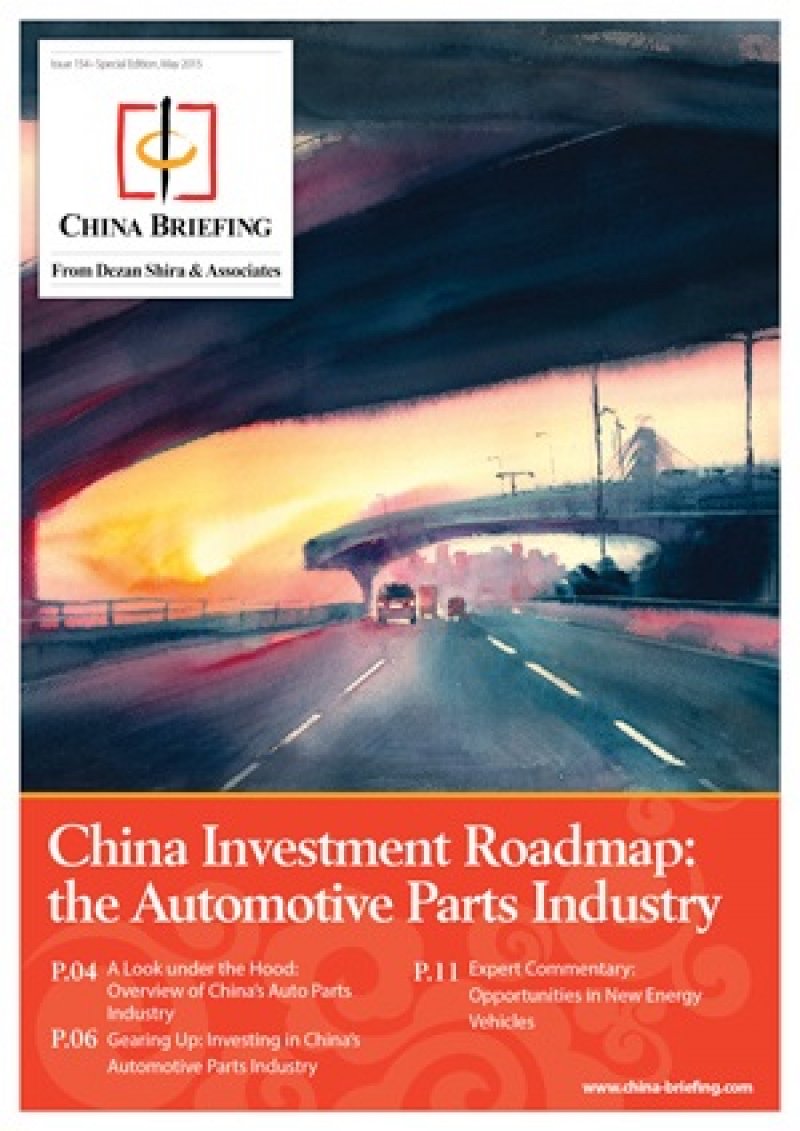 China Investment Roadmap: the Automotive Parts Industry
This issue of China Briefing presents a roadmap for investing in China's automotive industry. We begin by providing an overview of the industry, and then take a comprehensive look at key foreign investment considerations, including investment restrictions, tax incentives and manufacturing requirements. Finally, we discuss foreign investment opportunities in a part of the industry that receives substantial government support: new energy vehicles.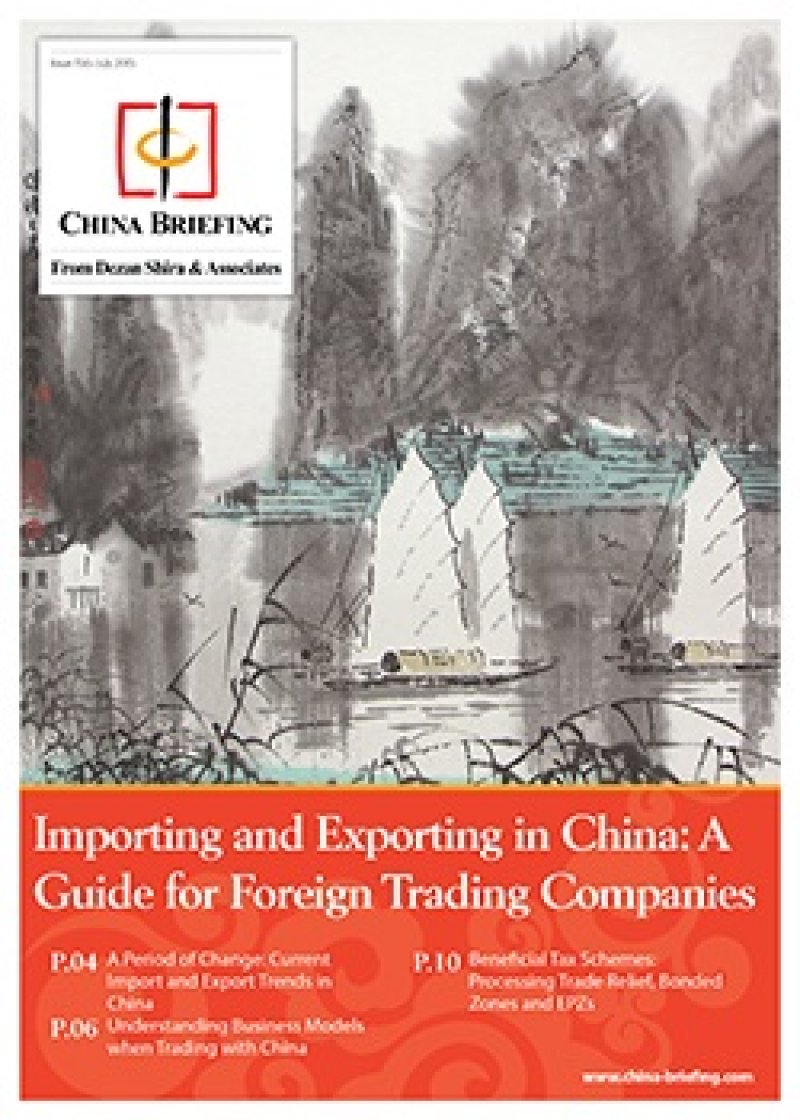 Importing and Exporting in China: a Guide for Trading Companies
In this issue of China Briefing, we discuss the latest import and export trends in China, and analyze the ways in which a foreign company in China can properly prepare for the import/export process. With import taxes and duties adding a significant cost burden, we explain how this system works in China, and highlight some of the tax incentives that the Chinese government has put in place to help stimulate trade.