Simplified Registration Procedure for Foreign-invested Real Estate Companies
China's Ministry of Commerce (MOFCOM), together with the State Administration of Foreign Exchange, has recently issued the "Notice on Further Simplifying the Administration of Foreign-invested Real Estate Enterprises (Shang Zi Han [2015] No.895)". According to the Notice, foreign-invested real estate enterprises will no longer need to go through the filing procedure with MOFCOM or display their company's information on the official MOFCOM website. However, they are still required to be registered with the local MOFCOM bureau. After completing the company registration procedure, foreign-invested real estate enterprises may conduct the foreign exchange registration formalities under foreign direct investment with assigned banks. MOFCOM will conduct random checks on enterprise information each quarter.
China and Singapore to Upgrade Free Trade Agreement
On November 7, Chinese President Xi Jinping and Prime Minister Lee Hsien Loong witnessed the launch of negotiations to upgrade the China-Singapore Free Trade Agreement (CSFTA) during Xi's visit to Singapore. Negotiations between the two countries are expected to be concluded next year. The two sides also signed a memorandum of understanding (MoU) on cooperation in education, urban planning and management and joint construction of the Sino-Singapore International Joint Research Institute in the Sino-Singapore Guangzhou Knowledge City.
Based on the current CSFTA, Singapore has eliminated tariffs on all its imported goods from China, while China cancelled 97.1 percent of its duties on Singaporean exports. China is Singapore's largest trading partner with a total trade of close to US$80 billion, while Singapore has been China's largest foreign investor since 2013.
RELATED: Business Advisory Services from Dezan Shira & Associates
Beijing Strengthens Supervision over Medicine Advertisement
On October 27, the Beijing Municipal Food & Drugs Administration issued the "Measures for Administration of Review and Supervision of Food & Drugs Advertisements," which took immediate effect. The measures require companies that are engaged in selling/importing/manufacturing medicine and health products to submit an application, their finished advertisement, as well as relevant certificate/qualifications to the Beijing food and drug bureau. The bureau will then examine the materials and issue an approval to eligible companies. Companies who fail to follow the advertisement rules laid out by the Beijing food and drug bureau may face a fine amounting to RMB 200,000.
Shanghai FTZ: The Pilot Program of "Single Window" Extended
On November 12, the pilot program of "single window" was officially extended from "Enterprise Registration" to five other enterprise access matters, namely: "Filing of Foreign Trade Operators", "Registration of Declarant Units", "Registration of Enterprise Applying for Inspection by itself", "Permit of Printing and Engraving", and "All in One Digital Certificate for Legal Persons".
With this extension, the period for finalizing the five newly added matters is shortened from 19 working days to four working days. Generally, newly established enterprises are now able to complete all filing and registration formalities within nine working days.

About Us
Asia Briefing Ltd. is a subsidiary of Dezan Shira & Associates. Dezan Shira is a specialist foreign direct investment practice, providing corporate establishment, business advisory, tax advisory and compliance, accounting, payroll, due diligence and financial review services to multinationals investing in China, Hong Kong, India, Vietnam, Singapore and the rest of ASEAN. For further information, please email china@dezshira.com or visit www.dezshira.com.
Stay up to date with the latest business and investment trends in Asia by subscribing to our complimentary update service featuring news, commentary and regulatory insight.
 ‍
China Investment Roadmap: the Commercial Real Estate Sector
In this issue of China Briefing, we explore the latest trends in commercial real estate in China, and discuss how foreign companies can benefit from China's massive construction boom. We provide a guide to how firms can sell construction materials in China, and finally detail how foreign architects can most effectively enter and take advantage of China's rapid urbanization.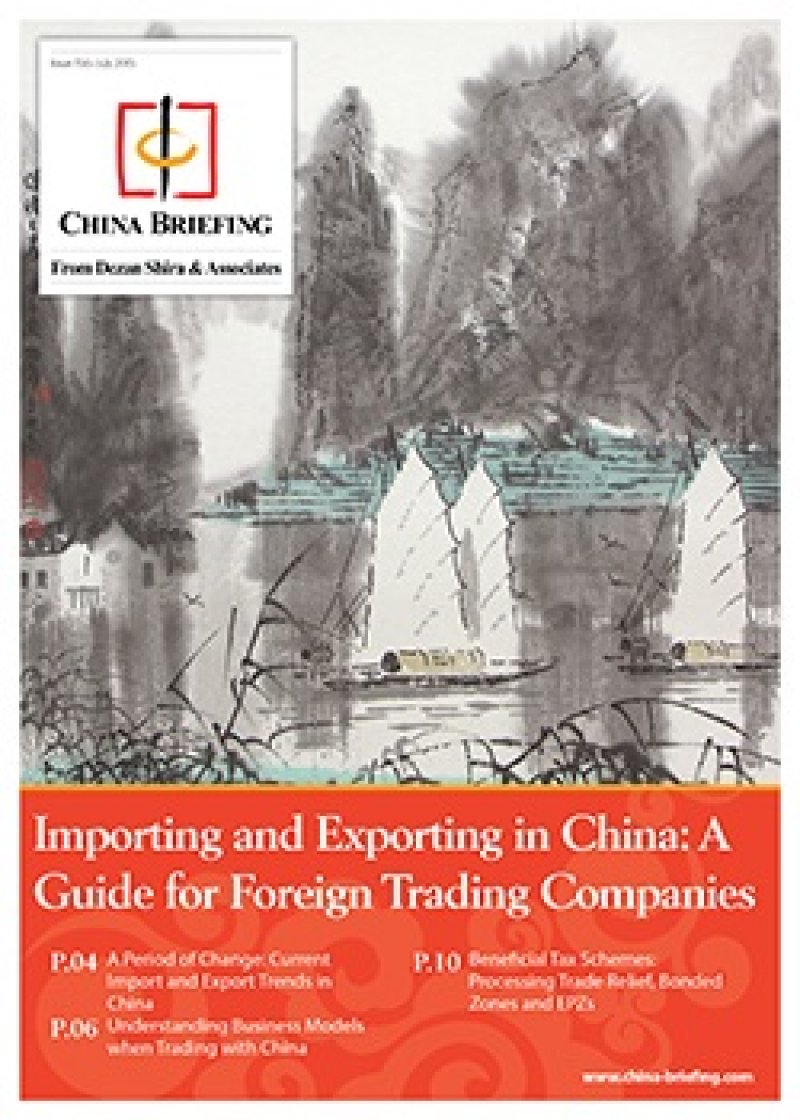 Importing and Exporting in China: a Guide for Trading Companies
In this issue of China Briefing, we discuss the latest import and export trends in China, and analyze the ways in which a foreign company in China can properly prepare for the import/export process. With import taxes and duties adding a significant cost burden, we explain how this system works in China, and highlight some of the tax incentives that the Chinese government has put in place to help stimulate trade.
Using China's Free Trade & Double Tax Agreements
In this issue of China Briefing, we examine the role of Free Trade Agreements and the various regional blocs that China is either a member of or considering becoming so, as well as how these can be of significance to your China business. We also examine the role of Double Tax Treaties, provide a list of active agreements, and explain how to obtain the tax minimization benefits on offer.