By Dezan Shira & Associates  
Editor: Nathan Wakelin-King
The Legal Affairs Office of the State Council has published a set of proposed amendments to China's Patent Law. Officially these proposed changes are published for the purpose of soliciting public comments, but it is likely that all of the proposed changes will be added to official laws by 2016.
Some of the more important proposed changes to Chinese patent laws are listed below:
Patent Rights and Definitions 
Patent laws now provide protection for parts or components of overall designs. Previously, patents only covered an entire, specific product, rather than component parts.
Design patents have been extended to 15 years. After this is implemented, Chinese patent term lengths will be 20 years for invention patents, 15 for industrial design patents, and 10 years for utility model patents.
Enforcement
The new proposed laws give some new power to Chinese Intellectual Property (IP) offices, as well as upping some of the penalties for violations: 
In the cases of willful infringement, compensation is calculated at up to three times the damages inflicted by the act of infringement.
The upper limit of statutory damages is currently between RMB 10,000 and RMB 1,000,000; it is proposed to be increased to a range of RMB 100,000 to RMB 5,000,000.
Repeated infringement or group infringement (infringement by multiple parties) will be able to be investigated by local IP offices, which will have the power to confiscate both the infringing products and the tools/molds used to make them.
Local IP offices can give fines of up to five times the amount of illegal sales if there were more than RMB 50,000 worth of illegal sales, otherwise the fine will reach an amount of RMB 250,000 or less. 
Note that in this new draft, local IP offices only have powers of confiscation in cases of willful infringement (the previous regulations specified powers of confiscation for all cases of infringement). 
RELATED: Business Advisory Services from Dezan Shira & Associates
Joint Infringement
A new concept of joint infringement has been introduced, whereby suppliers of raw or intermediate materials to patent infringing companies can be liable to damages if it can be proved that the supplier was aware of their buyer's illegal actions.
E-Commerce
The new draft puts forward specific legislation regarding online commerce, an important area when it comes to global issues relating to intellectual property. 
The proposed legislation means that if Internet Service Providers (ISPs) have known or should have known about one of its users infringing patents, and the ISP does not take measures against it (i.e., deleting/blocking patent-infringing links or products) then the ISP can be considered in joint liability.
ISPs can be notified about a particular infringement and be asked to comply. 
This new legislation is expected to make it easier for companies to protect their patents in the online world, especially if they are proactive. However, the enforcement may prove difficult, so at this stage there is uncertainty as to the real effects that it will have on China's e-commerce environment. 
License of Right
The concept of the "license of right" was introduced in the previous draft of Chinese patent law, but the new draft has more specifics added. Under the "license of right" system, a patent holder can write to the Chinese State Intellectual Property Office (SIPO) a declaration about a willingness to license out their patents to anyone, under specified royalties and conditions. 
Patent holders can withdraw these declarations at any time, however they cannot grant exclusive use of a patent to any particular company. Any disputes under this system will be decided by SIPO. 
Conclusions
Broadly speaking, the importance of the new draft for patent laws in China is that it clarifies some of the existing laws, modestly increases some of the options for patent-holders and legal enforcement bodies, and modestly increases penalties for IP infringement.
At the same time – as with most legal changes in China – change in the law will not necessarily (and certainly not immediately) translate into changes in the enforcement in the law. A full assessment of the significance of these changes is therefore not possible at this time.

About Us
Asia Briefing Ltd. is a subsidiary of Dezan Shira & Associates. Dezan Shira is a specialist foreign direct investment practice, providing corporate establishment, business advisory, tax advisory and compliance, accounting, payroll, due diligence and financial review services to multinationals investing in China, Hong Kong, India, Vietnam, Singapore and the rest of ASEAN. For further information, please email china@dezshira.com or visit www.dezshira.com.
Stay up to date with the latest business and investment trends in Asia by subscribing to our complimentary update service featuring news, commentary and regulatory insight.
 ‍
Industry Specific Licenses and Certifications in China
In this issue of China Briefing, we provide an overview of the licensing schemes for industrial products; food production, distribution and catering services; and advertising. We also introduce two important types of certification in China: the CCC and the China Energy Label (CEL). This issue will provide you with an understanding of the requirements for selling your products or services in China.
Selling, Sourcing and E-Commerce in China 2016 (First Edition)
This guide, produced in collaboration with the experts at Dezan Shira & Associates, provides a comprehensive analysis of all these aspects of commerce in China. It discusses how foreign companies can best go about sourcing products from China; how foreign retailers can set up operations on the ground to sell directly to the country's massive consumer class; and finally details how foreign enterprises can access China's lucrative yet ostensibly complex e-commerce market.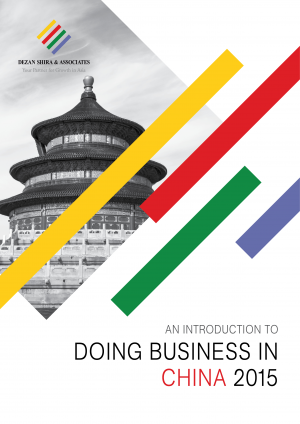 An Introduction to Doing Business in China 2015
Doing Business in China 2015 is designed to introduce the fundamentals of investing in China. Compiled by the professionals at Dezan Shira & Associates, this comprehensive guide is ideal not only for businesses looking to enter the Chinese market, but also for companies that already have a presence here and want to keep up-to-date with the most recent and relevant policy changes.