China Factory Output and Non-manufacturing Figures Show Signs of Expansion
The National Bureau of Statistics reported growth of factory output last month, signs that policies aimed at instigating growth are coming into effect. Its official manufacturing purchasing manager's index increased from 49.0 in February to 50.2 in March, the first time the figure has surpassed 50, or expansion, for eight months. The Caixin manufacturing PMI, a private indicator, also increased from 48.0 in February to 49.7 in March. It is said that March's upturn has been affected by the boost in Chinese stock markets, stabilization of the Chinese Yuan following uncertainty at the beginning of the year, and the priority of growth stated at China's annual legislative session where a higher target for deficit was set.
Growth has also been seen in the non-manufacturing sector. According to the National Statistics Bureau, China's official non-manufacturing PMI, which covers retail, real estate, construction, aviation and software sectors, rose from 52.7 in February to 53.8 in March, clearly in expansion. In further detail, the services sub-index grew from 52.2 in February to 53.1 in March, and the sub-index for construction from 55.2 to 58.0.
RELATED: Business Advisory Services from Dezan Shira & Associates
Chin Labor Market: Slow in the Rate of Increase of  Minimum Wage Levels
China's labor ministry has recently proposed a change to the formula which calculates the minimum wage in order to curb its increase. A two year freeze on the minimum wage in Guangdong province was enforced in February, followed by Shanghai's recent increase of the monthly wage by 8.4 percent to RMB 2,190, compared to the 13 percent seen in the last six years. By the end of 2015, 28 cities and regions in China had adjusted their local minimum wage levels for 2016.
In the past decade, China's minimum wage grew at a faster rate than the economy, helping to share the country's economic prosperity with its workers, but this control of salary comes with the Government's concern that rising labor costs will directly affect competitiveness in the manufacturing sector. A complete guide to 2015 minimum wage levels across China can be found here. A 2016 guide will be released soon on China Briefing website in the coming months.
China's Steel Industry Struggles
China's top listed steel manufacturer Baosteel has announced that its output is to rise by 20 percent this year, even though efforts have been made to reduce overcapacity by the government. The announcement was made a day after India's Tata steel decided to sell its British operations based in Port Talbot, and many observers have blamed China's cheap export of surplus steel as the reason for the disruption in the global steel industry. China has the world's largest capacity of steel (1.2 billion tonnes), and produced 803.8 million tonnes of steel in 2015, accounting for over 50 percent of world steel production. However, China Iron and Steel Association (CISA) has warned that China's economic slowdown and optimized structure is increasingly dampening appetite for steel products, adding more pressure to a sector already struggling with overcapacity. The country's domestic steel demand decreased in 2015 for the first time in three decades, which led to mass layoffs in many Chinese state-owned steel firms recently.

About Us
Asia Briefing Ltd. is a subsidiary of Dezan Shira & Associates. Dezan Shira is a specialist foreign direct investment practice, providing corporate establishment, business advisory, tax advisory and compliance, accounting, payroll, due diligence and financial review services to multinationals investing in China, Hong Kong, India, Vietnam, Singapore and the rest of ASEAN. For further information, please email china@dezshira.com or visit www.dezshira.com.
Stay up to date with the latest business and investment trends in Asia by subscribing to our complimentary update service featuring news, commentary and regulatory insight.
 ‍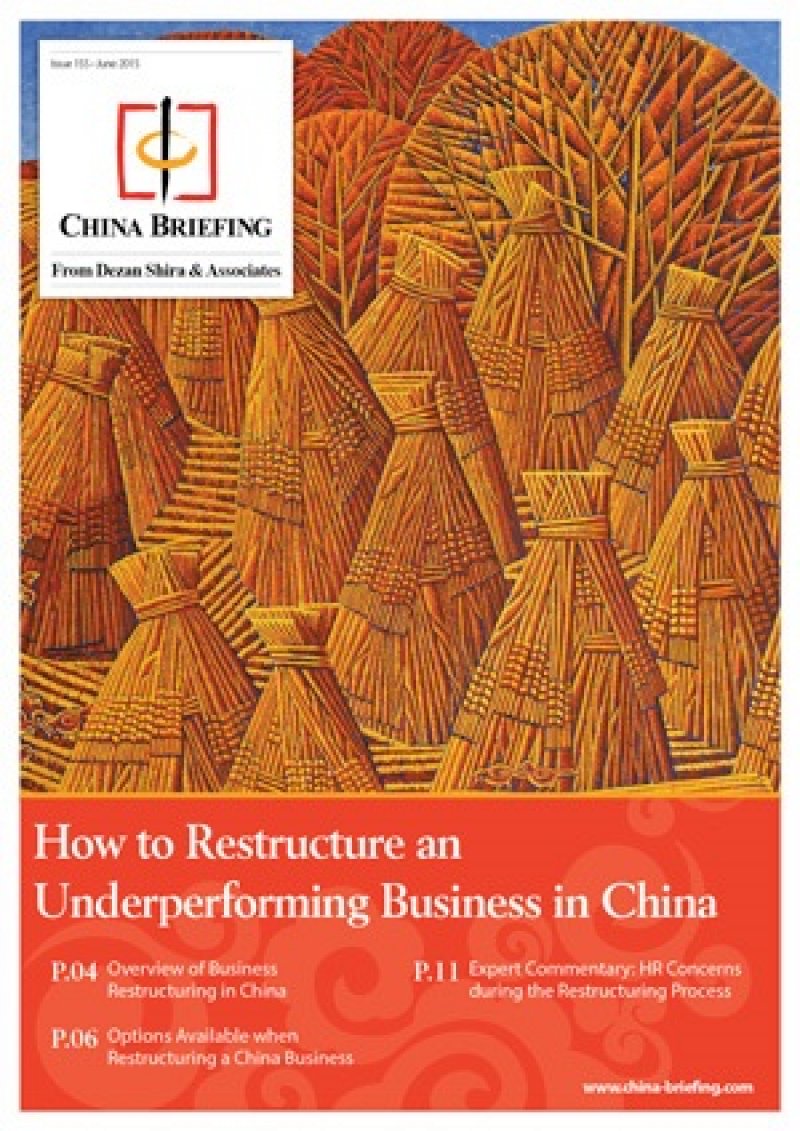 How to Restructure an Underperforming Business in China
In this issue of China Briefing magazine, we explore the options that are available to foreign firms looking to restructure or close their operations in China. We begin with an overview of what restructuring an unprofitable business in China might entail, and then take an in-depth look at the way in which a foreign company can go about the restructuring process. Finally, we highlight some of the key HR concerns associated with restructuring a China business.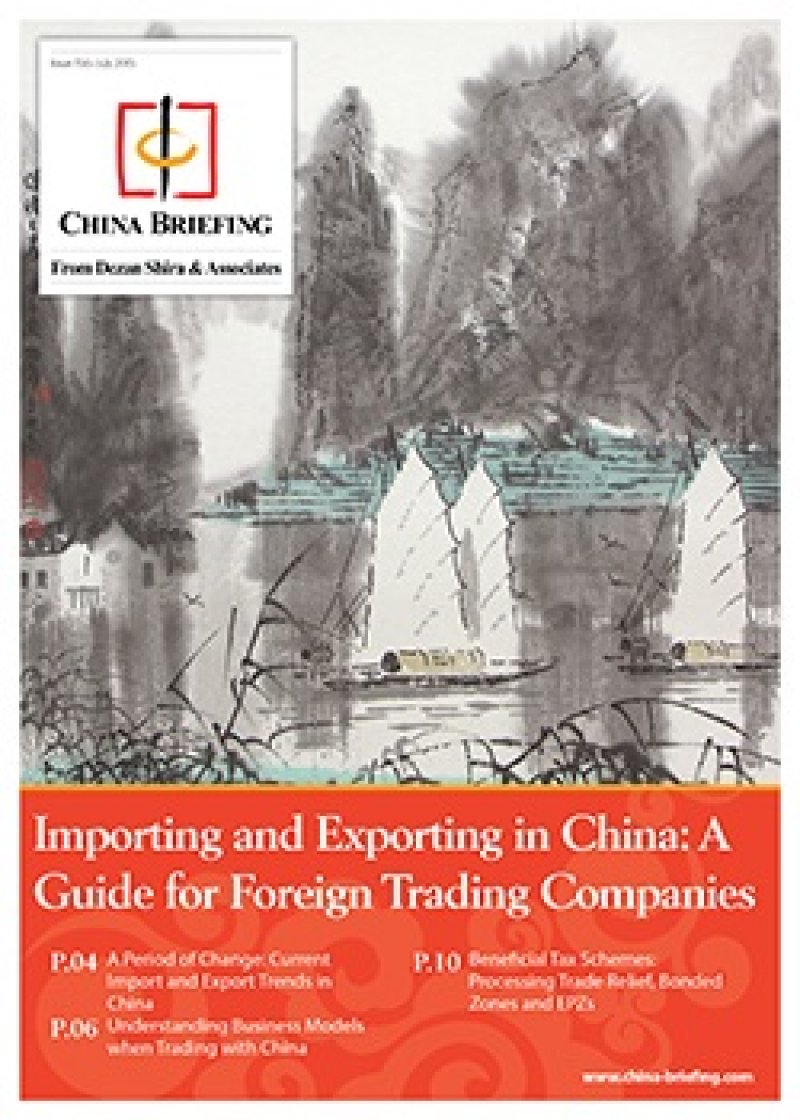 Importing and Exporting in China: a Guide for Trading Companies
In this issue of China Briefing, we discuss the latest import and export trends in China, and analyze the ways in which a foreign company in China can properly prepare for the import/export process. With import taxes and duties adding a significant cost burden, we explain how this system works in China, and highlight some of the tax incentives that the Chinese government has put in place to help stimulate trade.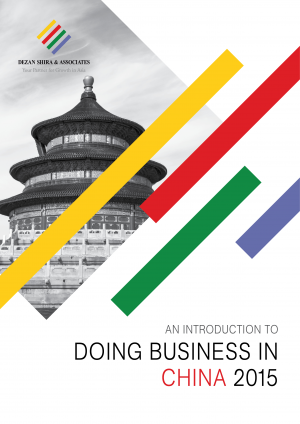 An Introduction to Doing Business in China 2015
Doing Business in China 2015 is designed to introduce the fundamentals of investing in China. Compiled by the professionals at Dezan Shira & Associates, this comprehensive guide is ideal not only for businesses looking to enter the Chinese market, but also for companies that already have a presence here and want to keep up-to-date with the most recent and relevant policy changes.