A cura dell'Italian Desk di Dezan Shira & Associates
La gestione del personale significa soprattutto gestire ogni aspetto della remunerazione dei dipendenti ed include il pagamento puntuale dei salari,  il calcolo delle trattenute sul reddito e il versamento dei contributi per la previdenza sociale. Sottopagare per sbaglio un impiegato può, a volte, condizionare la gestione dell'intero staff. Anche se per motivi diversi,  corrispondere lo stipendio ad un dipendente che ha già lasciato l'azienda è allo stesso modo problematico. Non deve sorprendere l'allarmante ricorrenza di queste circostanze e, quelle nelle quali, alcuni dipendenti si trovano coinvolti in truffe.
In un Paese dall'economia e societa' frenetica e dinamica come la Cina, le norme sulla gestione del personale variano con altrettanta repentinita'. Se i datori di lavoro non seguono assiduamente le novita' normative e tributarie, può accadere che presto non siano piu' in conformità con la legge dando vita a conseguenze rilevanti. A seconda della giurisdizione, possono essere imposte gravi sanzioni nel caso i pagamenti della tassa sul reddito individuale siano errati o eseguiti in ritardo o ci siano errori nel versamento del contributo per la previdenza sociale.
Al contempo, la gestione del personale è mansione tediosa, che può distrarre da ciò che è il vero obiettivo della società. Specialmente quando un'impresa sta espandendo rapidamente la sua attività in Cina, incaricare i manager locali della gestione del personale potrebbe non essere il modo ottimale per usare il loro tempo.
La soluzione potrebbe essere l'esternalizzazione del servizio, che permetterebbe di restituire tempo ai manager locali. Affidare la gestione del personale ad un fornitore esterno con esperienza può anche ridurre il rischio di errori e di non osservanza delle norme. Quando la gestione del personale è esternalizzata  il rapporto finale puo' essere inviato direttamente alla sede, assicurando così riservatezza sulle informazioni sensibili.
Servizi correlati: Payroll and Human Resource Services
Domanda: Quali sono le informazioni che una società deve fornire per esternalizzare la gestione del personale?
Adam Livermore: Dipende da quali informazioni la società si aspetta di ricevere dal fornitore del servizio. Se si forniscono solo le informazioni essenziali, il fornitore potrà effettuare solo calcoli, come il salario, le ferie e i bonus. Più sono dettagliate le informazioni riguardanti il personale, più sofisticata  potrà essere l'analisi.
D: Un fornitore esterno è in grado di spiegare quanto costerà un'assunzione o un licenziamento? O come tenere traccia delle ferie dei lavoratori?
AL: Sì, uno specialista esterno può fornire tali stime. Un fornitore che si occupa della gestione del personale ed è presente in Paesi diversi può, per esempio, assistere il cliente determinando dove il costo del lavoro e' più favorevole e fornendo informazioni necessarie per prendere una decisione. Bisogna però aggiungere che questo tipo di costi, come il licenziamento di un dipendente, una maternità o un infortunio sul lavoro, dipendono in buona parte dalla situazione o dal profilo dell'interessato. Alcune considerazioni riguardano inoltre la sfera legale e richiedono competenze specializzate. I fornitori possono configurare una piattaforma che permetta ai clienti di gestire i giorni di ferie che i dipendenti richiedono,  nonostante venga raccomandato di verificare questi dati con un sistema fisico di registro delle presenze, dove possibile.
D: Le aziende devono consegnare di persona la documentazione ogni qualvolta avvengano modifiche nello staff?
AL: Dipende. Per questioni come cambi nell'organico, il fornitore esterno deve aver modo di sapere se vi sono dipendenti che sono in procinto di essere assunti o licenziati. Se si ha un sistema interno che tiene traccia di queste informazioni, dovrebbe essere semplice creare un documento relativo a queste modifiche, il quale può essere successivamente caricato nel sistema di gestione del personale. Spesso il fornitore del servizio può offrire al cliente tale sistema. Lo stesso vale per lo stato dei visti dei dipendenti stranieri. Il cliente deve tenere a portata di mano le date del rinnovo del visto e accordarsi con il fornitore per trovare modo di tenere traccia di queste informazioni. È opportuno designare un responsabile   al'interno dell'organizzazione che registri questi dettagli in una piattaforma informatica, idealmente dopo che essi abbiano superato un processo di approvazione per verificare l'affidabilità delle informazioni.
D: Un fornitore può assistere la società nella conservazione dei documenti o assumersi la responsabilità dell'accesso dello staff ai documenti?
AL: Per i documenti in originale, il metodo ideale è utilizzare una azienda specializzata nella loro conservazione. Il fornitore del servizio di gestione del personale dovrebbe però garantire l'opzione di caricare nel sistema tali documenti e di stabilire impostazioni di accesso e di controllo per gli stessi. Solitamente la sede è interessata ad avere accesso completo, mentre richiede di restringere l'accesso alle informazioni per i dipendenti locali.

Chi Siamo
Asia Briefing Ltd. è una controllata di Dezan Shira & Associates. Dezan Shira & Associates è una società di consulenza specializzata nell'assistenza agli investimenti diretti esteri per le società che intendono stabilire, mantenere e far crescere le loro operazioni in Asia. I nostri servizi includono consulenza legale e strategica all'investimento, costituzione e registrazioni societarie, tenuta contabile con redazione di bilanci periodici ed annuali, consulenza fiscale e finanziaria, due diligence, revisione contabile, gestione tesoreria, libri paga e personale, transfer pricing, consulenza IT, sistemi gestionali, deposito marchi e servizio visti. Per maggiori informazioni vi invitiamo a contattarci al seguente indirizzo: italiandesk@dezshira.com o a visitare il nostro sito: www.dezshira.com.
Per rimanere aggiornati sugli ultimi trend degli investimenti e del business in Asia, iscrivetevi alla nostra newsletter per ricevere notizie, commenti, guide e risorse multimediali.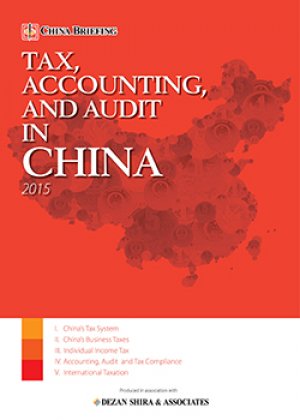 Human Resources & Payroll in China 2016-2017
A firm understanding of China's laws and regulations related to human resources and payroll management is absolutely necessary for foreign businesses in China. This edition of HR and Payroll, updated for 2016/17, navigates China's laws and regulations related to HR and payroll management – essential information for foreign investors looking to establish or already running a foreign-invested entity in China.
La Cintura Economica della Via della Seta
In questo numero di Asia Briefing presentiamo le principali caratteristiche della Cintura Economica della Via della Seta, evidenziando nel dettaglio il percorso via terra in Asia Centrale e quello via mare nel Sud-Est Asiatico. Nei prossimi decenni, la Cina avrà investito centinaia di miliardi di dollari in quella che potrebbe essere definita come la maggiore impresa diplomatica ed infrastrutturale mai realizzata. Si prevede che la Cintura Economica della Via della Seta avrà una certa influenza su tutte le tipologie di business in Cina ed è perciò giunto il momento di riflettere accuratamente sulle possibili implicazioni e opportunità per gli investitori stranieri.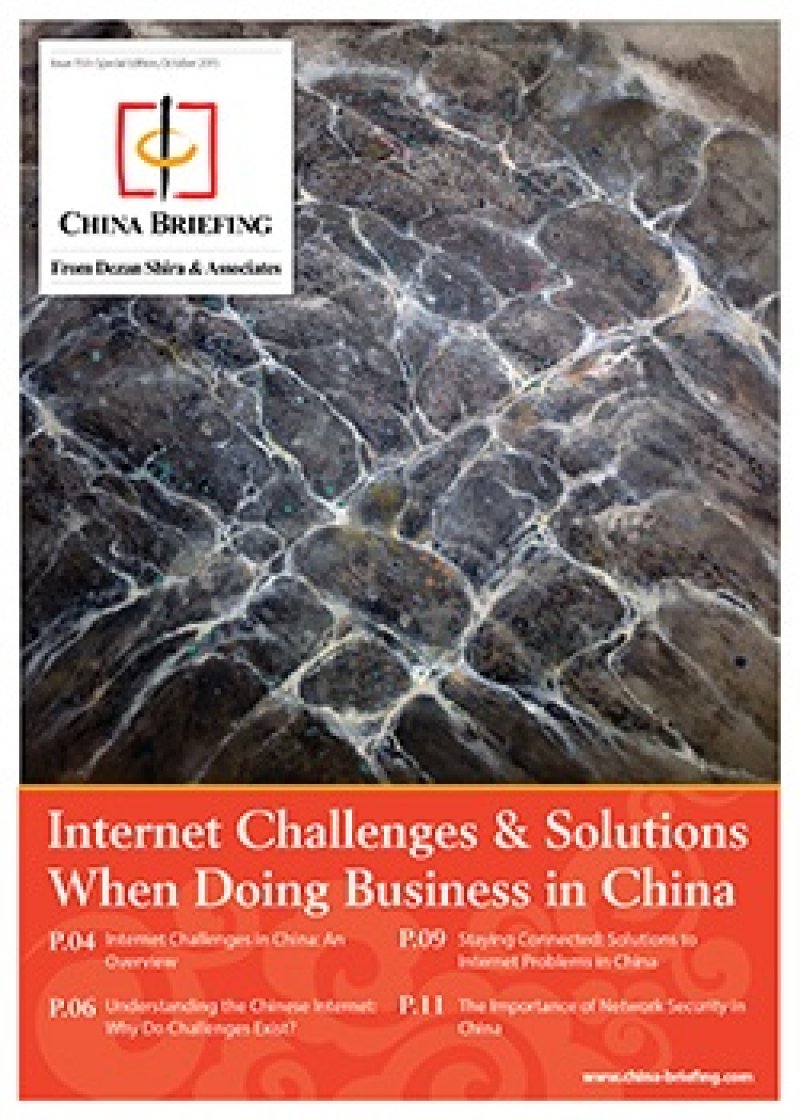 Internet Challenges & Solutions When Doing Business in China
In this special edition of China Briefing magazine, we highlight how and why foreign companies will be negatively affected by China's internet, and provide methods to help solve these problems. We discuss ISP selection, internet connection types, CDNs and VPNs, and internal control systems. Finally, we examine the importance of network security in China and how it can help augment a company's internet connection.