A cura dell'Italian Desk di Dezan Shira & Associates
Nata come villaggio di pescatori, Shenzhen si è rapidamente trasformata in una fiorente metropoli. Nel 1980 la città è stata designata Zona Economica Speciale (ZES) e ha continuato a crescere ad un ritmo sostenuto. La popolazione è aumentata dai 30.000 abitanti del 1979 agli oltre 10 milioni attuali e i prezzi degli immobili sono cresciuti a tassi vertiginosi, con un picco del 62,5 percento nel 2015, senza mostrare alcun segno di rallentamento.
È in atto un processo di sostituzione, che consiste nella conversione delle aziende ad alta intensità di lavoro in imprese appartenenti a settori emergenti e dal 2011 sono avvenute oltre 17.000 conversioni. Il tredicesimo Piano Quinquennale di Shenzhen prevede l'investimento di oltre RMB 110 miliardi in ricerca e sviluppo entro il 2020, cifra che equivale ad oltre il 4,25 percento del suo PIL annuo – risultato proprio solo di alcuni grandi centri high-tech, come Israele e la Corea del Sud.
Alcuni colossi cinesi come Tencent e Huawei hanno avviato le loro attività proprio a Shenzhen e ad oggi la presenza di aziende a capitale interamente straniero e' in continua crescita. L'11 ottobre 2016 Apple ha annunciato l'apertura di un nuovo centro di ricerca e sviluppo a Shenzhen, per trarre vantaggio dalla disponibilità di personale altamente qualificato. Nel 2014 sono stati registrati 82.254 brevetti, 13,9 volte al di sopra della media nazionale. Nello stesso anno sono stati richiesti 11.639 brevetti internazionali, corrispondenti a quasi la metà delle richieste totali nel Paese.
Questo risultato può essere attribuito alla scelta di posizionarsi come centro di innovazione. In passato, ci si riferiva a Shenzhen  con il termine cinese Shanzhai, che indica la replica dei prodotti di massa – dove la maggior parte dell'innovazione deriva dall'imitazione di quella occidentale. Tuttavia, con l'emergere di una classe media dediderosa di prodotti di alta qualità, Shenzhen si è trasformata in un centro dell'innovazione, guadagnandosi il soprannome di Silicon Valley dell'Hardware.
Politiche preferenziali 
In seguito all'attribuzione dello status di Zona Economica Speciale, Shenzhen ha avviato politiche preferenziali per stimolare l'innovazione tecnologica. Inizialmente la ZES di Shenzhen era la più estesa nella sua categoria, diventando presto una zona di sperimentazione e una finestra sull'esterno, posizionata in modo strategico in prossimità di Hong Kong, con il fine di promuovere una relazione duratura con la città.
Per 36 anni le società straniere a Shenzhen hanno goduto di una tassazione favorevole, di lunghi contratti per l'utilizzo dei terreni ad un costo ridotto e di procedure semplificate. Queste scelte si sono rivelate una strategia vincente e vengono tuttora implementate.
Nei prossimi cinque anni il governo mira ad incoraggiare l'imprenditorialità e l'innovazione, affinchè questi diventino il nuovo motore per la crescita della Cina. Per questo motivo, le imprese con capitali a partecipazione straniera (in inglese Foreign Investment Enterprises, FIE) nei settori high-tech beneficiano di incentivi considerevoli quando sono situate in una ZES. Nel luglio 2010 l'intera Shenzhen è stata designata ZES e i distretti di Bao'an e Longguang sono stati incorporati per offrire nuovi spazi all'innovazione scientifica, rendendo la città più attraente per gli investitori, grazie ad alcuni benefici esclusivi di cui gode.
La creazione della nuova Zona di Libero Scambio di Qianhai è un tentativo di migliorare la relazioni tra la Cina e Hong Kong nel settore finanziario, logistico e IT, grazie
all'implementazione di politiche finaziarie per gli investitori stranieri. Un esempio per le società nel settore high-tech sono le esenzioni sulle imposte sul reddito delle società per i primi due anni in cui viene registrato un utile, oltre a detrazioni fiscali per gli investimenti in ricerca e sviluppo.
Epicentro dell'innovazione
I fattori che rendono Shenzhen unica nel suo genere sono l'innovazione continua e la disponibilità di talenti. Il numero di incubatori è cresciuto da una dozzina ad oltre mille negli ultimi due anni e la maggior parte di essi si focalizza sull'hardware. Alcuni mercati dell'elettronica, come quello di Huaqiangbei (inizialmente famosi per l'offerta di prodotti falsi) ora vantano le invenzioni più recenti, come microfoni in grado di dare una valutazione delle abilità canore tramite un'app, computer della dimensione di una chiave USB e mini robot.
Le startup di Shenzhen attraggono giovani imprenditori da tutto il Paese – oltre che dal resto del mondo. Grazie all'ottimo tessuto connettivo, ordinare componenti hardware per la costruzione di prototipi richiede solo pochi giorni a Shenzhen  (a  differenza di quanto accade in Paesi come il Regno Unito, dove sono è necessario almeno un mese) e, grazie all'estesa competizione, l'acquisto di parti essenziali avviene a costi ridotti. Per queste ragioni, la velocità con cui le idee vengono trasformate in prodotti è unica al mondo.
Gli inventori sono in grado di lanciare i propri prototipi a tempi record, ricevendo tempestivi feedback dai clienti, prima di rendere il prodotto finale disponibile al pubblico. Nonostante tutti questi benefici, questo sistema presenta anche dei problemi.
La cultura Shanzhai è ancora onnipresente in Cina e la violazione della proprietà intellettuale è diffusa; quando un'idea ha successo, una schiera di produttori è pronto a replicarla. Un caso noto è quello dell'hoverboard: lanciata negli Stati Uniti al prezzo di USD 1.000, alcuni produttori di Shenzhen sono riusciti rapidamente a creare una versione alternativa ad un prezzo notevolmente inferiore. È quindi fondamentale per qualsiasi investitore registrare la proprietà intellettuale, ma bisogna essere consapevoli che la registrazione internazionale spesso non equivale ad immediata registrazione in Cina e che è preferibile depositare marchi direttamente in Cina e anche in caratteri cinesi.
Made in China 2025
La crescita del PIL cinese sta rallentando e per questo motivo il Paese sta provando a completare la trasformazione da un'economia basata su investimenti ed esportazione ad una incentrata sull'innovazione e sul consumo nazionale. La Cina ambisce inoltre a posizionarsi più in alto nella catena del valore e l'iniziativa Made in China 2025 è uno dei pilastri del Piano Quinquiennale in corso. Allo scopo di incoraggiare l'innovazione, lo Stato continuerà ad offrire incentivi agli investitori nei settori high-tech; l'importazione di sapere dall'estero ricopre un ruolo chiave, perché permette di creare opportunità per le imprese con capitali a partecipazione straniera.
Il CEO di Apple, Tim Cook, commenta la decisione di aprire un centro di ricerca e sviluppo a Shenzhen così: "Apple si è resa conto che il livello di competenza delle aziende di Shenzhen stava gradualmente guidando le altree aree del mondo." Apple è solo una delle tante società che hanno notato questo trend, incentivato dalla combinazione di politiche preferenziali, dal posizionamento strategico della città e dalla disponibilità di talenti.

Chi Siamo
Asia Briefing Ltd. è una controllata di Dezan Shira & Associates. Dezan Shira & Associates è una società di consulenza specializzata nell'assistenza agli investimenti diretti esteri per le società che intendono stabilire, mantenere e far crescere le loro operazioni in Asia. I nostri servizi includono consulenza legale e strategica all'investimento, costituzione e registrazioni societarie, tenuta contabile con redazione di bilanci periodici ed annuali, consulenza fiscale e finanziaria, due diligence, revisione contabile, gestione tesoreria, libri paga e personale, transfer pricing, consulenza IT, sistemi gestionali, deposito marchi e servizio visti. Per maggiori informazioni vi invitiamo a contattarci al seguente indirizzo: italiandesk@dezshira.com o a visitare il nostro sito: www.dezshira.com.
Per rimanere aggiornati sugli ultimi trend degli investimenti e del business in Asia, iscrivetevi alla nostra newsletter per ricevere notizie, commenti, guide e risorse multimediali.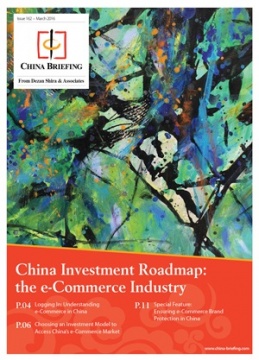 China Investment Roadmap: the e-Commerce Industry
In this edition of China Briefing magazine, we present a roadmap for investing in China's e-commerce industry. We provide a consumer analysis of the Chinese market, take a look at the main industry players, and examine the various investment models that are available to foreign companies. Finally, we discuss one of the most crucial due diligence issues that underpins e-commerce in China: ensuring brand protection.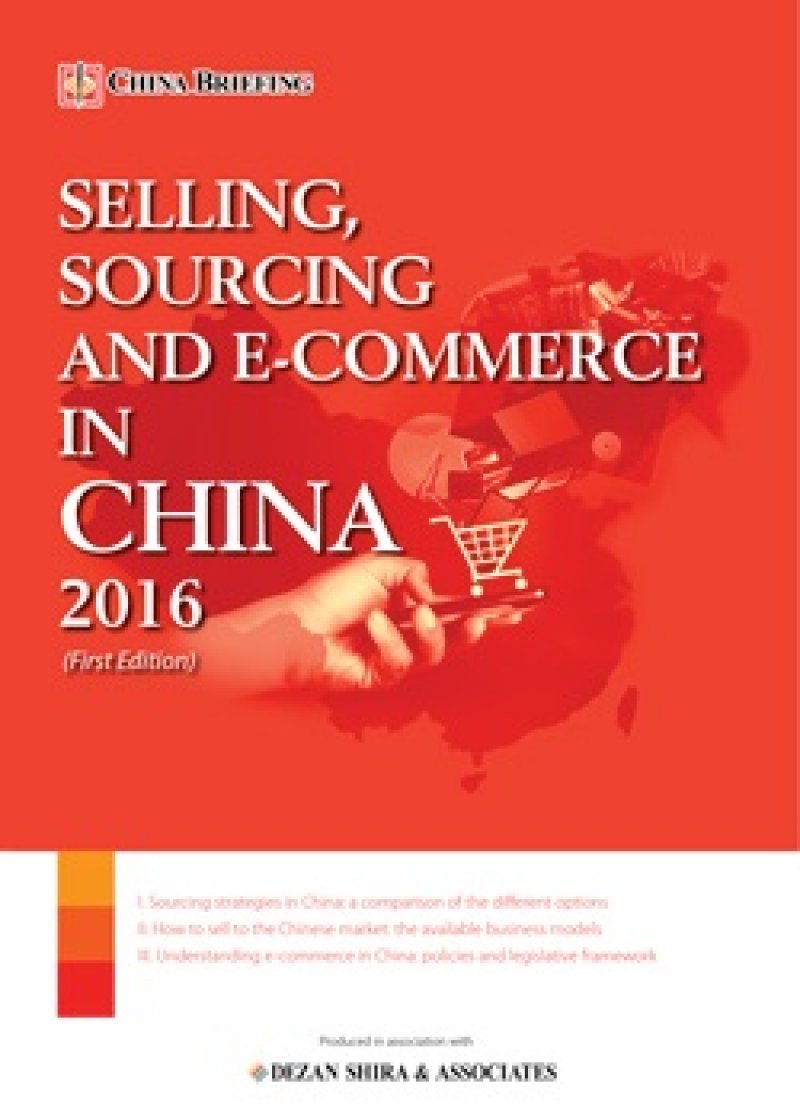 Selling, Sourcing and E-Commerce in China 2016 (First Edition)
Selling, Sourcing & E-Commerce in China 2016, produced in collaboration with the experts at Dezan Shira & Associates, provides a comprehensive analysis of all the aspects of commerce in China. It discusses how foreign companies can best go about sourcing products from China; how foreign retailers can set up operations on the ground to sell directly to the country's massive consumer class; and finally details how foreign enterprises can access China's lucrative yet ostensibly complex e-commerce market.
La Cintura Economica della Via della Seta
In questo numero di Asia Briefing presentiamo le principali caratteristiche della Cintura Economica della Via della Seta, evidenziando nel dettaglio il percorso via terra in Asia Centrale e quello via mare nel Sud-Est Asiatico. Nei prossimi decenni, la Cina avrà investito centinaia di miliardi di dollari in quella che potrebbe essere definita come la maggiore impresa diplomatica ed infrastrutturale mai realizzata. Si prevede che la Cintura Economica della Via della Seta avrà una certa influenza su tutte le tipologie di business in Cina ed è perciò giunto il momento di riflettere accuratamente sulle possibili implicazioni e opportunità per gli investitori stranieri.