A cura dell'Italian Desk di Dezan Shira & Associates
Dal 31 marzo 2017 Shanghai è diventata la prima città cinese ad offrire un permesso di soggiorno a lavoratori stranieri impiegati in lavori domestici. Considerata la nota avversione delle autorità cinesi a concedere visti per lavoratori stranieri non qualificati, le nuove disposizioni sono particolarmente significative e confermano Shanghai come la più internazionale delle città cinesi.
Il permesso di soggiorno, della durata di un anno, è stato concesso per la prima volta a una collaboratrice domestica originaria delle Filippine per lavorare al servizio di un manager americano nel quartiere di Pudong, cuore commerciale e finanziario della città. Ad oggi, lo Shanghai Entry-Exit Administration Bureau ha rilasciato permessi a oltre venti lavoratori domestici.
I datori di lavoro devono fare richiesta all'Entry-Exit Administration Bureau per conto dei lavoratori domestici che intendono assumere.
Coloro che possono richiedere il permesso di soggiorno per un lavoratore domestico straniero sono:
Professionisti stranieri di alto livello con permesso di soggiorno permanente (green card) o permesso lavorativo;
Professionisti di alto livello provenienti da Hong Kong, Macao e Taiwan;
Stranieri che hanno conseguito un master o un diploma di livello superiore.
Possono richiedere il permesso di soggiorno per conto del proprio lavoratore domestico anche i lavoratori stranieri impiegati nelle seguenti aree:
La zona di libero scambio di Shanghai (Shanghai Free Trade Zone);
Il parco Hi-Tech di Zhangjiang;
Istituti di istruzione superiore o di ricerca scientifica;
Aree professionali che il Shanghai Municipal Human Resources e Social Security Bureau riconoscono come "utili per l'innovazione scientifica e tecnologica".
Servizi correlati: Gestione libri paga e servizi di gestione del personale

È possibile per i lavoratori domestici stranieri entrare in Cina con un visto turistico prima di fare richiesta per il permesso di soggiorno. Ad ogni modo, l'Exit-Entry Administration del Shanghai Municipal Public Security Bureau è attualmente l'unico ufficio autorizzato a ricevere e esaminare le domande per questo tipo di permesso di soggiorno.
La nuova disposizione delle autorità locali di Shanghai è senz'altro innovativa: basti pensare che, fino a luglio 2015, ai lavoratori domestici stranieri non era concesso lavorare a Shanghai e solo un ristretto gruppo di dirigenti e professori di alto livello erano autorizzati ad assumere lavoratori stranieri. L'ultima riforma fa parte di una serie di provvedimenti del governo municipale di Shanghai mirati ad attrarre esperti e professionisti stranieri, arricchendo ulteriormente il capitale umano della città.  Dal dicembre 2016, il governo municipale ha facilitato le politiche di visto per gli stranieri.
Tali normative dovrebbero portare ad un incremento negli arrivi di lavoratori provenienti da paesi come l'Indonesia e le Filippine. Secondo le stime più recenti, tra i 100.000 e i 200.000 lavoratori domestici filippini già lavorano illegalmente in Cina e sono sempre più richiesti per la loro conoscenza della lingua inglese.
La nuova riforma potrebbe giovare sia ai lavoratori domestici stranieri che ai loro datori di lavoro, portando ad una maggiore trasparenza e ad un più preciso controllo su un mercato del lavoro locale da lungo afflitto da pratiche di lavoro in nero.

Chi Siamo
Asia Briefing Ltd. è una controllata di Dezan Shira & Associates. Dezan Shira & Associates è una società di consulenza specializzata nell'assistenza agli investimenti diretti esteri per le società che intendono stabilire, mantenere e far crescere le loro operazioni in Asia. I nostri servizi includono consulenza legale e strategica all'investimento, costituzione e registrazioni societarie, tenuta contabile con redazione di bilanci periodici ed annuali, consulenza fiscale e finanziaria, due diligence, revisione contabile, gestione tesoreria, libri paga e personale, transfer pricing, consulenza IT, sistemi gestionali, deposito marchi e servizio visti. Per maggiori informazioni vi invitiamo a contattarci al seguente indirizzo: italiandesk@dezshira.com o a visitare il nostro sito: www.dezshira.com.
Per rimanere aggiornati sugli ultimi trend degli investimenti e del business in Asia, iscrivetevi alla nostra newsletter per ricevere notizie, commenti, guide e risorse multimediali.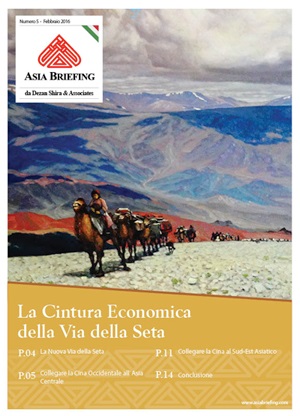 La Cintura Economica della Via della Seta
In questo numero presentiamo le principali caratteristiche della Cintura Economica della Via della Seta, ambizioso progetto infrastrutturale concepito da Pechino. Oltre a evidenziarne il percorso via terra in Asia Centrale e quello via mare nel Sud-Est Asiatico, questo numero propone diversi spunti di riflessione sulle possibili implicazioni e opportunità per gli investitori stranieri.
---
An Introduction to Doing Business in China 2017
Dezan Shira & Associates´ Silk Road and OBOR investment brochure offers an introduction to the region and an overview of the services provided by the firm. It is Dezan Shira´s mission to guide investors through the Silk Road´s complex regulatory environment and assist with all aspects of establishing, maintaining and growing business operations in the region.
---
New Considerations when Establishing a China WFOE in 2017
In this edition of China Briefing, we guide readers through a range of topics, from the reasons behind foreign investors' preference for the WFOE as an investment model, to managing China's new regulations. We discuss how economic transformations have favored the WFOE, as well as the investment model's utility, and detail key requirements that businesspeople need to examine before initiating the WFOE setup process. We then walk investors through the WFOE establishment process, and, finally, explain the new and idiosyncratic "Actual Controlling Person" regulation.