Китайское правительство сделало заявление относительно своего взгляда на международное развитие, как заявил посол Китая в России Ли Хуэй в среду 13 декабря на пресс-конференции в Москве, организованной в ответ на итоги 19-го Съезда Коммунистической партии Китая в октябре.
Две державы – ведущие дипломатические и военные соперники США – в последние годы ведут все более тесные отношения, поскольку они обе приступают к модернизации своих вооруженных сил и играют более активную роль в международной политике.
China Close to Signing Free Trade Agreement with Eurasian Economic Union
При этом посол Ли уделил особое внимание отношениям Китая с Россией, чем с США. «Китайско-российские отношения всестороннего стратегического сотрудничества и партнерства являются важнейшими двусторонними отношениями в мире и, более того, самыми стабильными отношениями между крупными странами», – сказал Ли в интервью агентству «ТАСС». Согласно Ли, Россия и Китай вместе представляют «важную силу, способную обеспечить мир и стабильность во всём мире».
Двусторонняя торговля между Китаем и Россией является самым быстрорастущим коридором в мире
Одна из основных причин, отвечающих за успех установления отношений России и Китая, заключается в том, что они «отказываются от мысли о холодной войне». Обе страны часто критиковали США за то, что они видят мир черно-белым, изображая Россию и Китай как врагов, а не партнеров в глобальных делах.
Крис Девоншир-Эллис из «Дезан Шира и Партнеры» заявляет: «Китай и Россия – соседствующие страны и имеют много общих интересов, а также взаимовыгодную демографию спроса и предложения. Они связаны географически и имеют много двусторонних торговых и инвестиционных интересов, не в последнюю очередь, благодаря инициативе «Один Пояс – Один Путь». Тем временем создаются такие институты, как Шанхайская организация сотрудничества, Азиатский банк инфраструктурных инвестиций, где Россия является вторым по величине акционером, а Китай вскоре собирается заключить соглашение о свободной торговле с Евразийским экономическим союзом. Именно Китай и Россия изменяют облик Евразии, а не США или ЕС. Эта изменяющаяся динамика является одной из причин, по которой наша фирма инвестирует в Россию и активно работает по торговому коридору «Шелковый путь». Это новые рынки, на которые необходимо обратить внимание».
Мария Котова руководит Русской Палатой в компании Dezan Shira & Associates в Китае. Если Вам необходима помощь по вопросам российских инвестиций в Китай, Вы можете связаться с ней по почте: maria.kotova@dezshira.com.
О нашей компании Asia Briefing является дочерним предприятием Dezan Shira & Associates. Dezan Shira специализируется в области прямых иностранных инвестиций, предоставляя услуги консультирования по вопросам бизнеса и налогообложения, учреждение корпораций, налогового планирования и бухгалтерского обслуживания, организации юридической и налоговой отчетности, начисления заработной платы, проверки финансовой отчетности компании и аудита для международных компаний инвестирующих в Китай, Гонконг, Индию, Вьетнам, Сингапур и другие страны АСЕАН. Для получения дополнительной информации, пожалуйста, пишите на почту china@dezshira.com или посетите наш сайт www.dezshira.com.
Будьте в курсе последних направлений в бизнесе и инвестициях в Азии, подписавшись на наш бесплатный сервис с последними новостями, комментариями и законодательными обновлениями.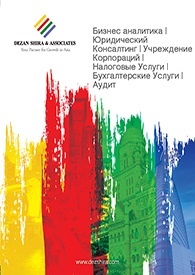 Брошюра «Дэзан Шира и Партнеры» предлагает полный обзор услуг, предоставляемых фирмой. Миссия нашей команды юристов, налоговых экспертов, аудиторов и консультантов Дезан Шира – служить путеводителем для инвесторов в сложной нормативно-правовой среде Азии и помогать по всем аспектам создания, поддержания и экономического роста бизнес-операций в регионе.
---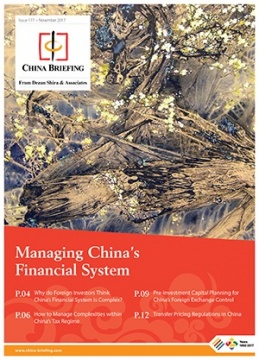 Foreign investors often find China's financial system to be one of the most difficult areas to navigate when establishing or growing their presence in the country. Navigating China's tax system, and its complexities, requires time and commitment. In this issue of China Briefing magazine, we look at the factors that make China's tax system unique, and identify steps foreign investors can take to manage its challenges. We first examine the issues that most commonly disorient foreign investors. We then discuss the importance of pre-investment capital planning, within the context of tough foreign exchange controls, before examining the ever-maturing regulations for the transfer pricing system.
---
China's foreign investment landscape has experienced pivotal changes this year. The Middle Kingdom can still be a challenging place to do business, but its economy has outperformed expectations. In this issue of China Briefing magazine, we examine how foreign investors can capitalize on China's latest FDI reforms. First, we outline new industry liberalizations in both China's FTZs and the country at large. We then consider when an FTZ makes sense as an investment location, and what businesses should consider when entering one. Finally, we give an overview of China's latest pro-business reforms that streamline a wide range of administrative and regulatory measures.
---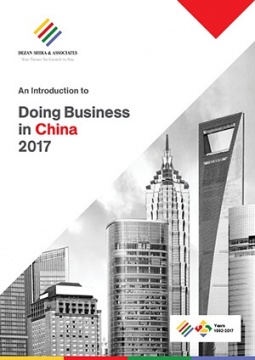 Doing Business in China 2017 is designed to introduce the fundamentals of investing in China. Compiled by the professionals at Dezan Shira & Associates in January 2017, this comprehensive guide is ideal not only for businesses looking to enter the Chinese market, but also for companies who already have a presence here and want to keep up-to-date with the most recent and relevant policy changes.