Our weekly round up of other news affecting foreign investors throughout Asia:
Singapore's 2018 Budget: Key Highlights for Businesses
On February 19, Singapore's finance minister delivered the 2018 budget with a focus on helping businesses in Singapore prepare for future challenges and create new opportunities. In this article, we present key highlights from the budget with important implications for businesses.
Trudeau's India Visit: Lessons for Foreign Investors
Trudeau is a popular leader around the world who enjoys substantial support from Canada's Indian diaspora. How did he manage to lose face on a seemingly daily basis while in India?
Russia Doubled it Gold Exports in 2017
Russian exports of fine gold increased 2.5 times to 56.6 tonnes in 2017, compared to 22.4 tonnes in 2016, according to the Russian State Assaying Chamber, a division of the Russian Ministry of Finance.
China's Silk Road Gold Fund – The African & South American Gold Deposits
China's US$16 billion Silk Road Gold Fund was launched in 2015, and over 60 countries have invested in it. In this article, we look at South-East Asian nations and their gold reserve holdings and known gold deposits.
Vietnam's M&A Market: Opportunities for Foreign Investors
For foreign investors, Vietnam's M&A market offers huge opportunities in the public and private sectors. M&A transactions have increased since 2017 and will continue to do so in 2018. Read more to know about the major M&A sectors, regulations, investor concerns, and opportunities in 2018.
About Us
China Briefing is published by Asia Briefing, a subsidiary of Dezan Shira & Associates. We produce material for foreign investors throughout Asia, including ASEAN, India, Indonesia, Russia, the Silk Road, and Vietnam. For editorial matters please contact us here, and for a complimentary subscription to our products, please click here.
Dezan Shira & Associates is a full service practice in China, providing business intelligence, due diligence, legal, tax, accounting, IT, HR, payroll, and advisory services throughout the China and Asian region. For assistance with China business issues or investments into China, please contact us at china@dezshira.com or visit us at www.dezshira.com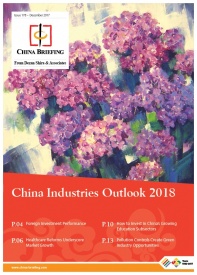 In China's new era, socioeconomic issues such as a rapidly aging society, an uneasy transition towards a knowledge-based economy, and a highly polluted environment are becoming more important than relentless economic growth and expansion. And foreign investment into China must adapt to respond to these new priorities..
---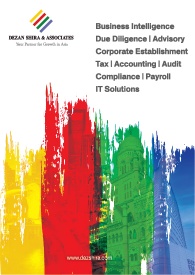 Dezan Shira & Associates' Service Brochure
Dezan Shira & Associates´ brochure offers a comprehensive overview of the services provided by the firm. With its team of lawyers, tax experts, auditors and consultants, it is Dezan Shira´s mission to guide investors through Asia´s complex regulatory environment and assist with all aspects of establishing, maintaini..
---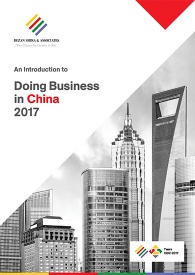 An Introduction to Doing Business in China 2017
Doing Business in China 2017 is designed to introduce the fundamentals of investing in China. Compiled by the professionals at Dezan Shira & Associates in January 2017, this comprehensive guide is ideal not only for businesses looking to enter the Chinese market, but also for companies who already have a presence here ..
---