China wird laut Premier Li Keqiang die Mehrwertsteuer für Unternehmen in den Bereichen Produktion, Transport, Bauwesen, Telekommunikation und Landwirtschaft senken.
Die Kürzungen, die am 1. Mai 2018 in Kraft treten, werden die Steuern in diesem Jahr voraussichtlich um 240 Milliarden RMB (US $ 38,17) senken. Die Senkugen sind Teil eines umfassenden Steuerreformpakets, welches darauf abzielt, die Steuern im Jahr 2018 um insgesamt RMB 400 Mrd. (US $ 64 Mrd.) zu senken.
Die Steuerreform wird den Mehrwertsteuersatz für produzierende Unternehmen von 17 Prozent auf 16 Prozent senken und für Transport-, Bau-, Telekommunikations- und landwirtschaftliche Unternehmen, von 11 Prozent auf 10 Prozent.
Zusätzlich zu den Senkungen des Mehrwertsteuersatzes hat China die Hürde gesenkt, um als Kleinsteuerzahler zu gelten. Kleinsteuerpflichtige Steuerzahler werden jetzt als solche definiert, deren Jahresumsatz weniger als RMB 5 Millionen beträgt, während sie zuvor als solche definiert wurden, lagen die Umsätze zwischen RMB 500.000 (US $ 79.490) und RMB 800.000 (US $ 127.180).
Unternehmen, die als allgemein Steuerpflichtige registriert sind, können sich als Kleinsteuerzahler bewerben, wenn sie unter diese neuen Kriterien fallen. Kleinsteuerzahler profitieren von einem Mehrwertsteuersatz von drei Prozent, können aber im Allgemeinen – abgesehen von bestimmten Pilotprogrammen – keine spezielle Mehrwertsteuer-Fapiao (special value-added tax ) – die für viele Unternehmen unerlässlich ist – ausstellen, da nur diese als Umlaufsteuer abgesetzt werden kann.
Unternehmen mit Schwerpunkt in fortgeschrittener Fertigung, modernen Dienstleistungen und Stromversorger können nun eine Pauschalerstattung für den Vorsteuerabzug erhalten, im Rahmen des umfassenderen Steuersenkungspakets.
Die Steuersenkungen folgen Li's Arbeitberichten, in welchen er sich verpflichtete, die Steuerlast für Unternehmen zu verringern, das Geschäftsumfeld zu verbessern und das Mehrwertsteuersystem zu verschlanken. Hier erklärte Li ebenfalls, die Regierung plane auch, die Anzahl der Mehrwertsteuern von drei auf zwei zu reduzieren. China hat derzeit drei Umsatzsteuersätze: 17 Prozent, 11 Prozent und sechs Prozent.
Die jüngsten Steuersenkungen und Pläne zur Vereinfachung der Mehrwertsteuer können als Fortsetzung einer langfristigen Agenda betrachtet werden. Im vergangenen Jahr hat China bereits die Mehrwertsteuer von 13 Prozent abgeschafft und ein Steuersenkungspaket in Höhe von 380 Mrd. RMB (55,2 Mrd. USD) erlassen. Die Regierung hat das Mehrwertsteuersystem, seit dem Beschluss der Mehrwertsteuerreform im Jahr 2016, kontinuierlich optimiert, was in den letzten fünf Jahren Steuersenkungen in Höhe von 2,1 Billionen RMB (333,9 Milliarden USD) zur Folge hatte.
Die jüngsten Steuersenkungen erfolgten nachdem die USA ihr eigenes Steuerreformpaket verabschiedet hatte, welches die Steuerverpflichtungen der US-Unternehmen erheblich senkte. Einige Ökonomen haben argumentiert, dass China die Steuern senken sollte, um seine Wettbewerbsfähigkeit als Investitionsziel zu stärken.
China Briefing is published by Asia Briefing, a subsidiary of Dezan Shira & Associates. We produce material for foreign investors throughout Asia, including ASEAN, India, Indonesia, Russia, the Silk Road, and Vietnam. For editorial matters please contact us here, and for a complimentary subscription to our products, please click here.
Dezan Shira & Associates is a full service practice in China, providing business intelligence, due diligence, legal, tax, accounting, IT, HR, payroll, and advisory services throughout the China and Asian region. For assistance with China business issues or investments into China, please contact us at china@dezshira.com or visit us at www.dezshira.com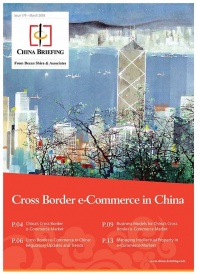 Cross Border e-Commerce in China
While cross border e-commerce (CBEC) is an attractive channel for foreign businesses to sell to China, misunderstandings over how CBEC in China works frequently end in costly disappointments and retreats from the market. In this issue of China Briefing magazine, we offer foreign investors a practical guide to selling t..
---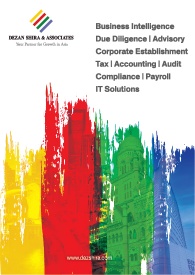 Dezan Shira & Associates' Service Brochure
Dezan Shira & Associates´ brochure offers a comprehensive overview of the services provided by the firm. With its team of lawyers, tax experts, auditors and consultants, it is Dezan Shira´s mission to guide investors through Asia´s complex regulatory environment and assist with all aspects of establishing, maintaini..
---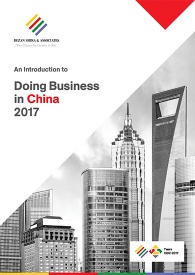 An Introduction to Doing Business in China 2017
Doing Business in China 2017 is designed to introduce the fundamentals of investing in China. Compiled by the professionals at Dezan Shira & Associates in January 2017, this comprehensive guide is ideal not only for businesses looking to enter the Chinese market, but also for companies who already have a presence here ..
---