Our weekly round up of other news affecting foreign investors throughout Asia:
Philippines Under Duterte: Opportunities and Risks
As the Philippines' economy continues to experience robust growth, Grapevine Asia Partners assesses the opportunities and risks for foreign investors in the country under the administration of President Rodrigo Duterte.
India-Vietnam: A Comprehensive Strategic Partnership Emerges
South Asia is currently witnessing a rapid growth spurt, with a resurgence in investor interest despite the occasional geopolitical foible. India and Vietnam hold key positions in this region – on both trade and commerce as well as understanding on political and security issues.
Russia Begins Use of Cryptocurrencies in International Trade
Russia has begun making trades in cryptocurrencies, with trades beginning on a trial basis in Switzerland and an trade deal with Venezuela for Russian auto component parts being settled in Venezuela's own national cryptocurrency, the Petro.
Iran Planning Super-Highway to Connect with Mediterranean
Iran's Al-Quds Al-Arabi newspaper has reported that the Iranian government is planning to build a highway connecting Tehran with cities in Iraq, Syria, and Lebanon. The ambitious project, if it comes to fruition, is expected to serve as Tehran's main transit route for exports.
China+1: The New Face of Manufacturing in Vietnam
Instead of abandoning the Chinese market, investors are choosing to supplement Chinese operations with low-cost Vietnamese inputs in a production model that has become widely known as China+1.
About Us
China Briefing is published by Asia Briefing, a subsidiary of Dezan Shira & Associates. We produce material for foreign investors throughout Asia, including ASEAN, India, Indonesia, Russia, the Silk Road, and Vietnam. For editorial matters please contact us here, and for a complimentary subscription to our products, please click here.
Dezan Shira & Associates is a full service practice in China, providing business intelligence, due diligence, legal, tax, accounting, IT, HR, payroll, and advisory services throughout the China and Asian region. For assistance with China business issues or investments into China, please contact us at china@dezshira.com or visit us at www.dezshira.com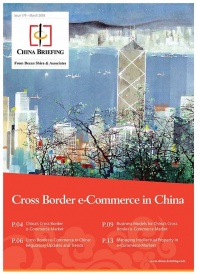 Cross Border e-Commerce in China
While cross border e-commerce (CBEC) is an attractive channel for foreign businesses to sell to China, misunderstandings over how CBEC in China works frequently end in costly disappointments and retreats from the market. In this issue of China Briefing magazine, we offer foreign investors a practical guide to selling t..
---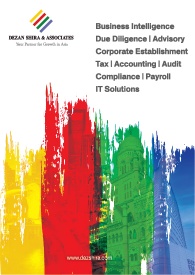 Dezan Shira & Associates' Service Brochure
Dezan Shira & Associates´ brochure offers a comprehensive overview of the services provided by the firm. With its team of lawyers, tax experts, auditors and consultants, it is Dezan Shira´s mission to guide investors through Asia´s complex regulatory environment and assist with all aspects of establishing, maintaini..
---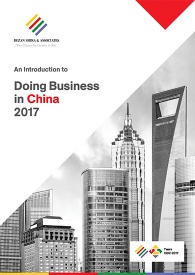 An Introduction to Doing Business in China 2017
Doing Business in China 2017 is designed to introduce the fundamentals of investing in China. Compiled by the professionals at Dezan Shira & Associates in January 2017, this comprehensive guide is ideal not only for businesses looking to enter the Chinese market, but also for companies who already have a presence here ..
---