Our weekly round up of other news affecting foreign investors throughout Asia:
Thailand's Special Economic Zones – Opportunities for Investment
Likely to benefit further from Thailand's continued economic growth are businesses that choose to locate in Special Economic Zones (SEZs) in Thai border provinces. Here, we analyze the opportunities and incentives on offer in these SEZs.
Auto Components Manufacturing in India: Robust Investment Outlook, Growth Potential
India's rapidly increasing domestic demand and proximity to key Asian markets has made it a strong auto components sourcing hub. In 2016-17, the annual turnover of the auto component industry in India crossed US$43 billion; it is expected to reach US$115 billion in 2020-21.
Russia Looks at Creating Offshore Financial Centers Similar to Delaware and Hong Kong
Russia's Vedomosti newspaper has reported that the Russian Government is planning the creation of two offshore financial centers (OFCs) with special legal systems in the Kaliningrad Region and the Vladivostok in Russia's Far Eastern Primorsky Krai territory to support business and trade.
Vietnam's Growing Pharmaceutical Market
Vietnam pharmaceutical industry has grown significantly in the last decade but it continues to seek foreign capital and expertise to reduce its dependence on imports. Read more to know about the industry challenges, consumer trends, trade figures, and market entry modes.
About Us
China Briefing is published by Asia Briefing, a subsidiary of Dezan Shira & Associates. We produce material for foreign investors throughout Asia, including ASEAN, India, Indonesia, Russia, the Silk Road, and Vietnam. For editorial matters please contact us here, and for a complimentary subscription to our products, please click here.
Dezan Shira & Associates is a full service practice in China, providing business intelligence, due diligence, legal, tax, accounting, IT, HR, payroll, and advisory services throughout the China and Asian region. For assistance with China business issues or investments into China, please contact us at china@dezshira.com or visit us at www.dezshira.com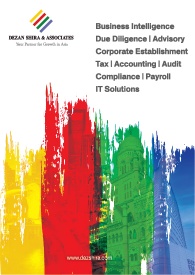 Dezan Shira & Associates' Service Brochure
Dezan Shira & Associates´ brochure offers a comprehensive overview of the services provided by the firm. With its team of lawyers, tax experts, auditors and consultants, it is Dezan Shira´s mission to guide investors through Asia´s complex regulatory environment and assist with all aspects of establishing, maintaini..
---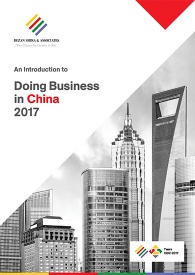 An Introduction to Doing Business in China 2017
Doing Business in China 2017 is designed to introduce the fundamentals of investing in China. Compiled by the professionals at Dezan Shira & Associates in January 2017, this comprehensive guide is ideal not only for businesses looking to enter the Chinese market, but also for companies who already have a presence here ..
---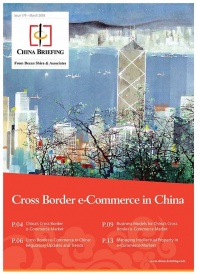 Cross Border e-Commerce in China
While cross border e-commerce (CBEC) is an attractive channel for foreign businesses to sell to China, misunderstandings over how CBEC in China works frequently end in costly disappointments and retreats from the market. In this issue of China Briefing magazine, we offer foreign investors a practical guide to selling t..
---