Autor: I-Ting Shelly Lin
Im März 2018 gaben die Regierungsbehörden von Peking eine Reihe von Richtlinien und Maßnahmen heraus, welche die Geschäftsabläufe in der Hauptstadt erleichtern sollen. Die in Peking ansässigen Unternehmen, profitieren nun von vereinfachten Verfahren und mehr Transparenz, bezüglich der bürokratischen Abläufe.
Manuelle Abwicklungen wurden durch Onlineverfahren ersetzt und das gesamte Verfahren rationalisiert. Ferner wurden Kosten reduziert. Jedes bisschen zählt bei den komplexen Prozessen in China und die Initiative, wird den Geschäftsleuten in der Hauptstadt, zweifellos helfen.
Interessanterweise folgt die Initiative tatsächlich, der vom Präsidenten im Jahr 2017 eingeschlagenen Richtung.  Metropolen wie Peking wurden aufgefordert, Anstrengungen zu unternehmen, um das Geschäftsumfeld zu verbessern. Fakt ist ebenfalls, dass Reformen auf nationaler Ebene, Chinas Investitionslandschaft im vergangenen Jahr für ausländische Investoren erheblich verändert haben.
Ausländische Investoren in Peking sollten die Reformenänderungen studieren und überlegen, ob sich daraus Vorteile für sie ergeben könnten. Peking könnte sehr gut den Ton für Reformen in anderen Städten im kommenden Jahr vorgeben.
In den folgenden Bereichen, greift die Reform durch:
RELATED: China to Establish Hainan Free Trade Zone
Unternehmensgründung
Die Behörden haben den Registrierungsprozess für die Neugründung von Unternehmen verkürzt. Jetzt können Neugründer den gesamten Registrierungsprozess bereits fünf Tage nach der Einreichung eines Antrags abschließen, verglichen mit den vorherigen 15+ Tagen. Diese Verkürzungsmöglichkeit hängt natürlich von der Unternehmensform ab und auch von Industriespezikifationen.
Die Behörden planen außerdem, in jedem Bezirk der Stadt einen "one-stop-Kundenschalter"  für die Firmenanmeldung einzurichten. Die Behörden werden einen Schalter zur Verfügung stellen und dort alle Bewerbungsunterlagen konsolodiert annehmen, die für die Gründung notwendig sind.
Um die Online-Registrierung von Unternehmen zu fördern, haben die Behörden die Dauer des Online-Prozesses von acht Tagen auf ein bis drei Tage verkürzt. Dieser Online-Bewerbungsprozess sollte für die meisten Unternehmen am schnellsten sein.
Darüber hinaus bietet die Regierung für neu gegründete Unternehmen an, Daten automatisch in einer Austauschdatenbank zwischen der Verwaltung für Industrie und Handel (AIC) und dem öffentlichen Sicherheitsbüro der Stadt Peking (PSB) zu erfassen.
Registrierung von Eigentum
Die Behörden haben eine Reihe von Online Prozessen unter einer gemeinsamen Online Plattform zusammengefasst, was die Registrierungszeit, auf ein bis fünf Tage reduzieren wird. Damit werden Transaktions-, Steuer- und Registrierungsprozesse gestrafft.
Nach der Reform erwarten die Behörden, dass bis Ende 2018 über 90 Prozent der Anmeldungen über diese Online-Registrierungsplattform für Immobilieneigentum abgeschlossen werden.
Steuerzahlungen
Erstanträge für Mehrwertsteuerverrechnungen sind, dank der neuen Reform, nun effizienter. Dieser neue Prozess ermöglicht es Steuerzahlern, das Equipment für die Erklärung, sowie die von der Behörde ausgestellete Rechnungskopie, bei ihrem örtlichen Steuerbüro abzuholen. Angeblich soll dies innerhalb eines Tages nach der Online-Zahlung, möglich sein.
Housing fund
Die Behörden haben den Antrag auf housing fund gestrafft. Bewerber müssen nur noch ein Formular ausfüllen, im Vergleich dazu, waren es sechs zuvor.
Finanzierung
Die Reform enthält neue Regelungen zur Unterstützung kleiner und mittlerer Unternehmen (KMU), insbesondere durch eine Senkung der Bankgarantie Anforderungen und einem neuen Prozess zur Bewertung der finanziellen Sicherheiten.
Um das Risiko von Finanzierungen für Klein- und Kleinstunternehmen zu reduzieren, hat die Stadtverwaltung in Peking und die Zentralregierung einen Garantiefonds in Höhe von RMB 500 Millionen (US $ 79,54 Millionen) eingerichtet, um Klein- und Kleinstunternehmen mit Krediten  zu unterstützen. Berichten zufolge hat dieser Fonds bereits mehr als 3.000 Klein- und Kleinstunternehmen unterstützt.
RELATED: Foreign Investment in Guangdong: New Incentives Announced
Grenzüberschreitender Handel
Durch die Reform sind die zuständigen Behörden  nun in der Lage, Genehmigung für standard Import- und Exportlizenzen innerhalb eines Tages zu erteilen, verglichen mit der vorherigen Bearbeitungszeit von fünf Tagen. Die Behörden haben außerdem die Bearbeitungszeit für die Online-Quarantäne von 36 Stunden auf zwei Stunden reduziert.
Bauprojekte
Die Behörden beabsichitgen, Projektgenehmigungen gleichzeitig und nicht getrennt nach Abteilungen zu erteilen. Darüber hinaus wurde der Zeitaufwand für die Prüfung neuer Bauvorhaben von 109 Tagen auf 29 bis 44 Tage reduziert.
Grundversorgung
Die Gesamtzahl der Dokumente, sowie die Menge der benötigten Informationen für den Zugang zu Elektrizität für Firmen, wurde von den Behörden reduziert.
Klein- und Kleinstunternehmen müssen beispielsweise überhaupt keine Papiere mehr ausfüllen und die Gesamtzahl der Verfahren wurde halbiert. Die Reform gewährt Klein- und Kleinstunternehmen Ersparnissen bis zu 1,2 Milliarden RMB (191,4 Millionen US-Dollar) bezüglich der gesamten Stromkosten.
Die Behörden haben außerdem die Bearbeitungszeit verkürzt, bei den öffentlichen Behörden für Infrastruktur. Firmen können nun den Zugang zu Grundversorgungen wie Strom, Wasser, Gas und Wärme, in weniger als 15 Arbeitstagen erwarten.
Sozialversicherungsberatung
Das Municipal Human Resources" und das "Social Security Bureau" in Peking hat im Zuge der Reform, 12 spezifische Maßnahmen und 30 Leitlinien für den Umgang mit Sozialversicherungsfragen  – einschließlich Regeln bezüglich der Sozialversicherungsregistrierung und dem Account Management, erlassen.
Bewerber, die eine Sozialversicherung anmelden, müssen nun mehr nur einmal die Sozialversicherungseinrichtung besuchen. 80 Prozent der zukünftigen Sozialversicherungsangelegenheiten, können nun online erledigt werden. Termine für einen Antrag auf Sozialversicherung sind nun über Online-Plattformen und Kommunikations-Apps, wie z.B. WeChat, möglich.
Wichtige Vorgänge wie die Registrierung von Versicherungen, die Meldung von Personalzu- und -abgängen, Änderung von Informationen und die Finanzerklärungen, können jetzt an jedem Geschäftstag des Monats, vorgenommen werden.
Darüber hinaus hat die Regierung Online Service Plattformen eingerichtet, die den Komfort bieten, Zahlungsverpflichtungen hinsichtlich der Sozialversicherunge, via Internet Banking, mobile Banking oder Third Party Anbietern, nachzukommen.
Steigerung der Auslandsinvestition
Diese Reformen zur Verbesserung des Geschäftsumfeldes, sind nur einige der Maßnahmen der Stadt, zur Förderung von Investitionen.
Mit weiteren neuen Richtlinien, sollen ausländische Investitionen nach Peking gelockt werden. Die Stadt verpricht multinationalen Unternehmen Firmeneröffnung in Peking zu unterstützen, indem sie wichtige Industrieparks fördert und solche ausländische Investoren supportet, die sich in High-End-Technologien engagieren.
Darüber hinaus wurde kürzlich die Leitlinie  Expanding Market Openness to Foreign Investors and Improving the use of Foreign Capital, veröffentlicht. Diese soll zu Investitionen in Wissenschaft und Technologie, Internet und Information, Kultur und Bildung, Finanzen, Handel und Tourismus sowie Gesundheit und medizinische Dienstleistungen anreizen.
Des Weitern versucht Peking ausländische Talente zu ermutigen, in die Stadt zu kommen. Dies wird gefördert durch das anbeiten von Kranken- und Kapitalversicherung, durch Unterstützung bei dem Erhalt eines Schulplatzes für Kinder, sowie durch die Möglichkeit für ausländische Talente, Immobilein zu erwerben und sich für Eigentumsrechte zu registrieren.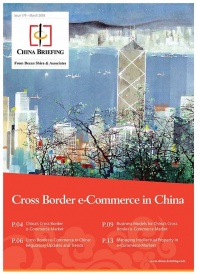 Cross Border e-Commerce in China
While cross border e-commerce (CBEC) is an attractive channel for foreign businesses to sell to China, misunderstandings over how CBEC in China works frequently end in costly disappointments and retreats from the market. In this issue of China Briefing magazine, we offer foreign investors a practical guide to selling t..
---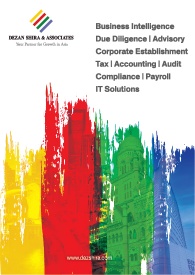 Dezan Shira & Associates' Service Brochure
Dezan Shira & Associates´ brochure offers a comprehensive overview of the services provided by the firm. With its team of lawyers, tax experts, auditors and consultants, it is Dezan Shira´s mission to guide investors through Asia´s complex regulatory environment and assist with all aspects of establishing, maintaini..
---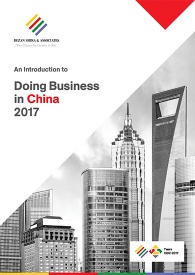 An Introduction to Doing Business in China 2017
Doing Business in China 2017 is designed to introduce the fundamentals of investing in China. Compiled by the professionals at Dezan Shira & Associates in January 2017, this comprehensive guide is ideal not only for businesses looking to enter the Chinese market, but also for companies who already have a presence here ..
---