China and the US struck a trade agreement over the weekend that will see the two countries ease trade tensions and avoid a trade war – for the time being.
The US will suspend plans to slap tariffs on up to US$150 billion worth of Chinese goods, while China will halt the imposition of retaliatory tariffs on US products.
As part of the deal, China agreed to reduce the US trade deficit by purchasing more American products, particularly in the agriculture and energy segments.
According to US Treasury Secretary Steven Mnuchin, China will boost its purchases of American agricultural products by 35 to 45 percent in 2018, and increase energy procurement over the next three to five years.
US industries that stand to benefit include beef, cereals, soybeans, dairy, liquefied natural gas (LNG), chemicals, machinery, and aerospace products.
On May 22, China also announced that it would reduce tariffs on foreign automobiles from 25 percent to 15 percent, and cut tariffs on auto parts from between eight and 25 percent to a six percent flat rate.
RELATED: China-Germany Relations: Opportunities Emerge as Investment Ties Grow
At the Boao Forum in April, China signaled that it would slash tariffs on such goods. Soon after, China also announced that it would gradually eliminate foreign ownership limits on auto manufacturers.
For its part, the US has signaled its willingness to ease sanctions on Chinese telecommunications giant ZTE. US companies are banned from selling to ZTE as a result of the company breaching terms of a settlement it made for violating US sanctions on Iran and North Korea.
According to preliminary negotiations, ZTE will have to make significant changes to its management structure and pay hefty fines. However, allowing US businesses to continue selling to ZTE will save the company from collapse as it is reliant on US technology for certain components and software.
Critics of the trade deal have argued that it fails to address structural issues in the China-US economic relationship, and is centered on a short-term promise from China to purchase more US goods over the next several years.
The deal does not include any commitment from China to purchase a specific dollar amount of US goods – despite the US reportedly requesting that China increase its purchases by US$200 billion. Analysts at Morgan Stanley estimate that the deal could increase Chinese imports of US goods by US$60-90 billion.
China also did not make any concessions in altering its industrial policy, namely the Made in China 2025 policy, which is an area of concern for the US. China only made a general commitment to advance intellectual property protection.
Furthermore, last year China already agreed to purchase more US agricultural and energy products. China has also been pursuing a policy of supply-side reform, which seeks to boost domestic consumption via measures such as tariff cuts on consumer goods.
China's concessions may have sped up the timeline for executing such policies, but do not fundamentally alter some of its more controversial trade practices.
Business Intelligence from Dezan Shira & Associates
Still, the trade deal is a relief for both Chinese and US companies whose operations stood to get disrupted in a trade war. However, US President Donald Trump and his negotiating team have made it clear that a trade war could still be on the cards as the two sides continue to negotiate.
Asked at a press conference whether he was pleased with the trade talks with China, Trump responded "No, not really," and said "They're a start." Regarding ZTE, Trump said that "There is no deal. We will see what happens."
With strong resistance in the US Congress and Senate to Trump's treatment of ZTE, and prospects dimming for a successful summit with North Korea – where China is a key player – the risk of trade tensions between China and the US to resume remains a distinct possibility.
About Us
China Briefing is published by Asia Briefing, a subsidiary of Dezan Shira & Associates. We produce material for foreign investors throughout Asia, including ASEAN, India, Indonesia, Russia, the Silk Road, and Vietnam. For editorial matters please contact us here, and for a complimentary subscription to our products, please click here.
Dezan Shira & Associates is a full service practice in China, providing business intelligence, due diligence, legal, tax, accounting, IT, HR, payroll, and advisory services throughout the China and Asian region. For assistance with China business issues or investments into China, please contact us at china@dezshira.com or visit us at www.dezshira.com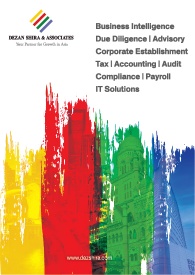 Dezan Shira & Associates' Service Brochure
Dezan Shira & Associates´ brochure offers a comprehensive overview of the services provided by the firm. With its team of lawyers, tax experts, auditors and consultants, it is Dezan Shira´s mission to guide investors through Asia´s complex regulatory environment and assist with all aspects of establishing, maintaini..
---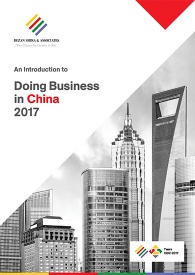 An Introduction to Doing Business in China 2017
Doing Business in China 2017 is designed to introduce the fundamentals of investing in China. Compiled by the professionals at Dezan Shira & Associates in January 2017, this comprehensive guide is ideal not only for businesses looking to enter the Chinese market, but also for companies who already have a presence here ..
---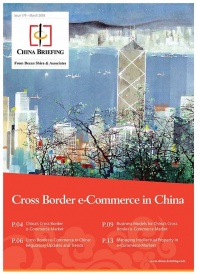 Cross Border e-Commerce in China
While cross border e-commerce (CBEC) is an attractive channel for foreign businesses to sell to China, misunderstandings over how CBEC in China works frequently end in costly disappointments and retreats from the market. In this issue of China Briefing magazine, we offer foreign investors a practical guide to selling t..
---