China Market Watch: China's Commercial Healthcare Insurance Industry and Import/Export Business
New Tariff Rates to Impact the Import/Export Business in China
The Chinese government has recently released the 2016 Customs Tariff Implementation Plan ("2016 Tariff Plan"), which implements custom duties on a total number of 8,294 items. In 2016, China will implement temporary tax rates, which is even lower than the most-favored-nation duty (MFN) on more than 787 imported commodities, including on diapers (two percent), sunglasses (six percent), kaolin (one percent) and skincare products (two percent). The country also slashed tariffs by 50 percent for 14 categories of consumer goods this year in an effort to boost China's import/export businesses and increase Chinese domestic consumption. Further, exporting certain technical equipment and products to China will be exempt from custom duties. 
In China, the duty rates levied on imported goods consist of: 
Most-favored-nation duty (MFN) rates;
Conventional duty rates;
Special preferential duty rates;
General duty rates;
Tariff rate quota (TRQ) duty rates; and
Temporary duty rates. 
RELATED: Business Advisory Services from Dezan Shira & Associates
An Overview of the Recent Development of China's FTAs with Foreign Countries
On December 9, the Chinese government signed off its Free Trade Agreement (FTA) with the Republic of Korea and Australia. Both FTAs will take effect on December 20 with a first round of tax cuts. The second tariff reduction is scheduled on January 1, 2016. Under the FTA, over 90 percent of the imported products from South Korea and Australia will gradually be subject to zero tariff rates. 
Following this, on December 10, Zhong Shan, the Trade Representative and Deputy Minister of China's Ministry of Commerce and Kumsishvili, the Georgian Minister of Economy & Sustainable Development, signed the Memorandum of Understanding (MoU) between the two countries on Initiating Negotiations over Sino-Georgia FTA. China is the third largest trade partner and second largest source of imports of Georgia. In March 2015, both countries announced the commencement of research on feasibility of FTA negotiations. The two sides are also considering the establishment of a "Sino-Georgia Free Trade Zone," which is expected to strengthen bilateral relations and deepen the countries' economic and trade cooperation. 
Investing in China's Commercial Healthcare Insurance Industry
China's Ministry of Finance, together with the State Administration of Taxation (SAT) and China Insurance Regulatory Commission, has decided to launch a trial program of individual income tax (IIT) reduction on commercial healthcare insurance in 31 cities of China, including Beijing and Shanghai. Specifically, expenditure incurred by individuals in the areas covered by the pilot program from purchasing qualified healthcare insurance products is permitted to be deducted before IIT collection capped at RMB 2400 per year. 
Back in 2013, China's State Council released the "Several Opinions on Promoting the Development of the Healthcare Service Industry" (guofa [2013] No. 40), which puts forward several development goals for the country's healthcare industry to achieve by 2020. The Opinions explicitly state that market entry requirements for the healthcare service industry will be relaxed, and an open, transparent, equal and standardized access system for the healthcare service industry will be established. Currently, foreign investors are allowed to set up wholly foreign-owned insurance companies (shares owned by a foreign party in a life insurance company capped at 50 percent) in China, based on the latest Guidance Catalogue for Foreign Investment Industries.

About Us
Asia Briefing Ltd. is a subsidiary of Dezan Shira & Associates. Dezan Shira is a specialist foreign direct investment practice, providing corporate establishment, business advisory, tax advisory and compliance, accounting, payroll, due diligence and financial review services to multinationals investing in China, Hong Kong, India, Vietnam, Singapore and the rest of ASEAN. For further information, please email china@dezshira.com or visit www.dezshira.com.
Stay up to date with the latest business and investment trends in Asia by subscribing to our complimentary update service featuring news, commentary and regulatory insight.
 ‍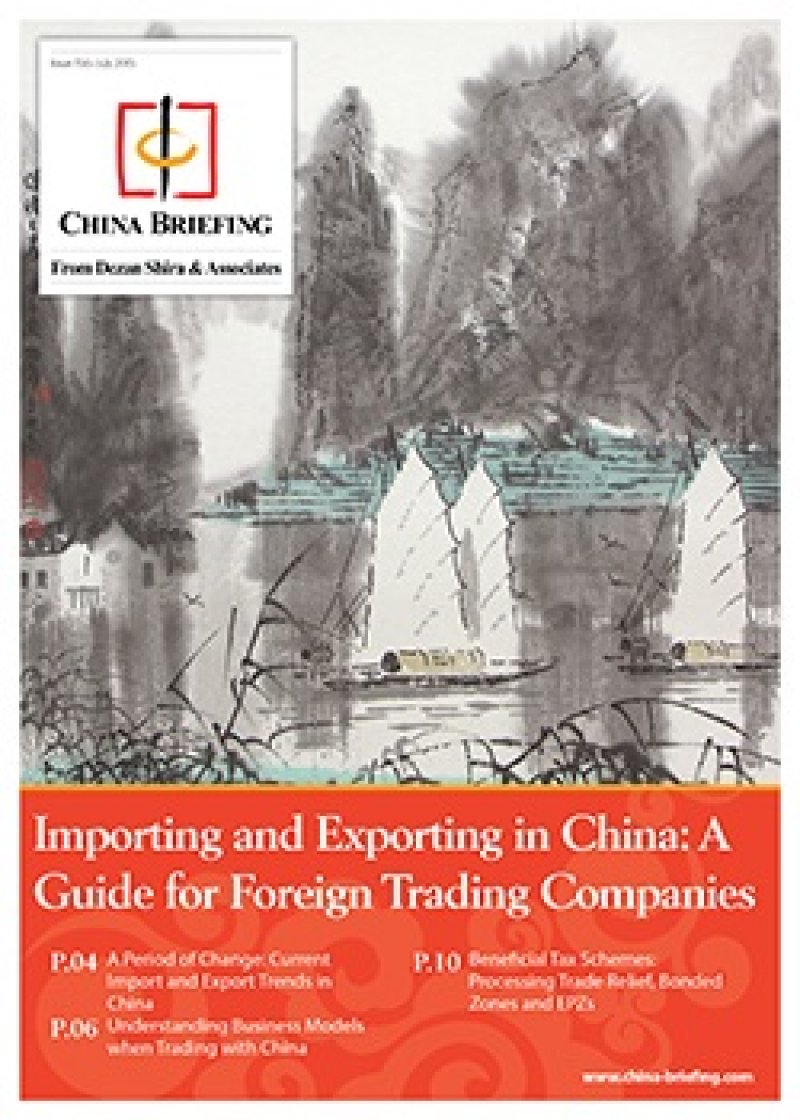 Importing and Exporting in China: a Guide for Trading Companies
In this issue of China Briefing, we discuss the latest import and export trends in China, and analyze the ways in which a foreign company in China can properly prepare for the import/export process. With import taxes and duties adding a significant cost burden, we explain how this system works in China, and highlight some of the tax incentives that the Chinese government has put in place to help stimulate trade.
Using China's Free Trade & Double Tax Agreements
In this issue of China Briefing, we examine the role of Free Trade Agreements and the various regional blocs that China is either a member of or considering becoming so, as well as how these can be of significance to your China business. We also examine the role of Double Tax Treaties, provide a list of active agreements, and explain how to obtain the tax minimization benefits on offer.
China Investment Roadmap: The Medical Device Industry
In this issue of China Briefing, we present a roadmap for investing in China's medical device industry, from initial market research, to establishing a manufacturing or trading company in China, to obtaining the licenses needed to make or distribute your products. With our specialized knowledge and experience in the medical industry, Dezan Shira & Associates can help you to newly establish or grow your operations in China and beyond.