Singles' Day Sales and E-Commerce in China: Behind the Statistics
By Jake Liddle
This year's Singles' Day e-commerce event saw sales up 60 percent on the previous year, totaling RMB91.2 billion (US$14.3 billion). 2014's record was surpassed within 14 hours of the start of the holiday, with US$1.4 billion generated in the first eight minutes, and US$5 billion in the first 90. To put this into perspective, last year's Black Friday and Cyber Monday events in the U.S. together produced total sales of US$4 billion.
Holiday skepticism
While boasting significant figures, Alibaba's e-commerce event has also been met with some skepticism, with further slowing of the Chinese economy being the top concern for observers. These doubts have been reflected in Alibaba's shares, which dropped seven percent within three days of the event; two percent of which on the day of the event itself.
Overall, China's national consumer spending has been generally weak, maintaining a relative drop in accordance to the economic downturn, with 60 percent of listed department store operators reporting an unnerving decline in sales and net losses during Q3.
Skepticism of the figures stems from the amount of scams associated with e-commerce, namely fabricated or fake orders. Counterfeit goods sold via online vendors participating in the event have also proved a major concern, and could be detrimental to future consumer figures. Alibaba has not included the rate of returns in their calculations – for 2013's Singles' Day, China Industry Research Network reported that 40 percent of orders placed were returned, though this figure could be partially due to distribution service personnel damaging fragile goods during the sorting process.
RELATED: Business Advisory Services from Dezan Shira & Associates
M-commerce
Some commentators have also warned that the increase of internet shopping will hinder prospects for physical vendors. A noticeable trend during this year's event is that 71 percent of orders placed were made on mobile devices, compared to last year's 43 percent. This shows that shopping on your telephone is increasingly becoming a cultural norm in China, and a large majority of companies provide rewards or incentives for doing so. Though there are many advantages to moving point of checkout to mobile devices, it must be said that the sharp increase of mobile shopping does not mark the end of brick and mortar shops – consumers will always have the need to view certain products in person before purchase.
The future of e-commerce in China
Following Singles' Day's 'robust' figures, attention has been drawn to the next big e-commerce event, Taobao Nianhuo Jie or 'Taobao Spring Festival Product Sale'. Nianhuo refers to special produce particular to Spring Festival, including not only gifts but also the essentials needed for the holiday such as food produce, local delicacies, alcohol, clothing, plane tickets and other high end goods. Aimed at better serving China's rural population, which accounts for 45 percent of the country's overall population, the event will also make rural produce readily available to urban areas.Though Alibaba has been running the event for the last few years, this seasonal shopping festival may overshadow Singles' Day in the future.
This year's Singles' Day has shown that, despite the slowing of China's economy, purchasing power is still strong. China's online shoppers have so far spent a total of around US$672 billion in 2015, up 42 percent on last year. This figure is set to reach US$ 1 trillion by 2017, according to the Emarketer team.

About Us
Asia Briefing Ltd. is a subsidiary of Dezan Shira & Associates. Dezan Shira is a specialist foreign direct investment practice, providing corporate establishment, business advisory, tax advisory and compliance, accounting, payroll, due diligence and financial review services to multinationals investing in China, Hong Kong, India, Vietnam, Singapore and the rest of ASEAN. For further information, please email china@dezshira.com or visit www.dezshira.com.
Stay up to date with the latest business and investment trends in Asia by subscribing to our complimentary update service featuring news, commentary and regulatory insight.
 ‍
Selling, Sourcing and E-Commerce in China 2016 (First Edition)
This guide, produced in collaboration with the experts at Dezan Shira & Associates, provides a comprehensive analysis of all these aspects of commerce in China. It discusses how foreign companies can best go about sourcing products from China; how foreign retailers can set up operations on the ground to sell directly to the country's massive consumer class; and finally details how foreign enterprises can access China's lucrative yet ostensibly complex e-commerce market.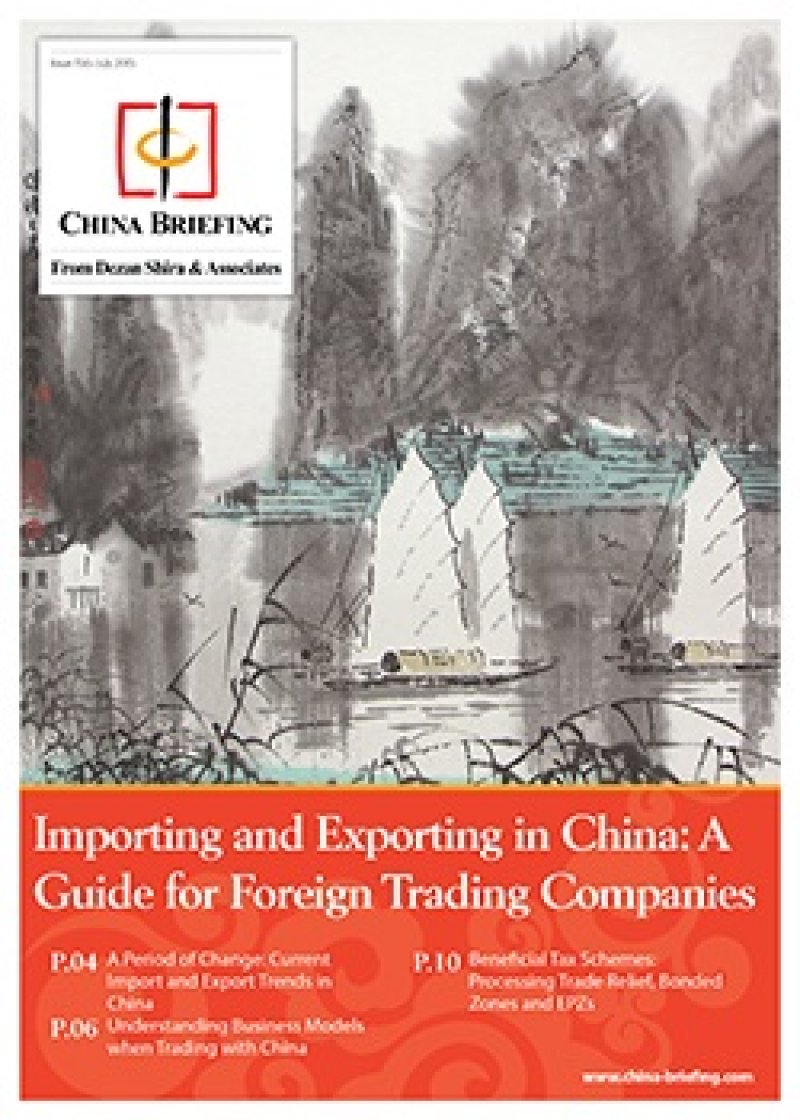 Importing and Exporting in China: a Guide for Trading Companies
In this issue of China Briefing, we discuss the latest import and export trends in China, and analyze the ways in which a foreign company in China can properly prepare for the import/export process. With import taxes and duties adding a significant cost burden, we explain how this system works in China, and highlight some of the tax incentives that the Chinese government has put in place to help stimulate trade.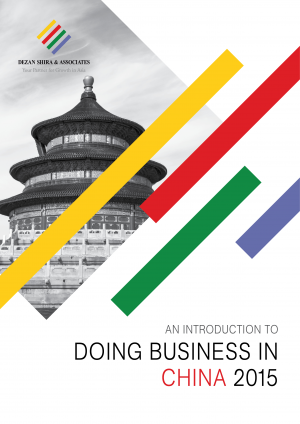 An Introduction to Doing Business in China 2015
Doing Business in China 2015 is designed to introduce the fundamentals of investing in China. Compiled by the professionals at Dezan Shira & Associates, this comprehensive guide is ideal not only for businesses looking to enter the Chinese market, but also for companies that already have a presence here and want to keep up-to-date with the most recent and relevant policy changes.