China's Trade With North Korea
Every year, and consistently for the past twenty years, North Korea shows up on the annual list of "potential" issues for business in China. The regime's only predictable nature appears to be its unpredictable nature, and concerns over a coming collapse surface constantly. The difficulty with assessing a crystal ball approach to North Korea is the sheer secrecy that surrounds the country; information is hard to obtain, and neither the Chinese or the Russians ever say very much also. But what we can suggest, is that while basking contentedly in the shadows of its giant neighbor, North Korea is probably less unpredictable than it would like observers to imagine. When it becomes hard to assess what the country will do next – for over two decades now – this is indicative of a regime that deliberately perpetuates uncertainty.
What we can, to some extent, assess, is the nature of North Korea's trade with China. The DPRK depends, for example, on China for much of its energy sources such as oil and gas. Officially, China stopped exporting these commodities to North Korea from January 2014. If so, one would expect North Korean factories and power plants to have shut down months ago and for the country to be on the brink of collapse. Yet this has not occurred. This suggests that while China can demonstrate it follows the global disapproval and sanctions relating to North Korea's nuclear program, and has officially ceased exports of oil and gas to the regime, unofficially it still continues to supply them via aid or 'unofficial' channels. No oil and gas or energy supplies show up in China's export data – but that doesn't mean they didn't arrive. There are, after all, a number of non-existent rail lines that do not appear on maps that can be ventured across in the more remote parts of Jilin Province, while much of the Tumen River border – a river that crosses from China into the DPRK – remains off limits to everyone bar well-known local villagers whose families have been there for decades. 
 RELATED: Changjitu Regional Border Zone Gets State Approval
North Korea usually imports about 500,000 tons of Crude Oil from China each year, but with that not appearing in the export figures, it has to have come from somewhere to keep those factories running. It doesn't seem to have been supplied by Russia either – whose data seems perhaps more reliable when it comes to Kim's regime. Granted, Russian exports of crude ticked up somewhat in 2014 to 100,000 tons, but that is still not enough to keep the lights on. In fact, according to Russia's own data, trade with the DPRK appears to have slowed –  Russia's exports of flour to North Korea plunged 72.2 percent year-on-year to just US$770,000, while exports of electronics and coal fell by 61 percent and 44.6 percent respectively. The only bright spot in Russian-North Korean trade appears to be in finished North Korea-made clothes, which grew by 35.5 percent on-year to US$3.61 million in total trade volume, maintaining an uptrend of recent years. But that last statistic also holds a China card. Many Chinese factories in Jilin and Liaoning Provinces send clothing items to North Korea to be finished – which means sewing on buttons, collars, cuffs and similar work, which under quota arrangements can then be sent back to China and fitted with a "Made in China" label. Some of the North Korean factories – with China's assistance – may well be diverting some of that production away to Russia – and other export markets that accept North Korean finished production. Without naming names – because they include some famous American owned brands as well as Japanese and European – I have seen men's shirts being finished in factories in Pyongyang. It is an irony that some will end up back in China, and subsequently packaged, to ultimately sit on the shelves of Macy's in Washington DC.  
 RELATED: The Definitive Guide to North Korea
Meanwhile, North Korea's Supreme Leader Kim Jong-Un is scheduled to meet Russian President Vladimir Putin in May in Moscow, and on the agenda will be that slow-down of Russian trade. Given that President Putin is a hardened politician, and Supreme Leader Kim is only recently out of Swiss finishing school, it is hardly likely to be a meeting of minds. I imagine that President Putin may agree to some increases in essential commodities, and food in particular, but in terms of anything else, Supreme Leader Kim is likely to start to appreciate his regime is fast running out of even close friends. China too does not seem at ease with internal developments in North Korea, arguably, given the fact the DPRK does have some nuclear weapons capability and is close to China, there are concerns a dying country in the throes of collapse could do the unthinkable just to spite its allies. Such thoughts will have crossed the minds of the Chinese military.
So then, another year, another North Korea. In terms of trade, it is becoming increasingly difficult to piece together from official statistics what is going on, other than to broadly state that China, officially or otherwise, still appears to have a strategy that wishes to maintain the long term status quo. Although that said, there may also be opinions that would regard even the United States as a more benign neighbour on its doorstep than the current regime. I don't believe that North Korea will collapse any time soon however. There doesn't appear to be much alternative or desire to change the situation other than to keep the regime as is and push it to being less aggressive. As for North Korea, the longer term "policy of unpredictability" now appears to be reaping more angst amongst its neighbours than Supreme Leader Kim may have bargained for. If so, we will learn that from Russia's President Putin in May. If true, then it is possible a less belligerent North Korea could be on the cards from the second half of 2015.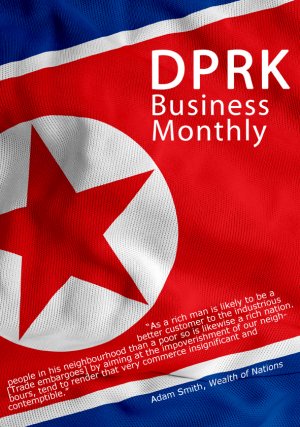 DPRK Business Monthly: November 2014
The latest issue of DPRK Business Monthly is now available as a complimentary PDF download on the Asia Briefing Bookstore. This regular publication looks at current international, domestic, and peninsular affairs concerning North Korea while also offering commentary and tourism information on the country.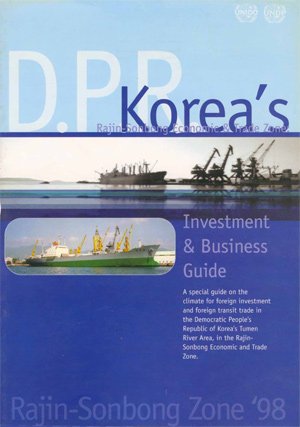 D.P.R. Korea's Rajin-Sonbong Economic & Trade Zone
This UNDP report is a special guide on the climate for foreign investment and foreign transit trade in the Democratic People's Republic of Korea's Tumen River Area, specifically focusing on the Rajin-Sonbong Economic and Trade Zone.