Manzhouli-Russia Trade Heats Up
Cross-border trade at Manzhouli, the Chinese city right at the borders of Russia and Mongolia, has exceeded RMB 200 million (US$30.5 million) this year, including about 45,000 tonnes of cargo. This brings the total turnover of its border trade zone to RMB 300 million since it started trial operation in June 2016.
Manzhouli, which is part of the Inner Mongolia Autonomous Region, also issued about 28,000 border resident identity cards and 113,000 visitor cards in 2017, according to officials within the zone's administration committee. Most of those visitors were Russian traders, both buying and selling goods.
RELATED: Heading for the Borders: Trade Opportunities along China's Frontiers
At the border trade zone, each Chinese national possessing a border residence card is allowed to purchase duty-free goods worth up to RMB 8,000 (US$1,220) each day. More than 1,000 varieties of Russian goods are on sale at the border trade zone, and Russian residents also enjoy lower prices when purchasing Chinese goods there.
Manzhouli is China's largest land port, and connects Beijing directly with Moscow as a stop of the trans-Siberian rail route. It is also the home of the world's only timber exchange, with Russian lumber being processed at many of Manzhouli's timber factories, many of them foreign owned. The exchange provides spot prices for Russian timber.

About Us
China Briefing is published by Asia Briefing, a subsidiary of Dezan Shira & Associates. We produce material for foreign investors throughout Asia, including ASEAN, India, Indonesia, Russia, the Silk Road, and Vietnam. For editorial matters please contact us here, and for a complimentary subscription to our products, please click here.
Dezan Shira & Associates is a full service practice in China, providing business intelligence, due diligence, legal, tax, IT, HR, payroll, and advisory services throughout the China and Asian region. For assistance with China business issues or investments into China, please contact us at china@dezshira.com or visit us at www.dezshira.com
Dezan Shira & Associates Brochure
Dezan Shira & Associates is a pan-Asia, multi-disciplinary professional services firm, providing legal, tax and operational advisory to international corporate investors. Operational throughout China, ASEAN and India, our mission is to guide foreign companies through Asia's complex regulatory environment and assist them with all aspects of establishing, maintaining and growing their business operations in the region. This brochure provides an overview of the services and expertise Dezan Shira & Associates can provide.
---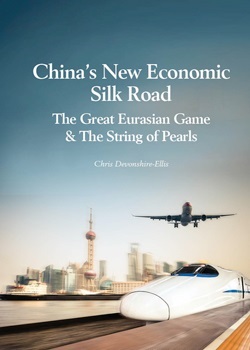 China's New Economic Silk Road
This unique and currently only available study into the proposed Silk Road Economic Belt examines the institutional, financial and infrastructure projects that are currently underway and in the planning stage across the entire region. Covering over 60 countries, this book explores the regional reforms, potential problems, opportunities and longer term impact that the Silk Road will have upon Asia, Africa, the Middle East, Europe and the United States.
---
Russia-China Trade Corridor Volumes Push Ahead of EU Nations
In the aftermath of the United States pulling out of the planned Trans-Pacific Partnership (TPP) agreement, Russian President Vladimir Putin said this week that Moscow supports the idea of setting up a free trade area in Asia and the Pacific.
---
Dezan Shira & Associates