Russia Re-Establishes Asian Roots: Moscow's Assistance with China's Silk Road Economic Belt
Op/Ed by Chris Devonshire-Ellis
The potent symbol of Russia, the double-headed eagle, shows both faces to the West and the East, but 75 percent of Russian territory is in fact in Asia. This massive chunk of land is home to just 22 percent of Russia's population. Yet trade routes and historical links run deep, and are expected to increase once again in the Russian-Chinese axis. 
Russia-India 
In fact, Russia has played an important role in South-East Asia for decades. India, upon gaining independence from Britain in 1947, went to Moscow for assistance and to learn about central planning and administration of their similarly large country.  It left two legacies – a still under-performing Indian agricultural sector, and a business administration regime that is remarkably similar to that of China. 
Russia's Soviet administration, heavy on bureaucracy and technical terms, is still extant in India to this day. It never was an Indian invention, merely the Soviets ensuring that everyone had a job, and happily providing Delhi with the blueprint to ensure decades of Indian civil servants had full careers. India, a proud democracy, never went the whole hog with communism, even though some of its states even today have sizeable numbers of Communist politicians. Prime Minister Narendra Modi remembered the Russian war dead in St. Petersburg alongside President Xi. 
The Soviet Union as was didn't just influence India. It once had a long and mutually successful relationship with China, broken up by a serious spat and ultimately the collapse of the Soviet Union.  The resulting aftermath and decline of the USSR has largely spurred on the Chinese Communist Party leadership as regards many of its policies. Frightened by what they saw happen to the USSR, they vowed it would never happen in China. 
Russia-ASEAN  
One should not forget events in Vietnam either, where essentially a fight between ideologies took place – the American and French democracies against the Russian and Chinese backed communists. The result cannot really be disputed – the single gold Communist Star still flies over Saigon, and again the administration of the country is similar to that laid down by the Soviets. Even more recently, the arrest and detention of Russian property developer Sergei Polonsky by Cambodian police and his subsequent deportation to Moscow are signs of growing Russian influence and appreciation in ASEAN.  Laos, too, is Communist. Vietnam and the Moscow-led Eurasian-Economic Union have also been discussing a mutual FTA which is expected to be signed very soon.
The Silk Road Economic Belt 
This is where the Chinese-led new Silk Road Economic Belt starts to become interesting. With Russia now looking eastwards again, and reestablishing diplomatic and trade links with "old friends", ancient trade routes can start to reopen. President Xi's plans do not actually require a complete new route or a new infrastructure. Rather, the plans are to look at what already exists, upgrade what is required, and develop what is missing. Russia's sphere of influence is huge in this, not least because it effectively operates the entire Trans-Siberian rail routes from East Asia through to Europe, but also because it still holds much political clout with Central Asia and the Middle East. 
The Chinese media have talked up the Silk Road Economic Belt to include "65 countries". The trade of these countries will consequently be affected by the development of such plans, which include both overland routes as well as maritime ones.

The inclusion of some of the African nations may be a surprise to some readers, but Africa was very much part of the ancient silk road. Books still need to be written on the subject, but African pottery artifacts, identifiable as being ancient Kenyan and originating from near what is now Mombasa, can be seen at the excellent Provincial Museum in Urumqi.  
A further five countries could also conceivably be added to that list, expanding the impact of President Xi's plans to 70 nations: 
Silk Road Economic Belt Plus
Serbia
Albania
Montenegro
Bosnia and Herzegovina
Switzerland
The impact on Russia and China will be immense. In a way, it represents the Great Game Redux, still with India involved but with Britain now retired. Russian trade with Europe, which was worth some US$336 billion in 2012 – the year Russia joined the WTO – has recently been hit by sanctions concerning Ukraine. The EU, which has borne the brunt of these, is unlikely to extend them much beyond July. Yet even so, despite the EU being Russia's largest trade partner, and Russia the EU's third largest, the sanctions have shown that Russia is quite capable of looking after itself. If anything, they made the country more resilient, and pushed it further towards Asia. As a consequence of this, Russia's trade with Asia is expected to develop and eventually eclipse its trade with the EU within the next decade. I have already discussed the potential impact of a FTA between the Russian backed Eurasian Economic Union and China; it is highly likely the EEU would wish to reach out to Asia too. 
President Xi's plans for the Silk Road Economic Belt may well seem adventurous and potentially too ambitious. But with Russia seemingly now on board, an intra-Asian triumvirate of Russia, China and India in-between them would make perfect strategic sense. This could usher in what could well become the Eurasian Century. 
Chris's new book "The New Silk Road Economic Belt" will be available next month.

Chris Devonshire-Ellis is the Founding Partner of Dezan Shira & Associates – a specialist foreign direct investment practice providing corporate establishment, business advisory, tax advisory and compliance, accounting, payroll, due diligence and financial review services to multinationals investing in emerging Asia. Since its establishment in 1992, the firm has grown into one of Asia's most versatile full-service consultancies with operational offices across China, Hong Kong, India, Singapore and Vietnam, in addition to alliances in Indonesia, Malaysia, Philippines and Thailand, as well as liaison offices in Italy, Germany and the United States. For further information, please email china@dezshira.com or visit www.dezshira.com.
Chris can be followed on Twitter at @CDE_Asia.
Stay up to date with the latest business and investment trends in Asia by subscribing to our complimentary update service featuring news, commentary and regulatory insight.

Using China's Free Trade & Double Tax Agreements
In this issue of China Briefing, we examine the role of Free Trade Agreements and the various regional blocs that China is either a member of or considering becoming so, as well as how these can be of significance to your China business. We also examine the role of Double Tax Treaties, provide a list of active agreements, and explain how to obtain the tax minimization benefits on offer.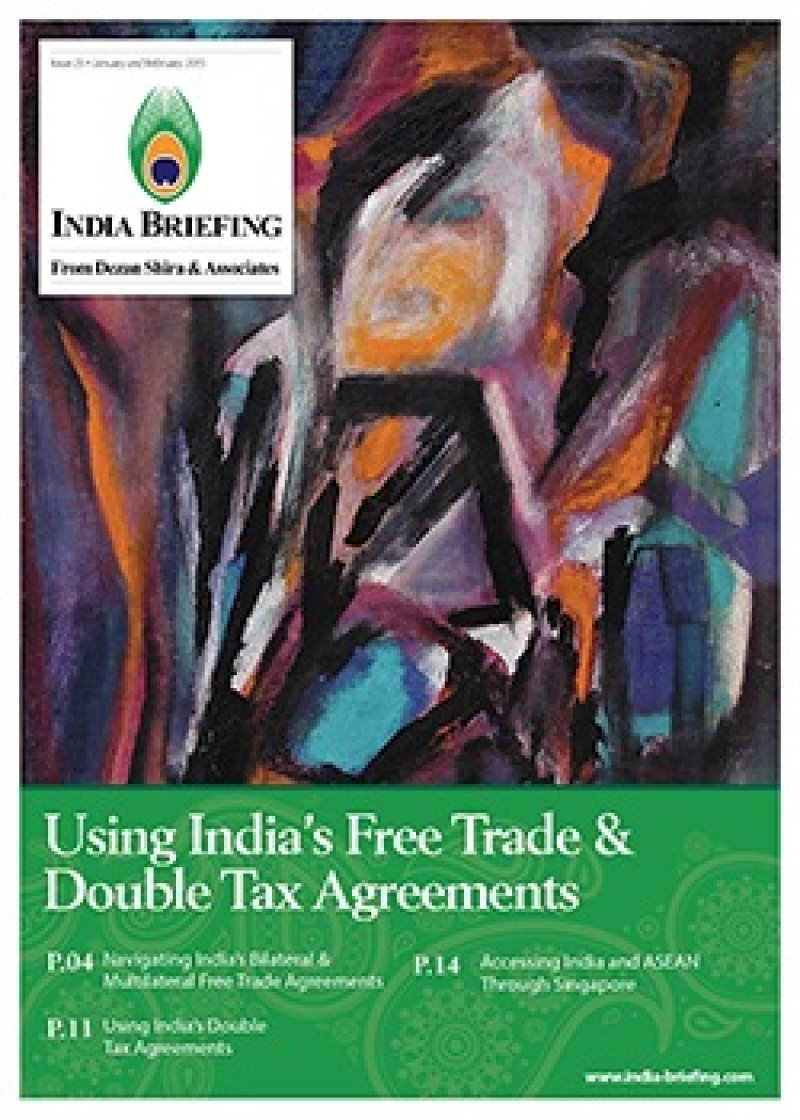 Using India's Free Trade & Double Tax Agreements
In this issue of India Briefing magazine, we take a look at the bilateral and multilateral trade agreements that India currently has in place and highlight the deals that are still in negotiation. We analyze the country's double tax agreements, and conclude by discussing how foreign businesses can establish a presence in Singapore to access both the Indian and ASEAN markets.
Currency Devaluation in Russia, Kazakhstan, Ukraine and Belarus and its Effects on Business
In this issue of Russia Briefing, we will still be focusing on Russia, however we will also take a look at the other three countries mentioned. In all four countries we have seen a significant devaluation of the local currency. In Ukraine this was spread over the entire year, in Kazakhstan it occurred during the beginning of 2014 (with rumor of further devaluation of the Tenge in Q1, 2015) and the Russian ruble crashed at the end of the 2014.