Shanghai Cooperation Organization Admits India & Pakistan
The Shanghai Cooperation Organization (SCO), the security and trade body that was established in China in 2001, has decided to admit India and Pakistan as full members. The SCO currently includes China, Russia, Kazakhstan, Kyrgyzstan, Tajikistan and Uzbekistan.
The SCO has also accepted new dialogue partners – countries who are not full members but who do take part in discussions. These include Armenia, Azerbaijan, Cambodia and Nepal along with the existing dialogue partners of Sri Lanka and Turkey. In addition to these countries, Afghanistan, Belarus, Iran and Mongolia are observer nations, while Guests include the Trade blocs of ASEAN, the CIS and Turkmenistan. Iran is expected to be elevated to full member status of the SCO once its nuclear treaty has been signed with the United States.    
The SCO mandate includes cooperation on regional security, military cooperation, social development, and economic development, and the discussion of international affairs and their impact upon member states and the Eurasian region. It is a serious entity – the Council of Heads of State of the SCO includes the leaders of each of the participating countries. 
The new SCO Council of Heads of State consists of:
Xi Jinping (China) 
Vladimir Putin (Russia)  
Narendra Modi (India)
Almazbek Atambayev (Kyrgyzstan)
Emomalii Rahmon (Tajikistan)
Islam Karimov (Uzbekistan)
Nawaz Sharif (Pakistan)
Nursultan Nazarbayev (Kazakhstan)
China, India and Russia are also the three largest shareholders of the Chinese instigated Asian Infrastructure Investment Bank.
Chris Devonshire-Ellis of Dezan Shira & Associates comments: "Admitting India and Pakistan into the SCO is a fundamental coup for both China and Russia, and fits right in with President Xi Jinping's plans for the development of the Silk Road Economic Belt. China needs India on its side both politically and via trade – India is the only country in the world with a working population large enough to be able to satisfy China's future middle class consumer population with the provision of low cost products. It also brings Pakistan further into the fold and secures China's reach through Xinjiang Province south to the China invested Port of Gwadar on the Indian Ocean.
"This admission into the SCO is also good news for India-Pakistan relations. Cooperation between the two will be encouraged by the Chinese, who are keen to see improved diplomatic relations. China's old vision to keep India distracted as a potential competitor has now been replaced with a view to getting India onside and cooperative. Russia also benefits, as it again brings India closer into the Eurasian sphere. India is already negotiating to join the Eurasian Economic Union (EAEU), the Moscow-backed trade body that is part of Russia's own plans to look further east for trade opportunities and agricultural supplies amid strained trade relations with Europe. Vietnam also recently signed a Free Trade Agreement with the EAEU." 
That desire for Moscow to look east rather than West to Europe is already having an impact on regional trade. Russia has just completed a deal with China to provide it with dairy produce as a reaction to European sanctions, one of several recent trade deals with China that we predicted earlier in the year.
"We are seeing the early stages and gradual development of an entire, interconnected Eurasia for the first time," continues Devonshire-Ellis. "It may take China 25 years to complete the infrastructure development and funding required to unite Moscow, Delhi and Beijing across Central Asia and into South-East Asia, but it makes complete strategic sense for all parties to allow this to happen. China has worked out that security and trade go hand in hand and, having India and Pakistan on-board, the SCO will accelerate the process."    

About Us
Asia Briefing Ltd. is a subsidiary of Dezan Shira & Associates. Dezan Shira is a specialist foreign direct investment practice, providing corporate establishment, business advisory, tax advisory and compliance, accounting, payroll, due diligence and financial review services to multinationals investing in China, Hong Kong, India, Vietnam, Singapore and the rest of ASEAN. For further information, please email china@dezshira.com or visit www.dezshira.com.
Stay up to date with the latest business and investment trends in Asia by subscribing to our complimentary update service featuring news, commentary and regulatory insight.
An Introduction to Doing Business in India 2015 (Second Edition)
Doing Business in India 2015 is designed to introduce the fundamentals of investing in India. As such, this comprehensive guide is ideal not only for businesses looking to enter the Indian market, but also for companies who already have a presence here and want to keep up-to-date with the most recent and relevant policy changes. We discuss a range of pertinent issues for foreign businesses, including India's most recent FDI caps and restrictions, the key taxes applicable to foreign companies, how to conduct a successful audit, and the procedures for obtaining an employment visa.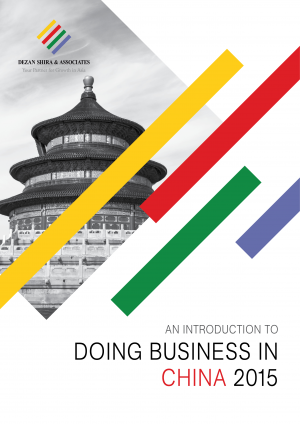 An Introduction to Doing Business in China 2015
Doing Business in China 2015 is designed to introduce the fundamentals of investing in China. Compiled by the professionals at Dezan Shira & Associates, this comprehensive guide is ideal not only for businesses looking to enter the Chinese market, but also for companies that already have a presence here and want to keep up-to-date with the most recent and relevant policy changes.
Currency Devaluation in Russia, Kazakhstan, Ukraine and Belarus and its Effects on Business
In this issue of Russia Briefing, we will still be focusing on Russia, however we will also take a look at the other three countries mentioned. In all four countries we have seen a significant devaluation of the local currency. In Ukraine this was spread over the entire year, in Kazakhstan it occurred during the beginning of 2014 (with rumor of further devaluation of the Tenge in Q1, 2015) and the Russian ruble crashed at the end of the 2014.