Belt and Road Weekly Investor Intelligence #8
Tuesday, December 22, 2020

  
Why developing a duel circulation strategy will boost foreign manufacturing across China and the Belt & Road Initiative  

 
Welcome to this week's issue of China Briefing's Belt & Road Initiative Weekly Investor Intelligence round up.
In this week's round up, we take a good look at China's State Policy as concerns both foreign and outbound investment and what this means. Our on-the-ground analysis is in direct contrast to many current Western positions. We explain what many have missed: the correlation between China's amended Foreign Investment Law, the easing of its Negative List, and the instigation of the Dual Circulation Strategy. These component parts are vital for foreign investors to fully understand how to position their businesses in advance of 2021.

Minister Wang Yi outlined the development of the BRI during 2020, including the Health and Digital Silk Roads. We provide analysis and opinion of what was said and the implications.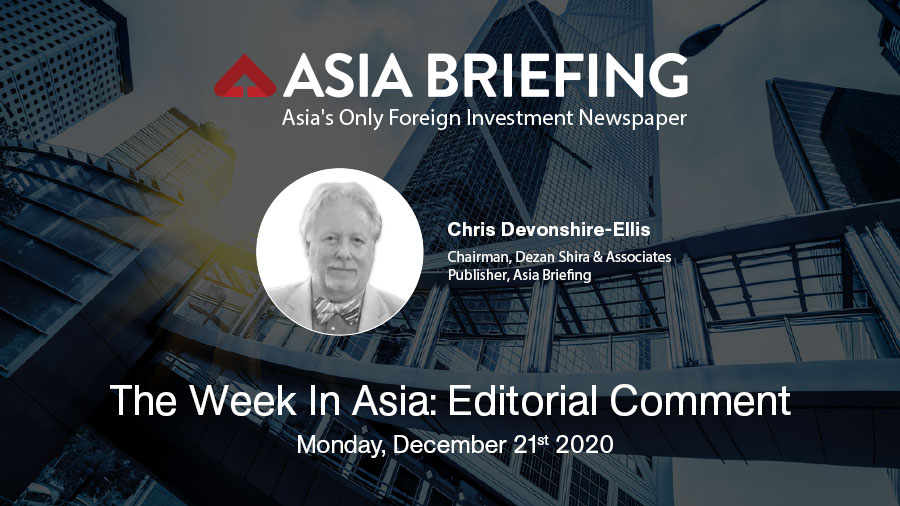 An Op/Ed by Dezan Shira & Associates' Managing Partner Chris Devonshire-Ellis on what these mean for foreign investment into Asia next year.
We outline and explain the recent developments within the BRI and look at what is now becoming a "Phase 2" following recent changes in Chinese foreign investment policy.

EAEU Free Trade Agreement negotiations with China and India are to start in early 2021, with potential EAEU expansion to include Indonesia and Mongolia and a desire to link the EAEU with China's Belt & Road Initiative.
Our round up of 33 foreign news headlines from around the world this past week concerning Belt & Road developments from Australia and Africa and from vaccines to Vietnam.
We explain why a newly opened Arctic Road is the first of what will become a series of infrastructure developments across Arctic Asia and which are crucial to Asian energy supplies.

---
About Us
Dezan Shira & Associates provide business intelligence, market research, legal, tax and compliance issues for foreign investors throughout Asia, and have 28 offices across the region. We are members of the Leading Edge Alliance, a network of related firms with offices throughout the world. For assistance with Belt & Road Initiative research, please contact us at silkroad@dezshira.com or visit us at www.dezshira.com. To subscribe to our Belt & Road Initiative portal, please click here.