Sketching Opportunities in China's Cartoon and Animation Industry
By Rainy Yao
On August 1, several Chinese authorities, including the Ministry of Finance (MOF), the General Administration of Customs (GAC), and the State Administration of Taxation (SAT), released a new round of tax incentives targeting certified animation enterprises. This is the latest move made by the Chinese government to boost the development of China's domestic animation industry.
China's animation industry has seen dramatic growth over the past few years thanks to increasing government support. The total output value of China's cartoon and animation industry increased from RMB 62.17 billion (US$9.8 billion) in 2011 to more than RMB 100 billion (US$15.7 billion) in 2014, displaying a compound annual growth rate of 17.17 percent. A total of 45 animated movies were released in China's theatres in 2014, generating total box office revenue of nearly RMB 3 billion, RMB 1.9 billion of which was contributed by 17 imported animated movies and RMB 1.06 billion by 28 domestic ones. Japanese animations take up 45.5 percent of the market share in China, followed by Chinese domestic animations at 33.5 percent, and European and American animations at 20 percent. Today, China has more than 4,600 animation companies, 24 of which have an annual industrial output of over RMB 30 million. The country's animation market is expected to double in value to US$31 billion by 2020.
RELATED: Business Advisory Services from Dezan Shira & Associates
Government Incentives and Opportunities
According to the new preferential policies (Cai Guan Shui [2016] No.36), equipment/software that are imported by State Council certified animation enterprises used to develop and produce "direct anime products" shall be exempt from import value-added taxes (VAT) and tariffs. It is clarified that "direct anime products" include comics (comic books), cartoons, and mobile comic apps/online comics. Animation enterprises wishing to enjoy the tax exemption policies must apply to the Ministry of Culture before the end of September each year, and a name list of eligible enterprises shall be later released at the end of November. The preferential policy will last until December 31, 2020. Along with the tax incentives, the MOF issued a detailed list of imported products that are covered by the tariffs exemption policy. Specifically, the list includes 13 categories of goods such as cartoon making software, motion capture equipment, and color grading software.
In 2013, the MOF and the SAT jointly released the Caishui [2013] No.98, which granted an enormous value-added tax (VAT) refund to animation enterprises (general VAT taxpayers) selling self-developed comic apps. Meanwhile, the export of comic apps and software is exempt from VAT payment. This industry's rapid development also largely owes to the release of China's Animation Industry Five-Year Plan (2011-2015), which stresses the importance of developing cartoon character merchandise items including clothing, toys, food products, stationery, and video games so as to make the industry more profitable. The plan also explicitly requires relevant bureaus to improve the intellectual property (IP) protection system.
While there are various gaps in China's animation market that foreign animation studios could fill, the industry remains comparatively restricted towards foreign investment mainly due to the obstacles brought by the complicated licensing procedure for cartoon and comic books.
Licensing and Authorization Procedures
Comic books
Less than 30 percent of comic books in the Chinese market are introduced from foreign countries. Most imported comic books come from Japan, Korea, and the U.S., and are translated and distributed in China under the supervision of China's State Administration of Press, Publication, Radio, Film and Television. It takes around six months to two years to introduce a foreign comic book, largely due to the difficulties in obtaining the overseas authorization (i.e., signing the licensing agreement with the foreign entity). The introduction and distribution procedures generally include the following six steps:
Step 1: Conduct market research and determine the optimal product
Step 2: Contact the overseas publishing house and obtain the authorization letter
Step 3: Submit the authorization letter as obtained in Step 2 to the State Administration of Press, Publication, Radio, Film and Television for approval
Step 4: Sign the licensing agreement with the overseas publishing house and pay the copyright tax
Step 5: Register the copyright with China's National Copyright Administration
Step 6: Translate and distribute the comic books
However, nearly 50 percent of introduced comic books are suffering from copyright infringements in China. The reason is that pirated books are sold at a much lower price and are very easy to access in the country. Chinese comic book readers are also not satisfied with the content, translation, and print quality of legally introduced books, arguing that the government tends to delete certain "sensitive" content from the original comic books prior to distributing them. These factors have largely contributed to the poor development of China's comic book market.
RELATED: Missing the Mark: The Importance of Trademark Registration in China
Cartoon Characters
Until the mid-2000s, China's cartoon character licensing market had been mainly driven by products from the U.S. and Japan, including Walt Disney, Warner Bros, and Doraemon characters. However, in a bid to boost the home-grown cartoon, comics, and animation industry, the Chinese government has adopted a slew of measures viewed as restrictive by foreign companies. These include limiting the times for broadcasting foreign cartoons, and requiring provincial TV stations to produce one cartoon for every imported one.
The policy has, on the other hand, stimulated the emergence of home-grown Chinese animation characters, such as 2009's Pleasant Goat and Big Big Wolf, Balala the Fairies, Amour Hero, Boonie Bears, and Big Ear Tutu. Awareness of the Chinese character licensing market has spread across the country alongside the launches of more home-grown characters. The number of Chinese domestic licensed cartoon characters, in particular locally produced ones, has dramatically increased since the late 2000s.
Looking Forward
Challenges exist, even as excitement grows for China's rapidly expanding animation market. The limitation on importing and broadcasting foreign cartoons has greatly impeded the development of China's domestic animation industry due to a lack of exposure to foreign expertise and technology. However, China's new tariff exemption scheme is now offering new opportunities for foreign exporters specialized in animation software who seek to sell their advanced technology to China in order to feed the needs of China's thousands of domestic animation studios. Meanwhile, international co-productions are becoming mainstream in China. For example, Rob Minkoff, the director of the Lion King, is currently working on a project with leading Chinese film studio Huayi Brothers. Foreign animation producers looking to enter the Chinese market can expect a more streamlined establishment and licensing procedure, as well as strengthened IP protection, as the country moves towards becoming the world's largest animation market and further develops its domestic entertainment industry.

About Us
Asia Briefing Ltd. is a subsidiary of Dezan Shira & Associates. Dezan Shira is a specialist foreign direct investment practice, providing corporate establishment, business advisory, tax advisory and compliance, accounting, payroll, due diligence and financial review services to multinationals investing in China, Hong Kong, India, Vietnam, Singapore and the rest of ASEAN. For further information, please email china@dezshira.com or visit www.dezshira.com.
Stay up to date with the latest business and investment trends in Asia by subscribing to our complimentary update service featuring news, commentary and regulatory insight.
 ‍
Establishing & Operating a Business in China 2016
Establishing & Operating a Business in China 2016, produced in collaboration with the experts at Dezan Shira & Associates, explores the establishment procedures and related considerations of the Representative Office (RO), and two types of Limited Liability Companies: the Wholly Foreign-owned Enterprise (WFOE) and the Sino-foreign Joint Venture (JV). The guide also includes issues specific to Hong Kong and Singapore holding companies, and details how foreign investors can close a foreign-invested enterprise smoothly in China.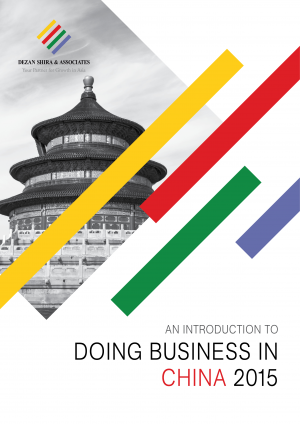 An Introduction to Doing Business in China 2015
Doing Business in China 2015 is designed to introduce the fundamentals of investing in China. Compiled by the professionals at Dezan Shira & Associates, this comprehensive guide is ideal not only for businesses looking to enter the Chinese market, but also for companies that already have a presence here and want to keep up-to-date with the most recent and relevant policy changes..
Importing and Exporting in China: a Guide for Trading Companies
In this issue of China Briefing, we discuss the latest import and export trends in China, and analyze the ways in which a foreign company in China can properly prepare for the import/export process. With import taxes and duties adding a significant cost burden, we explain how this system works in China, and highlight some of the tax incentives that the Chinese government has put in place to help stimulate trade.