China Business Blogs 2015 – The Rankings
The Chinese English language blog community has always been competitive, and has accordingly alternated between intelligence dissemination and occasional name-calling. Hopefully, the days of the latter are a long way behind as contributors recognize that an increasing trend of specialization is becoming key.  
In this article, we wish to portray a snap-shot of the English language Chinese business blogophere as it stands right now, as well as highlight its importance and significance amidst ongoing Chinese censorship. We look at the most successful and widely read sites, and see if we can spot any trends regarding the way this essentially amateur yet dedicated field of journalism is progressing. 
What do you mean – Amateur!?
Okay, hold on! There are many great writers out there. However, in the world of business blogging, even the large international media now combine professional journalists qualified in their craft with bloggers providing detailed insights. Paul Gillis is a fine example of someone widely quoted in international media on fiducial matters, while Stan Abrams is a similar expert on matters of China IP. 
Nevertheless, it remains rare to find businesspeople, lawyers or accountants who are able to integrate their professional duties into their writing, although there are exceptions.
While many fine international media organizations run excellent China blogs, including the WSJ China Real Time, China Digital Times  and China Internet Watch,  many either use these outlets as specific homes for China stories or act essentially as aggregators. In any event, this type of article is designed to introduce readers to what lies beyond the standard news media library.
So, how to define a blog? Perhaps a website that is non-core to the main business interest of the writer, and that exists to educate with some plugs allowed. That is the basis upon which this list has been collated.
Blogs from Professional Service Firms
High-pressure work hours mean that many lawyers and accountants cannot commit to regular writing. In addition, in-house counsel and marketing departments also want to have input into how a firm is portrayed. Many clients do not wish their case studies to be aired in public (one reason why a lot of commentary about specific companies in China can be both subjective and inaccurate). Another issue is that, in many countries, actively promoting your firm breaches local regulatory guidelines.
Future Trends
Having been involved in the China blogosphere since 1999, I have seen a few things come and go. In earlier days, information concerning China was so scant that nearly anything went – including a great deal of questionable commentary. Today, the content issue has begun to settle down, with an increasing demand for more technical data on regulatory changes that affect business. To this end, good quality yet somewhat esoteric blogs have begun appearing. Below we feature contemporary China business blogs, together with their current Alexa rankings.
A Word on Rankings
The issue with web rankings is that they concentrate on global awareness. In this article, I have used the commonly accepted Alexa rankings. However, these should be taken with a pinch of salt, as China is a fairly nuanced subject to be blogging about and some do not target a global audience. The Alexa Rankings provided are for global views, were collected on April 5th 2015 and are subject to change. Visiting the Alexa website will provide further analysis. Readers may also use alternative sources to check data.
What follows is a list of the important blogs that people should be reading, or at least checking out when it comes to China. And just remember, there are an estimated 152 million blogs out there in total, meaning that anyone who ranks in the top 15 million is in the top 10 percent, those in the top 1.5 million the top 1 percent,and those that break into the top 500,000 globally – the 0.3 percent of all blogs worldwide – are in a rare atmosphere of international readership and influence. Included are well-known sites whose popularity has now found an appropriate level, in addition to newcomers who may not have had time to rise up the rankings. Blogs are also subjective; readers may enjoy the style of one as opposed to another, even though content may be similar.
Recommended 2015 China Blog Reading & Rankings
A useful career website dealing mainly with recruitment and best practice hiring trends in China, with regular China hand interviews.
Alexa Ranking: 5,916,163
Written by the above mentioned Paul Gillis, a Professor at Peking University Guanghua School of Management, this oft-quoted blog deals with regulatory updates and China's economic and especially financial administrative evolution.
Alexa Ranking: 3,028,772
Our own blog – content since 1999, and now producing magazines  and books.
An example – we hope – of home-grown blogs being able to grow and develop, but you can make up your own minds about that.
Alexa Ranking: 259,631
Reliably covers both common and not-so-common trade and political issues with China. A good round up source for events and what they really indicate. 
Alexa Ranking: 18,345,030
A useful, if somewhat sporadic blog concentrating on one of China's great growth markets.
Alexa Ranking: 2,288,698
Featuring a random selection of articles from a roster of featured China hands, some well-known.
Alexa Ranking: 9,076,801
Deals with more cultural issues, but is one of the more consistent sites in doing so. Useful for new to China foreigners.
Alexa Ranking: 600,360
Useful technical site dealing with China law and especially IP updates and commentary on cases. Written by the Shanghai-based IP specialist practice Debund Law Offices.
Alexa Ranking: 7,025,896
Written in Seattle by the Washington State law firm Harris & Moure since 2005, often featuring affiliate contributors from China, this blog has become popular with law students. 
Alexa Ranking: 1,112,225
Written by Elizabeth Lynch, an American attorney based in New York, this blog details a mix of mainly human and women's rights law issues in China.
Alexa Ranking: 1,771,369
From Donald Clarke of the George Washington University Law School in Washington DC, another American law blog aimed mostly at student education concerning China matters.
Alexa Ranking: 90,148
Commentary on IPOs and listings of Chinese companies both home and abroad, some economic opinions.
Alexa Ranking: 1,702,799
A new site but one to watch. Provides detailed research on Chinese stocks listed on Nasdaq and the NYSE.
Alexa Ranking: 2,215,130
A very useful site written by Renaud Anjoran, an ASQ certified QC engineer who has been working in China since 2005. Essential for buyers and China traders.
Alexa Ranking: 323,518
A unique site all about who's doing what and how to sell to China's growing luxury consumer market.
Alexa Ranking: 294,418
An occasionally opinionated yet entertaining blog concentrating mostly on tech and PR issues in China written by David Wolf, a long term China hand with a professional background in US-China political and market research. And yes, he really does live in a Hutong.
Alexa Ranking: 10, 4111,363
A useful blog for students and new to China expats, concentrating on Chinese linguistics with a healthy dash of culture. Written by John Pasden, a Chinese linguistics expert based in Shanghai.
Alexa Ranking: 349,237
Not strictly about business, except that it deals with the matters of foreign-Chinese love affairs!
Alexa Ranking: 516,230
Written by the Global MD of Ogilvy & Mather, this blog deals with social media in Asia. Somewhat sporadic, but when content is posted it's worth a read.
Alexa Ranking: 1,516,873
A beginner's guide to China, but well presented and a great introduction on what to expect. Written by Rod L'Hullier, an Australian based in Chengdu, and therefore provides a different perspective from the usual Beijing/Shanghai axis.
Alexa Ranking: 2,130,856
Not strictly business, but I decided to include it because information on Xinjiang is so hard to come by. A labor of love from a dedicated China Silk Road Expat. Kudos.
Alexa Ranking: 786, 864
Summary
Blogs are difficult to maintain – the time consumption and the need to get ever more detailed and accurate content as opposed to opinion (especially for business blogs) means that there is always going to be a turnover of blogs that eventually peter out and die. However, the above mentioned blogs are all written with an element of passion about them, representing bloggers who care about their chosen subject. As such, there are a number of blogs that will match your specific corporate research need.
There is a trend towards provision of both more technical and more geographically diverse information. The rankings suggest that blogs which cover a wider geographic region and which include more detailed analysis are starting to become more popular. The demand for China intelligence is becoming more in-depth, and the blogs with better rankings reflect this – although one or two new blogs have still to make their mark and will no doubt attract more views in time.
For business blogs that we missed off, please accept our apologies and kindly find the (moderated) comments section below as a platform to introduce any missing blogs from this list to our readers. Additionally, blogs that would like to partner with China Briefing – some of those mentioned already do – are welcome to contact us at editor@asiabriefing.com. 
Blogging is largely a free service, and we wish to extend our applause to all the above blogs and their authors for doing such a great job in getting their valuable intelligence out there.
Editor's Note:
Thanks to everyone who has posted a comment so far. I'd like to remind readers of the other blog-based websites that we run, as well as their rankings: 
Asia Briefing –  – 604,955
ASEAN Briefing  – 541,324
India Briefing  – 256,840
Vietnam Briefing – 1,113,263 
Some good sources of country intelligence there, as demonstrated by their popularity in rankings terms. Complimentary subscription to all can be obtained here.
Can readers suggest any other good China blogs we should be mentioning?

Chris Devonshire-Ellis is the Founding Partner of Dezan Shira & Associates – a specialist foreign direct investment practice providing corporate establishment, business advisory, tax advisory and compliance, accounting, payroll, due diligence and financial review services to multinationals investing in emerging Asia. Since its establishment in 1992, the firm has grown into one of Asia's most versatile full-service consultancies with operational offices across China, Hong Kong, India, Singapore and Vietnam, in addition to alliances in Indonesia, Malaysia, Philippines and Thailand, as well as liaison offices in Italy, Germany and the United States. For further information, please email china@dezshira.com or visit www.dezshira.com.
Chris can be followed on Twitter at @CDE_Asia.
Stay up to date with the latest business and investment trends in Asia by subscribing to our complimentary update service featuring news, commentary and regulatory insight.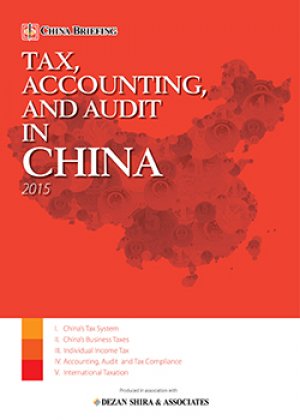 Tax, Accounting, and Audit in China 2015
This edition of Tax, Accounting, and Audit in China, updated for 2015, offers a comprehensive overview of the major taxes foreign investors are likely to encounter when establishing or operating a business in China, as well as other tax-relevant obligations. This concise, detailed, yet pragmatic guide is ideal for CFOs, compliance officers and heads of accounting who must navigate the complex tax and accounting landscape in China in order to effectively manage and strategically plan their China operations.
Human Resources and Payroll in China 2015
This edition of Human Resources and Payroll in China, updated for 2015, provides a firm understanding of China's laws and regulations related to human resources and payroll management – essential information for foreign investors looking to establish or already running a foreign-invested entity in China, local managers, and HR professionals needing to explain complex points of China's labor policies.
Managing Your Accounting and Bookkeeping in China
In this issue of China Briefing, we discuss the difference between the International Financial Reporting Standards, and the accounting standards mandated by China's Ministry of Finance. We also pay special attention to the role of foreign currency in accounting, both in remitting funds, and conversion. Lastly, in an interview with Jenny Liao, Dezan Shira & Associates' Senior Manager of Corporate Accounting Services in Shanghai, we outline some of the pros and cons of outsourcing one's accounting function.