New Draft of Charity Law Submitted to China's National Legislature
China has been drafting a new version of its Charity Law that will significantly impact upon the manner in which foreign charities and NGOs operate in the country. The new law, the drafting of which has been in the pipeline for several years now, is understood to now be in bill format and was introduced to the NPC last month. This new draft makes significant improvements and clarifications on previous attempts, reflecting a more pragmatic approach to the status of charitable organizations by the Chinese State.
The draft includes recommendations from the Chinese Ministry of Public Security, Ministry of Civil Affairs, and crucially, guidance from the State Administration of Taxation for charity certification and determination of tax status for charities. Previously, applications from charities for legal status in China were extremely difficult to obtain due to conflicts within the registration system, notably with systematic problems taxing not-for-profit entities.
These problems have also dogged numerous educational and professional bodies over the years, who have been unable to reach out to Chinese professionals in a variety of industries. This lack of legal structure to permit the establishment of foreign NGOs in China has arguably been damaging to the ability of certain professions to graduate to international and advanced levels of technology and practice.    
Related: NGO Activity in China Remains Limited, Despite Voiced Commitments to Reform
The new draft also expands the definition of "charity" to include most "public benefit" activities; and clarifies the registration process and actual legal status of not-for-profit organizations and the "charity certification" process. This would allow publicly beneficial organizations to be registered in China and permit locally recognized community organizations to be certified as engaging in charitable activities, even though they are not legal persons.
It would add a significant and welcome entry point in terms of legal establishment processes to legitimate charities operating or wishing to operate in China. An overview of the draft, including initial comments, can be found online here, courtesy of the Charity Law Research Team, Fairbank Center for Chinese Studies of Harvard University.
Interested readers should bear in mind that the above document is a draft of the proposed law only, and has not yet come into force or been approved by the NPC. Nonetheless it gives an insight into what may be a welcome clarification of the status concerning charitable and NGO operations in China. To keep up with further developments on the law, please subscribe to updates from China Briefing here.
 RELATED: Establishing NGOs in China
The proposed new law comes at an interesting time for China. The country has minimal procedures for claiming only small amounts of tax relief on charitable donations, while both the country and its business leaders have been criticized for a poor philanthropic attitude. When Bill Gates and Warren Buffett visited China in 2010 to generate interest in their "Giving Pledge", few attended the meetings organized by the two billionaire philanthropists. Around the world, 122 billionaires have signed the Giving Pledge promoted by Buffett and Gates. None of them are Chinese, even though China now has 358 billionaires, one-fifth of the global total.
Stung by this, entrepreneur Jack Ma has recently set up a charitable foundation, which it was hoped would motivate the Chinese government to be more proactive in encouraging both a more philanthropic attitude towards charity in general and to loosen strict regulations concerning the activities of foreign organizations in China.
That initiative appears to have been one pillar of the pressure that has been building on China's previous reluctance to embrace charities and NGOs. Dezan Shira & Associates provides legal and accounting assistance to multiple foreign NGOs and charities in China. For more details on how this new bill, if passed, could affect your chances of establishing a charitable organization or NGO in China, please email the practice at legal@dezshira.com. Pro-bono or cost-only rates may apply under certain qualifying criteria.

Chris Devonshire-Ellis is the Founding Partner of Dezan Shira & Associates – a specialist foreign direct investment practice providing corporate establishment, business advisory, tax advisory and compliance, accounting, payroll, due diligence and financial review services to multinationals investing in emerging Asia. Regular updates from Chris may be followed on Twitter @cde_asia. Since its establishment in 1992, Dezan Shira has grown into one of Asia's most versatile full-service consultancies with operational offices across China, Hong Kong, India, Singapore and Vietnam, in addition to alliances in Indonesia, Malaysia, the Philippines and Thailand, as well as liaison offices in Italy, Germany and the United States. For further information, please email china@dezshira.com or visit www.dezshira.com.
Stay up to date with the latest business and investment trends in Asia by subscribing to our complimentary update service featuring news, commentary and regulatory insight.

Industry Specific Licenses and Certifications in China
In this issue of China Briefing, we provide an overview of the licensing schemes for industrial products; food production, distribution and catering services; and advertising. We also introduce two important types of certification in China: the CCC and the China Energy Label (CEL). This issue will provide you with an understanding of the requirements for selling your products or services in China. 
Doing Business in China
The China Briefing Business Guide to Doing Business in China is the definitive guide to one of the fastest growing economies in the world, providing a thorough and in-depth analysis of China, its history, key demographics and overviews of the major cities, provinces and autonomous regions highlighting business opportunities and infrastructure in place in each region. A comprehensive guide to investing in China is also included with information on FDI trends, business establishment procedures, economic zone information and labor and tax considerations.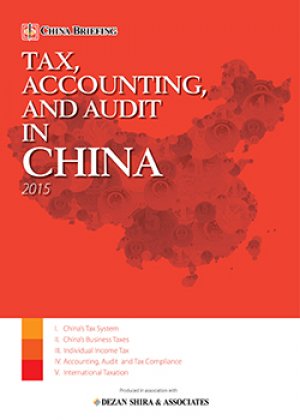 Tax, Accounting, and Audit in China 2015
This edition of Tax, Accounting, and Audit in China, updated for 2015, offers a comprehensive overview of the major taxes foreign investors are likely to encounter when establishing or operating a business in China, as well as other tax-relevant obligations. This concise, detailed, yet pragmatic guide is ideal for CFOs, compliance officers and heads of accounting who must navigate the complex tax and accounting landscape in China in order to effectively manage and strategically plan their China operations.