China Industries Outlook 2018 – New Issue of China Briefing Magazine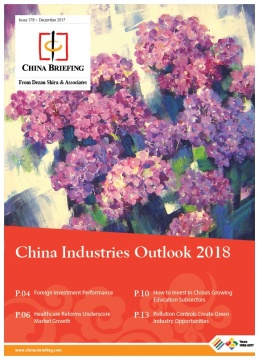 The latest issue of China Briefing Magazine, titled "China Industries Outlook 2018", is out now and currently available to subscribers as a complimentary download from the Asia Briefing Publication Store.
In this issue:
Foreign Investment Performance
Healthcare Reforms Underscore Market Growth
How to Invest in China's Growing Education Subsectors
Pollution Controls Create Green Industry Opportunities
At October's 19th National Congress of the Communist Party of China, Chinese President Xi Jinping declared that China had entered a "new era". In this new era, according to Xi, China's economy and society has reached a turning point.
After then-leader Deng Xiaoping launched his bold reform and opening up policy in the late 1970s, China experienced economic growth and industrialization at a pace and scale unprecedented in human history. During this period, China lifted hundreds of millions out of poverty, and became known as "the factory of the world" due to its outsized role in global manufacturing.
As a result of this breakneck development, China now faces myriad challenges. These include a rapidly aging society, an uneasy transition towards a knowledge-based economy, and a highly polluted environment. In China's new era, socioeconomic issues such as these are becoming more important than relentless economic growth and expansion. And foreign investment into China must adapt to respond to these new priorities.
In this issue of China Briefing magazine, we look at the industries that stand to gain from China's new era. First, we analyze macro-level foreign investment trends into China, and how the high-tech sector stands out above others. We then shift our focus to China's healthcare sector in the context of policy reforms and demographic changes.
Next, we examine how to invest in China's education industry, which has become a priority for the central government and private families alike. Finally, we consider how China's war on pollution introduces new opportunities for foreign investors.

About Us
China Briefing is published by Asia Briefing, a subsidiary of Dezan Shira & Associates. We produce material for foreign investors throughout Asia, including ASEAN, India, Indonesia, Russia, the Silk Road, and Vietnam. For editorial matters please contact us here, and for a complimentary subscription to our products, please click here.
Dezan Shira & Associates is a full service practice in China, providing business intelligence, due diligence, legal, tax, IT, HR, payroll, and advisory services throughout the China and Asian region. For assistance with China business issues or investments into China, please contact us at china@dezshira.com or visit us at www.dezshira.com
Dezan Shira & Associates Brochure
Dezan Shira & Associates is a pan-Asia, multi-disciplinary professional services firm, providing legal, tax and operational advisory to international corporate investors. Operational throughout China, ASEAN and India, our mission is to guide foreign companies through Asia's complex regulatory environment and assist them with all aspects of establishing, maintaining and growing their business operations in the region. This brochure provides an overview of the services and expertise Dezan Shira & Associates can provide.
---
An Introduction to Doing Business in China 2017
This Dezan Shira & Associates 2017 China guide provides a comprehensive background and details of all aspects of setting up and operating an American business in China, including due diligence and compliance issues, IP protection, corporate establishment options, calculating tax liabilities, as well as discussing on-going operational issues such as managing bookkeeping, accounts, banking, HR, Payroll, annual license renewals, audit, FCPA compliance and consolidation with US standards and Head Office reporting.
---
Managing China's Financial System
Foreign investors often find China's financial system to be one of the most difficult areas to navigate when establishing or growing their presence in the country. Navigating China's tax system, and its complexities, requires time and commitment. In this issue of China Briefing magazine, we look at the factors that make China's tax system unique, and identify steps foreign investors can take to manage its challenges. We first examine the issues that most commonly disorient foreign investors. We then discuss the importance of pre-investment capital planning, within the context of tough foreign exchange controls, before examining the ever-maturing regulations for the transfer pricing system.
---
Dezan Shira & Associates