China Institutionalizes Eurasia For Silk Road Development
China's planned Silk Road Economic Belt has generated a great deal of interest since announced several months ago. Yet how realistic are plans to open up Central Asia and create direct links between China and Europe, in addition to the creation of a maritime route taking in South-East Asia? A lot of media commentary has concentrated on infrastructure issues such as high speed trains, and upon the potential financing aspect behind the Asian Infrastructure Investment Bank. Yet in order to truly succeed, pan-Eurasian, formal institutions need to be created to permit formal dialogue, targeted at specific dialogue and development issues. How far has China moved forward with this? Who is involved? In this editorial I examine the institutions behind the Silk Road Economic Belt and the roles they could play in order to allow China's dreams to reach their goals.
This influential body comprises China, Kazakhstan, Kyrgyzstan, Russia and Uzbekistan. In addition to these members, the SCO also counts Afghanistan, India, Iran, Mongolia & Pakistan as Observer nations, with Belarus, Sri Lanka & Turkey as Dialogue Partners with Formal Guests including the ASEAN & CIS Free Trade Blocs, in addition to Turkmenistan.
The main function of the SCO is to promote regional security, which deals with everything from insurgency to drug smuggling, and is an important issue both for China and across Central Asia where pockets of radical Islam are bent on causing trouble. In addition to this, the main focus is on trade, and along with that, infrastructure developments and discussions related to tax reforms and customs issues.
While the EAEU may appear small in terms of its members – Armenia, Belarus, Kazakhstan and Russia (Kyrgyzstan's membership is in the process of being ratified) it still represents 170 million people spread amongst 20 million sq km of land. The EAEU was formed at the beginning of this year, and intends to be a Central Asian version of the European Union. There is a lot of work to do – for although the EAEU reduces dutiable tariffs between member states, customs duties still represent a significant portion of revenues for those same Governments. The EAEU will only start to fully take off when it adopts, just as China did about 15 years ago, a VAT based consumption system and widens its tax base. While China is not a member of the EAEU, it is a very interested observer. Should the EAEU indeed embark on a program of tax reform, and sign Free Trade deals with China, other ASEAN members and say the Gulf Cooperation Council, and SAARC (South Asian Association for Regional Cooperation) members, it will have created an effective Free Trade Zone stretching from Istanbul to Shanghai and from Moscow to Jakarta covering all points in between. There are signs this could occur. The EAEU has already signed off an FTA with Vietnam (ASEAN members will negotiate their own individual deals) while India has also just agreed an FTA, mainly concentrating on the textiles area. Although this scenario may take some time to develop, the future for a EAEU with such a gigantic reach is feasible. If tax reforms and an FTA with China appear, it is likely to become a reality.
Infrastructure Projects
Bilateral Chinese diplomacy is also paving the way for the Silk Road Economic Belt to eventually become tangible. It won't happen overnight, but a consistent approach over 25-30 years, which allows for the absorption of big ticket funding, is already underway. In fact, the infrastructure developments are geared for both China's needs and with an eye on future market and supply access. China for example has basically agreed to build the high speed rail link between Moscow and Kazan, Russia's third most important city, and a gateway though the Caucasus to Asia, sited on the Volga River. This reduces the current journey time of fourteen hours to just three, and represents the European section of the Trans-Siberian express. The Russians and Chinese are currently negotiating currency settlement for this US$ 58 billion project. Other high speed rail projects are underway that will, in time, unite to provide a high-speed route between Beijing and Moscow include upgrades of the Kazakh rail system between Astana and Almaty, among others. The piecing together of a high speed rail system linking Beijing directly with Moscow will take time, and cost considerations need to be overcome, however it is important to note that contemporary upgrades are put in place to later allow a relatively easy further upgrade to high speed facilities.
Vital additional projects being considered by both China and Russia involve Siberia. China is both arable land and energy poor. Siberia contains huge amounts of coal, oil and gas reserves, in addition to precious metals. Global warming is assisting in opening the region up, and Chinese shipping already uses the newly navigable North-Eastern channel up and into the Arctic Ocean. Siberia also contains 22 percent of all of Russia's viable arable land, which has lain fallow and unused since the breakup of the Soviet Union. The issue here is Russia's lack of manpower, although both Russia and China possess the technical expertise to both new build and renovate existing facilities in both agriculture and mining. Russian concerns about losing Siberia to the Chinese are well documented, however a more diplomatic solution is more likely to be found as China cannot afford to lose Russian cooperation over transportation links or be excluded from either Russian or Central Asian territories. We can expect to see here solutions in the form of land lease programs instead. China has already shown it can build new cities in the steppes in just a few years, and has previously agreed such leases with the Ukraine. Chinese diplomacy is key to getting these and the many other component parts all in place.
Such infrastructure projects require financing. It is already becoming clear that China's funding of overseas projects is becoming increasingly aligned with the proposed Silk Road Economic Belt. The Investment Bank Grisons Peak has identified that much of China's 67 major international infrastructure projects committed to since 2013 have been related to the Silk Road Economic Belt. China also announced the setting up of a US$ 40 billion specific Silk Road Investment Fund.
On top of this, the establishment of the Asian Infrastructure Investment Bank contains a huge proportion of Asian nations as Prospective Founding Members, all of whom would be directly affected by the Silk Road Economic Belt.
The Asian Infrastructure Investment Bank: Prospective Founding Members in Asia
Australia, Azerbaijan, Bangladesh, Brunei, Cambodia, China, Georgia, Hong Kong, India, Indonesia, Iran, Israel, Jordan, Kazakhstan, Kuwait, Kyrgyzstan, Laos, Malaysia, Maldives, Mongolia, Myanmar, Nepal, New Zealand, Oman, Pakistan, Philippines, Qatar, Russia, Saudi Arabia, Singapore, South Korea, Sri Lanka, Tajikistan, Thailand, Turkey, UAE, Uzbekistan, Vietnam.
It can be noted that this group essentially corresponds with my observations of the resulting Free Trade Area should the EAEU later sign FTA with China, ASEAN nations, and the GCC.
The shareholding structure of the AIIB should also be noted:
Conclusion
The fact that institutions are being both built and supported by China suggest that the country is very serious about making the Silk Road Economic Belt – which encompasses both overland and maritime routes – a reality. While linking together in diplomatic, security and financial terms will prove a long term, possibly quarter-century strategy, both existing and new, powerful trade and related bodies are being put into place to make the Silk Road happen.
Many executives coming into their careers in Asia will find their entire work lives affected by the development of this project. Key to this is however the role of Russia, as vested interests within that country, and especially within the energy sector, whose oligarchs are arguably more powerful than the Russian president, may well yet put a spanner in the works if their needs to see Russia remain dependent upon coal and oil resources are not catered for. Russian backwardness in modernization is directly linked to the national energy sector. Tax reform is also required across the CIS and EAEU members states to allow the widening of the current tax base and movement from a customs duty revenue based regime to a VAT or GST based consumption tax.
The desire to structure cross-border markets to permit competition must also manifest itself. However, pointers exist that could show if there is truly to be a realization of China's dream. Central Asian Tax Reforms as I mentioned, are key although will not occur overnight. Earlier pointers would be the EAEU signing a Free Trade Agreement with Beijing, as well as with Singapore as ASEAN nations look to increase ties (Vietnam already has an EAEU FTA) and Central Asian development companies seek Asian investors via listings. Both Malaysia and Thailand agreeing a high speed rail link would be another, as would signs of the AIIB funding Port redevelopments throughout South-East Asia, and continuing to upgrade to High-Speed the existing Trans-Siberian routes and additional spurs from this, including Turkey and the Gulf States.
Meanwhile, for foreign investors on the sidelines and with some money to invest in shares, getting hold of stocks relating to China Communications Construction, China Railway Construction, both of whom are involved in Port development and high speed rail, plus their Eurasian counterparts, in addition to blue chip stocks such as Siemens and Bombardier, who build the parts that go on trains, would be a good way to develop a personal silk road investment fund.
It is obvious China intends to see the project through. Institutional depth will only continue to be added to this project, and it will not be a bad idea for both individual investors to take an active interest but also for foreign manufacturers that have anything to do with providing component parts or services to set up a task force to evaluate how best they can take advantage of an infrastructure development bonanza that will quite possibly define how the rest of this century develops.

Chris Devonshire-Ellis is the Founding Partner of Dezan Shira & Associates – a specialist foreign direct investment practice providing corporate establishment, business advisory, tax advisory and compliance, accounting, payroll, due diligence and financial review services to multinationals investing in emerging Asia. Since its establishment in 1992, the firm has grown into one of Asia's most versatile full-service consultancies with operational offices across China, Hong Kong, India, Singapore and Vietnam, in addition to alliances in Indonesia, Malaysia, Philippines and Thailand, as well as liaison offices in Italy, Germany and the United States. For further information, please email china@dezshira.com or visit www.dezshira.com.
Chris can be followed on Twitter at @CDE_Asia.
Stay up to date with the latest business and investment trends in Asia by subscribing to our complimentary update service featuring news, commentary and regulatory insight.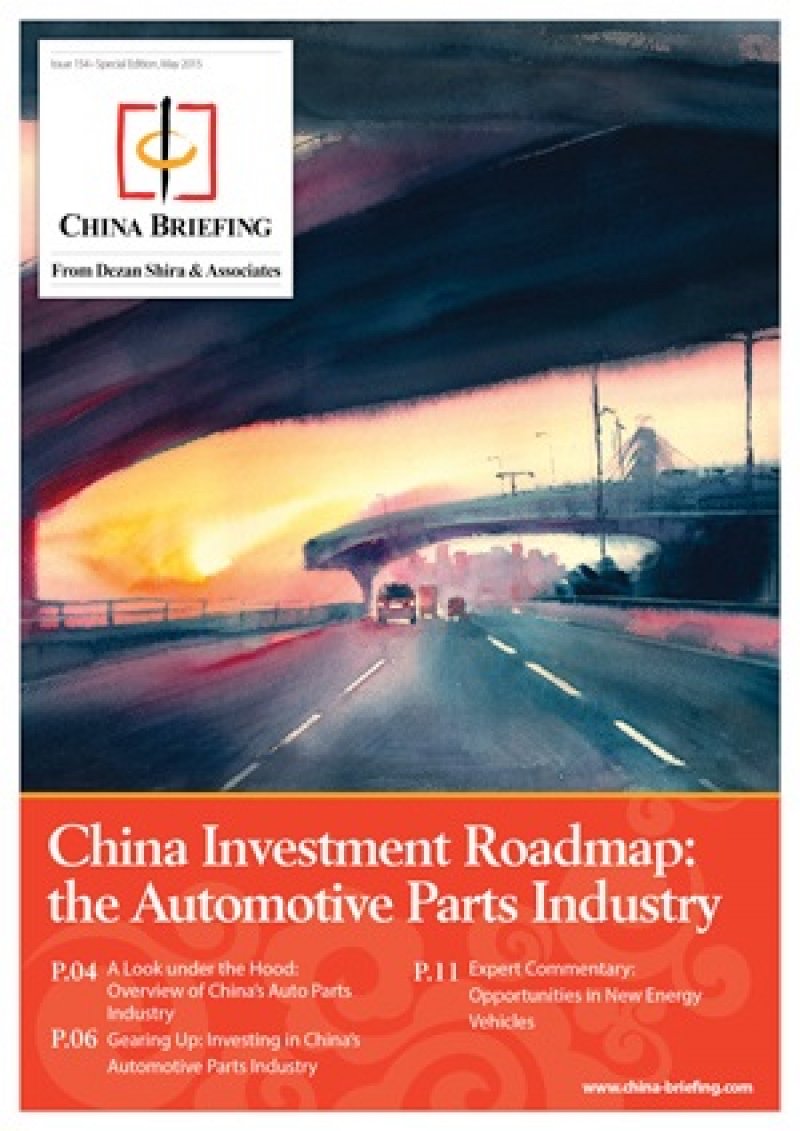 China Investment Roadmap: the Automotive Parts Industry
This issue of China Briefing presents a roadmap for investing in China's automotive industry. We begin by providing an overview of the industry, and then take a comprehensive look at key foreign investment considerations, including investment restrictions, tax incentives and manufacturing requirements. Finally, we discuss foreign investment opportunities in a part of the industry that receives substantial government support: new energy vehicles.
China Investment Roadmap: The Entertainment Industry
In this special edition China Briefing Industry Report, we cast our gaze over the broad landscape of China's entertainment industry, identifying where the greatest opportunities are to be found and why. Next, we detail some of the most important issues for foreign investors to be aware of, including legal, regulatory, and tax considerations specific to the industry. Lastly, we provide an insider analysis of the sector's unique HR & payroll challenges.
Using China's Free Trade & Double Tax Agreements
In this issue of China Briefing, we examine the role of Free Trade Agreements and the various regional blocs that China is either a member of or considering becoming so, as well as how these can be of significance to your China business. We also examine the role of Double Tax Treaties, provide a list of active agreements, and explain how to obtain the tax minimization benefits on offer.