China's Labor Dispatch Laws Come into Effect, Signalling Sweeping Change for Employment Structures
By Allan Xu, Manager, Business Advisory Services
Editor: Alexander Chipman Koty
New labor regulations came fully into effect in China last week, with the intention of preventing companies from abusing labor dispatch. Due to its flexibility and lower cost, labor dispatch is one of the most popular ways to hire employees in China. Dispatch agencies offer companies temporary workers for particular projects or a certain period of time. This is especially beneficial for businesses in seasonal industries or with project-based work, where the amount of labor needed is not consistent year-round.
Labor dispatch is also attractive for employers because they face fewer risks in the event of a labor dispute. Dispatched laborers are technically employed by their agencies rather than the companies they do work for, so any workplace grievances must be dealt with by the dispatch agency. This is advantageous for companies using labor dispatch, as the risk of a labor dispute is transferred to the agency that provides them with workers. However, it also leaves dispatched workers more vulnerable to exploitation. With the regulatory framework surrounding labor dispatch now fundamentally changed, companies must be aware of alternative methods of hiring temporary workers to avoid labor disputes and government penalties.
Overview of China's Labor Dispatch Laws
In an effort to limit companies from taking advantage of labor dispatch, the Chinese government amended the Labor Contract Law in 2012 and promulgated the Interim Provisions on Labor Dispatch (hereinafter referred to as Interim Provisions) in 2014. The two regulations restrict what types of positions dispatched staff can hold, the proportion of workers in a company that can be comprised of dispatched staff, and how they are returned to their agencies. These measures emphasize that labor dispatch can only be used as a supplementary employment approach. The Interim Provisions further regulates that the amount of dispatched staff the employer hires shall not exceed 10 percent of the total number of its employees. In the event that such amount exceeds 10 percent before the effective date of the Interim Provisions, namely March 1, 2014, the employer must reduce the proportion of dispatched staff to 10 percent within two years of the effective date of the provisions.
RELATED: Payroll and Human Resource Services
The Interim Provisions expounds three requirements that such employers must adhere to during the two year interim period of March 1, 2014 to February 29, 2016:
The employer shall develop a scheme for employment adjustments and file it with the local competent administrative department in charge of human resources and social security;
The employer shall not add any new dispatched staff before reducing the number of dispatched staff to the specified level; and
The labor contracts and labor dispatch agreements concluded pursuant to the law prior to the release of the Decision on Amending the Labor Contract Law of the People's Republic of China, whose expiry date is two years after the effective date of the Interim Provisions, are still in force until expiry by law.
Options Available to Affected Employers
Since the interim period expired at the beginning of March 2016, many employers are now facing the problem of reducing their dispatched staff to the specified level while maintaining their business scale. Generally, employers have three options:
Hire dispatched staff as formal employees who have a direct relationship with the employer;
Continue using labor dispatch to hire workers for certain positions while returning others; and
Use other employment approaches, such as outsourcing, in place of labor dispatch.
Consideration of alternative employment approaches – outsourcing in particular – is essential for companies to maintain their business scale without drastically increasing costs. However, employers are often not fully aware of the distinctions between labor dispatch and outsourcing, which can lead to costly labor disputes. The table below illustrates the basic distinctions between labor dispatch and outsourcing.
Employers must be conscious of China's complex labor laws in order to avoid costly disputes. Failure to comply with new regulations regarding labor dispatch can also result in significant penalties from the government. Awareness of different methods to hire employees allows employers to comply with government regulations while running their businesses efficiently.

About Us
Asia Briefing Ltd. is a subsidiary of Dezan Shira & Associates. Dezan Shira is a specialist foreign direct investment practice, providing corporate establishment, business advisory, tax advisory and compliance, accounting, payroll, due diligence and financial review services to multinationals investing in China, Hong Kong, India, Vietnam, Singapore and the rest of ASEAN. For further information, please email china@dezshira.com or visit www.dezshira.com.
Stay up to date with the latest business and investment trends in Asia by subscribing to our complimentary update service featuring news, commentary and regulatory insight.
 ‍
Human Resources and Payroll in China 2015
This edition of Human Resources and Payroll in China, updated for 2015, provides a firm understanding of China's laws and regulations related to human resources and payroll management – essential information for foreign investors looking to establish or already running a foreign-invested entity in China, local managers, and HR professionals needing to explain complex points of China's labor policies.

Labor Dispute Management in China
In this issue of China Briefing, we discuss how best to manage HR disputes in China. We begin by highlighting how China's labor arbitration process – and its legal system in general – widely differs from the West, and then detail the labor disputes that foreign entities are likely to encounter when restructuring their China business. We conclude with a special feature from Business Advisory Manager Allan Xu, who explains the risks and procedures for terminating senior management in China.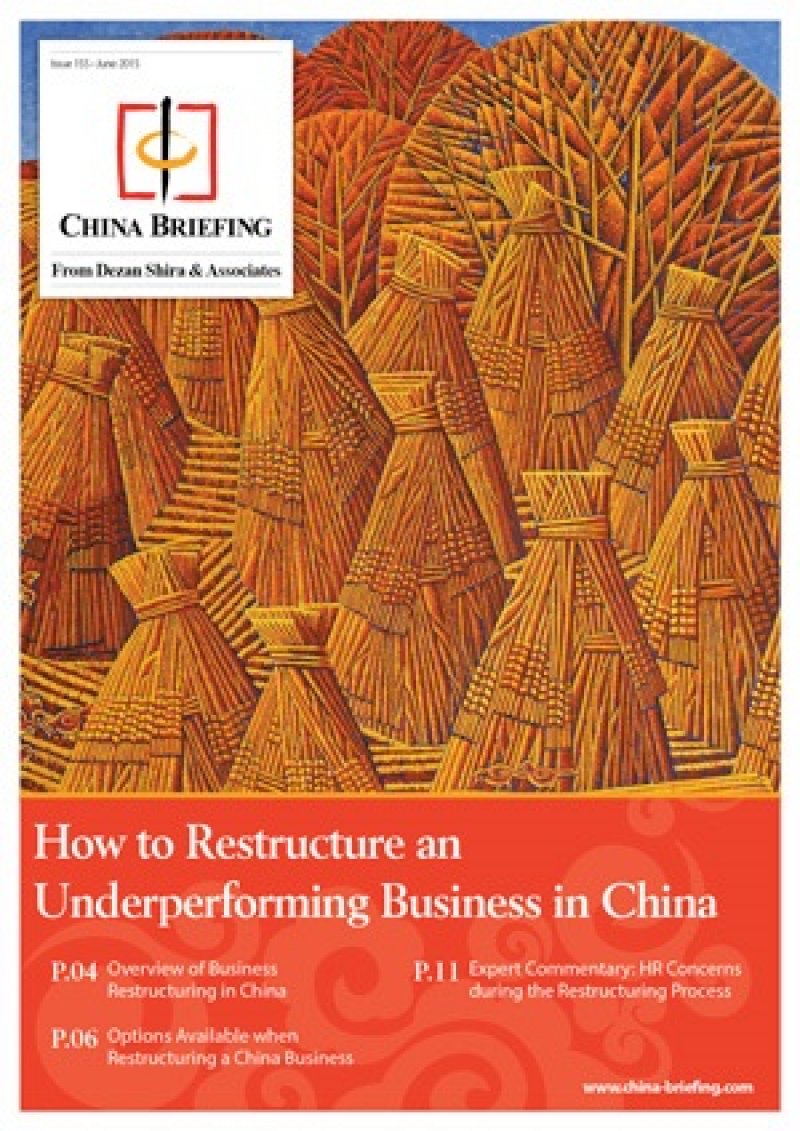 How to Restructure an Underperforming Business in China
In this issue of China Briefing magazine, we explore the options that are available to foreign firms looking to restructure or close their operations in China. We begin with an overview of what restructuring an unprofitable business in China might entail, and then take an in-depth look at the way in which a foreign company can go about the restructuring process. Finally, we highlight some of the key HR concerns associated with restructuring a China business.