China Launches New "Three-in-One" Business License
By Dezan Shira & Associates
Editor: Alexander Chipman Koty
The Chinese government has recently instituted administrative reforms simplifying the country's business establishment and registration procedures. As of October 1, 2015, newly established companies in China must apply for a single integrated business license in place of three separate certificates when registering with authorities.
The new integrated business license, sometimes referred to as the "Three-in-One" business license, combines the old business license, the organization code certificate, and the tax registration certificate into a single document with one social credit code. This reform is part of Beijing's broader effort to develop a market-based economy by simplifying and streamlining administrative procedures and reducing bureaucratic hurdles.
Under the old system, companies had to submit similar sets of documents to all three of the Administration of Industry and Commerce Office (AIC), the Administration of Quality and Technology Supervision Office, and the Tax Bureau. This process sometimes required the submission of dozens of supporting documents, multiple trips to the three offices, and a turnaround time that could span several weeks. Now, companies only need to submit one set of approximately 13 documents to the AIC and can receive the license in three days, while paying administrative fees just once.
RELATED: Business Advisory Services from Dezan Shira & Associates
Companies established before October 1, 2015, have until the end of the transition period, namely December 31, 2017, to obtain the integrated business license. If a company applies for a change to any of its certificates during the transition period, they must be returned to the AIC and an integrated business license will be issued in their place. The new license is mandatory for all business entities including wholly foreign owned enterprises, branch offices, and representative offices, except for self-employed individuals.
Although mostly uniform, there are some regional discrepancies in registration practices. For example, the reform broadens to a "Five-in-One" business license in Shenzhen and Zhejiang Province, which also replaces the social security registration certificate and the statistics registration certificate in these areas. In Shanghai and Guangzhou, the statistics registration certificate has been eliminated altogether. In certain administrative regions, exceptions apply for what types of entities require registration. While it is generally obligatory for representative offices of foreign enterprises to apply for the new integrated business license, they are not expressly required to do so in Guangdong Province. Additionally, businesses established in Beijing and others operating in special industries enjoy a longer transitional period that extends to December 31, 2020. Due to the variety of regional practices, business owners should seek professional expertise when establishing and registering a business in China to ensure compliance with local authorities.

About Us
Asia Briefing Ltd. is a subsidiary of Dezan Shira & Associates. Dezan Shira is a specialist foreign direct investment practice, providing corporate establishment, business advisory, tax advisory and compliance, accounting, payroll, due diligence and financial review services to multinationals investing in China, Hong Kong, India, Vietnam, Singapore and the rest of ASEAN. For further information, please email china@dezshira.com or visit www.dezshira.com.
Stay up to date with the latest business and investment trends in Asia by subscribing to our complimentary update service featuring news, commentary and regulatory insight.
 ‍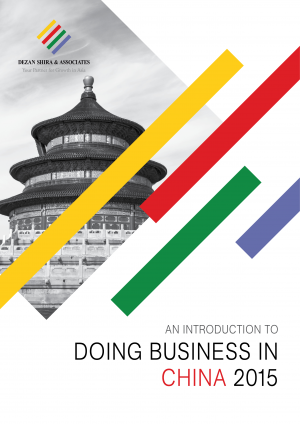 An Introduction to Doing Business in China 2015
Doing Business in China 2015 is designed to introduce the fundamentals of investing in China. Compiled by the professionals at Dezan Shira & Associates, this comprehensive guide is ideal not only for businesses looking to enter the Chinese market, but also for companies that already have a presence here and want to keep up-to-date with the most recent and relevant policy changes.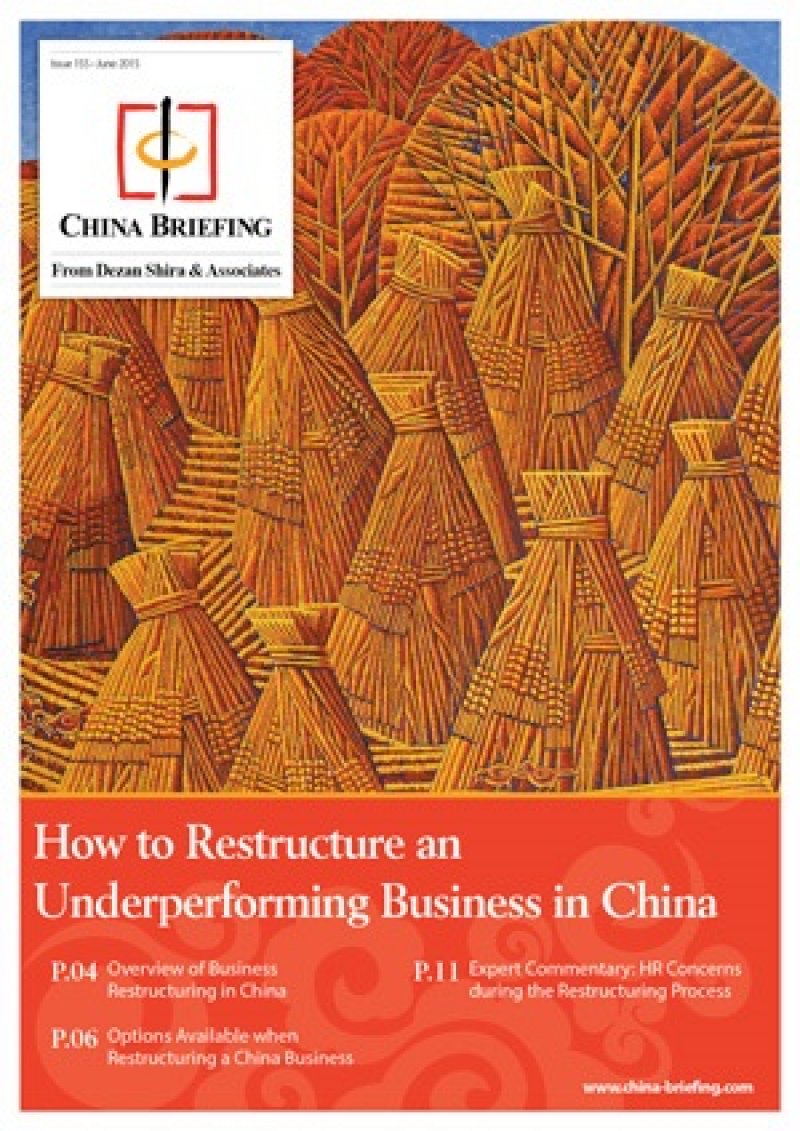 How to Restructure an Underperforming Business in China
In this issue of China Briefing magazine, we explore the options that are available to foreign firms looking to restructure or close their operations in China. We begin with an overview of what restructuring an unprofitable business in China might entail, and then take an in-depth look at the way in which a foreign company can go about the restructuring process. Finally, we highlight some of the key HR concerns associated with restructuring a China business.
Selling, Sourcing and E-Commerce in China 2016 (First Edition)
This guide, produced in collaboration with the experts at Dezan Shira & Associates, provides a comprehensive analysis of all these aspects of commerce in China. It discusses how foreign companies can best go about sourcing products from China; how foreign retailers can set up operations on the ground to sell directly to the country's massive consumer class; and finally details how foreign enterprises can access China's lucrative yet ostensibly complex e-commerce market.