China Market Watch: China – Netherlands Social Insurance Deal and New East to West High Speed Railway Opened
China and The Netherlands sign social insurance deal
On September 12, 2016, the Dutch Deputy Prime Minister and Minister of Social Affairs and Employment Lodewijk Asscher and the Chinese Minister of Human Resources and Social Security Yin Weimin signed a social insurance agreement that will exempt government employees sent to either country from mandatory social insurance contributions. Three rounds of negotiations between the countries were held since initiation in November 2014, and the deal will take effect after legal procedures are completed. Prior to the agreement, Dutch nationals working in China were required to contribute towards five insurance programs according to Chinese law, which also stipulates that the social insurance personal account can only be accessed after 15 years of work. A similar scheme applies to Chinese nationals sent to The Netherlands for work. The Chinese government has similar existing agreements with Germany, South Korea, Denmark, Finland, Canada and Switzerland.
New east to west railway opened
On September 10, 2016, a new high-speed railway spanning 360 km from Zhengzhou in Henan province to Xuzhou in Jiangsu province was opened. Part of china's 'one belt one road' strategy, the addition of this line brought China's total length of operable high-speed track past the 20,000 km mark, making it the longest in the world. Trains will run up to 300 kmph, reducing journey times drastically.
Additionally, and also as part of the one belt one road strategy, plans are in place for a line between Xuzhou and Lanzhou. This line is hoped to improve the flow of people, tourism, logistics and economy across the country, especially to the poorer Western regions. Earlier this year, the National Development and Reform Commission published a national railway development plan with provisions for a 175,000 km rail network by the end of 2025, 38,000 km of which will be formed of high-speed rail.
RELATED: Business Advisory Services from Dezan Shira & Associates
Record number of outbound Chinese estimated this year
A report published by the China Tourism Academy has suggested that there will be a record number of outbound Chinese tourists this year. An estimate of 133 million was made – an 11.5 percent increase compared to 2015, when tourists spent US$ 104.5 billion abroad. Hong Kong, Macau and Taiwan remain as the top destinations, followed by Thailand, South Korea and Japan. Many countries have relaxed their visa regulations for Chinese tourists in order to attract more Chinese spending. With Eastern Europe, South America and Central Asia set to become more popular destinations for Chinese tourists, it is predicted that Chinese outbound tourism will double within the next 10 years.
Coal production policy reversed, boosting production
After enforcing a policy to reduce coal capacity by 16 percent in April this year, China's economic planner has made a U-turn, allowing some coal production companies to increase output in order to reduce increasing coal prices. 74 coal production companies signed an agreement with the China National Coal Association on September 8, allowing them to increase production by 500,000 if the coal price index (BSPI) stays over RMB 5000 per ton for two consecutive weeks. Added production may continue until the index drops below RMB 460 per ton. Coal output declined by 10 percent during the first eight months of 2016, compared to the first eight months of the previous year.

About Us
Asia Briefing Ltd. is a subsidiary of Dezan Shira & Associates. Dezan Shira is a specialist foreign direct investment practice, providing corporate establishment, business advisory, tax advisory and compliance, accounting, payroll, due diligence and financial review services to multinationals investing in China, Hong Kong, India, Vietnam, Singapore and the rest of ASEAN. For further information, please email china@dezshira.com or visit www.dezshira.com.
Stay up to date with the latest business and investment trends in Asia by subscribing to our complimentary update service featuring news, commentary and regulatory insight.
Establishing & Operating a Business in China 2016
Establishing & Operating a Business in China 2016, produced in collaboration with the experts at Dezan Shira & Associates, explores the establishment procedures and related considerations of the Representative Office (RO), and two types of Limited Liability Companies: the Wholly Foreign-owned Enterprise (WFOE) and the Sino-foreign Joint Venture (JV). The guide also includes issues specific to Hong Kong and Singapore holding companies, and details how foreign investors can close a foreign-invested enterprise smoothly in China.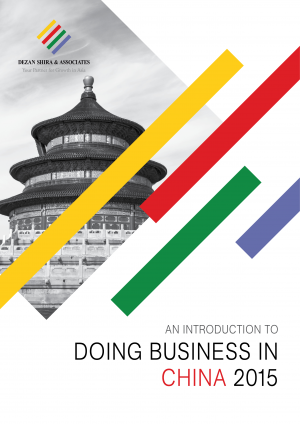 An Introduction to Doing Business in China 2015
Doing Business in China 2015 is designed to introduce the fundamentals of investing in China. Compiled by the professionals at Dezan Shira & Associates, this comprehensive guide is ideal not only for businesses looking to enter the Chinese market, but also for companies that already have a presence here and want to keep up-to-date with the most recent and relevant policy changes.
Selling, Sourcing and E-Commerce in China 2016 (First Edition)
This guide, produced in collaboration with the experts at Dezan Shira & Associates, provides a comprehensive analysis of all these aspects of commerce in China. It discusses how foreign companies can best go about sourcing products from China; how foreign retailers can set up operations on the ground to sell directly to the country's massive consumer class; and finally details how foreign enterprises can access China's lucrative yet ostensibly complex e-commerce market.