China Market Watch: Foreign NGOs & Electric Car Market
China's New Regulations to Further Regulate Foreign NGO Activity in the Country
On April 28, the Standing Committee of China's National People's Congress passed a new law to further limit the work of foreign non-profit organizations (NGOs) and their domestic partners. The law, which will come into effect on January 1, 2017, is part of an array of measures taken by the state to control and restrict the influence of Western organizations. According to the new regulation, foreign NGOs will be required to register with the police prior to starting any operations, rather than with China's Ministry of Civil Affairs.
The new law is estimated to affect around 7,000 foundations, social groups, think tanks, and NGOs engaging in sectors such as business, education, environment, philanthropy, and culture. Such organizations will be subject to police supervision, with groups engaging in activities of a politically sensitive nature being hit the hardest. The law also applies to organizations originating from the regions of Hong Kong, Macau, and Taiwan.
RELATED: Business Advisory Services from Dezan Shira & Associates
Chinese Electric Car Manufacturers to Benefit from Boom in Global Demand
China is now the largest new energy vehicles (NEV) market, which includes electric cars, hybrid cars, and plug in hybrids. As new technologies focused on green energy and the environment form a crucial component of China's future consumer led economy, commentators have been quick to stress the opportunity presented for foreign investment. The China Association of Automobile Manufacturers (CAAM) reported last week that sales of NEVs in China have amounted to 58,125 units in the first quarter of 2016, doubling the figure from the same period last year. Further, sales and output tripled in 2015, and are estimated to increase 58 percent this year by China Securities.
Notably, electric car sales have increased 1.4 times year on year in China, while sales of plug in hybrids have risen by 43 percent over the past few years. Sales of Tesla's new Model 3 electric car have boomed, causing a delay in deliveries until 2017, which highlights the need for better performance in the sector. The State Council has released five supportive measures for the NEV sector, calling for innovation in battery manufacture and use of NEVs in public transport and logistics.
China Taking Measures to Promote Domestic Consumption with a Focus on Rice Cookers and Smart Toilets
The Chinese government has recently issued a plan to further develop its economy by increasing domestic consumption. Specifically, the plan calls for higher standards of consumer product manufacturing in order to attract more spending within the country as opposed to spending overseas. Focus has been put on better rice cookers and 'smart' toilets – products that are often purchased by Chinese nationals in Japan. Other kitchen appliances and smart phones have also been listed in the effort to veer away from trade and investment and to improve the quality of goods affordable by the poorer in the local market. The plan is part of the government's campaign to improve the economy by reducing saturated companies engaged in steel and other heavy industries, which is launched following a seven-year low in industry growth (6.7 percent) occurring in the last quarter of 2015.

About Us
Asia Briefing Ltd. is a subsidiary of Dezan Shira & Associates. Dezan Shira is a specialist foreign direct investment practice, providing corporate establishment, business advisory, tax advisory and compliance, accounting, payroll, due diligence and financial review services to multinationals investing in China, Hong Kong, India, Vietnam, Singapore and the rest of ASEAN. For further information, please email china@dezshira.com or visit www.dezshira.com.
Stay up to date with the latest business and investment trends in Asia by subscribing to our complimentary update service featuring news, commentary and regulatory insight.
 ‍
Establishing & Operating a Business in China 2016
Establishing & Operating a Business in China 2016, produced in collaboration with the experts at Dezan Shira & Associates, explores the establishment procedures and related considerations of the Representative Office (RO), and two types of Limited Liability Companies: the Wholly Foreign-owned Enterprise (WFOE) and the Sino-foreign Joint Venture (JV). The guide also includes issues specific to Hong Kong and Singapore holding companies, and details how foreign investors can close a foreign-invested enterprise smoothly in China.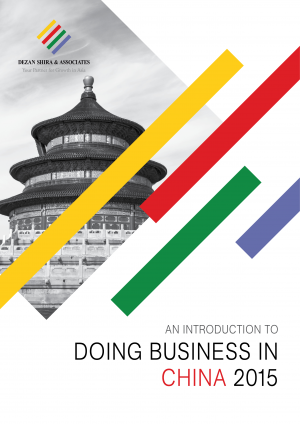 An Introduction to Doing Business in China 2015
Doing Business in China 2015 is designed to introduce the fundamentals of investing in China. Compiled by the professionals at Dezan Shira & Associates, this comprehensive guide is ideal not only for businesses looking to enter the Chinese market, but also for companies that already have a presence here and want to keep up-to-date with the most recent and relevant policy changes.
China Investment Roadmap: the e-Commerce Industry
In this edition of China Briefing magazine, we present a roadmap for investing in China's e-commerce industry. We provide a consumer analysis of the Chinese market, take a look at the main industry players, and examine the various investment models that are available to foreign companies. Finally, we discuss one of the most crucial due diligence issues that underpins e-commerce in China: ensuring brand protection.