China Market Watch: Sportswear Industry and Meat Consumption
China to Allow Foreign Firms to Issue Shares as Part of Drive to Open up Capital Markets
In a bid to open up China's capital market and encourage the reform of the RMB convertibility, the People's Bank of China is considering allowing foreign-invested companies to issue shares on the mainland at an unspecified time in the future. Beijing will head the scheme with reforms allowing individuals to directly invest in capital markets. The scheme will allow qualified foreign firms to issue depositary receipts, a mechanism implemented to issue shares on the local stock exchange, similar to American depositary receipts, which have been used by Chinese firms to do the same thing in the U.S.
Foreign Multinational Sportswear Brands Threaten China's Domestic Brands
Large multinational sportswear brands are fiercely expanding their business efforts in China, causing many smaller domestic sportswear brands to lose a share of the China market. Leading foreign firms are starting to increase their rate of expansion into second and third tier cities in order to broaden their customer base, while poor brand recognition and lack of product variety have will contribute to the decline of domestic players. For example, almost half of Adidas' new stores opened in the last five years in China were based in lower tier cities, with half of its gross revenue originating there. The industry has been expanding rapidly, with an estimated RMB 300 billion revenue in 2020. Faster growth has been recorded in lower tier cities, mainly due to increased disposable income and a shift towards healthier lifestyles. Both Adidas and Nike recorded around 30 percent growth in the early months of 2016.
RELATED: Business Advisory Services from Dezan Shira & Associates
China Aims to Halve Meat Consumption
China, which consumes around 30 percent of the world's meat, including half of its pork, has issued guidelines to cut meat consumption by a half, even though average per capita meat consumption is half that of the average American or Australian. The Chinese health ministry has published new dietary guidelines which recommend eating around 40-75 grams of meat a day, with an aim to lower the risk of bowel cancer and reduce the country's greenhouse gas emissions. If the population follow these guidelines, China could potentially cut its emissions by 1 billion tons by 2030. Thirty years ago, the average Chinese consumer ate 13kg of meat annually, compared to 63kg a year today. This figure is expected to rise by a further 30kg by 2030 if the guidelines are ignored.
China to Cut Steel and Coal Capacity Drastically This Year  
China's state planner announced plans to cut steel production capacity by 45 million tons, which will displace 180,000 workers; and lower coal output capacity by 280 million tons, which will relocate 700,000 workers in the sector within three to five years. The government will do so by allocating RMB 100 billion to local authorities and state owned firms to aid cuts and layoffs (which are estimated to total to 1.8 million workers overall) of staff over the next couple of years. Around 20 percent of the allocation will also be used to reward high achievers.

About Us
Asia Briefing Ltd. is a subsidiary of Dezan Shira & Associates. Dezan Shira is a specialist foreign direct investment practice, providing corporate establishment, business advisory, tax advisory and compliance, accounting, payroll, due diligence and financial review services to multinationals investing in China, Hong Kong, India, Vietnam, Singapore and the rest of ASEAN. For further information, please email china@dezshira.com or visit www.dezshira.com.
Stay up to date with the latest business and investment trends in Asia by subscribing to our complimentary update service featuring news, commentary and regulatory insight.
 ‍
Establishing & Operating a Business in China 2016
Establishing & Operating a Business in China 2016, produced in collaboration with the experts at Dezan Shira & Associates, explores the establishment procedures and related considerations of the Representative Office (RO), and two types of Limited Liability Companies: the Wholly Foreign-owned Enterprise (WFOE) and the Sino-foreign Joint Venture (JV). The guide also includes issues specific to Hong Kong and Singapore holding companies, and details how foreign investors can close a foreign-invested enterprise smoothly in China.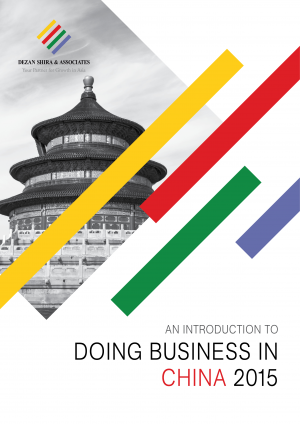 An Introduction to Doing Business in China 2015
Doing Business in China 2015 is designed to introduce the fundamentals of investing in China. Compiled by the professionals at Dezan Shira & Associates, this comprehensive guide is ideal not only for businesses looking to enter the Chinese market, but also for companies that already have a presence here and want to keep up-to-date with the most recent and relevant policy changes.
Selling, Sourcing and E-Commerce in China 2016 (First Edition)
This guide, produced in collaboration with the experts at Dezan Shira & Associates, provides a comprehensive analysis of all these aspects of commerce in China. It discusses how foreign companies can best go about sourcing products from China; how foreign retailers can set up operations on the ground to sell directly to the country's massive consumer class; and finally details how foreign enterprises can access China's lucrative yet ostensibly complex e-commerce market.