China's New National Fitness Plan and Opportunities in the Sports Industry
By Jake Liddle
On June 23, 2016, China's State Council approved the new 2016-2020 National Fitness Plan, which has ambitious targets for national fitness levels and increased sports participation. It also sets out to introduce a new national consciousness of health and fitness, incorporating regular physical exercise and sports activities into the weekly routine of over one billion citizens by 2020. The plan also factors in the health of the elderly by investing in improvement of fitness facilities in retirement communities and providing specialist guidance regarding fitness, which will aid the support of a rapidly increasing elderly population in China. Health and fitness expenditure is estimated to reach RMB 1.5 trillion if these targets are reached.
Opportunities in the sports and fitness industry
While acting in the interest of national health, the National Fitness Plan will also serve as a boost for China's sports and fitness industries, and clearly, the construction of further sports and fitness facilities will be required to realize the plan's goals. The plan makes provisions for a sports facility network of sorts, which should provide access to sports and fitness spaces within 15 minutes for both urban and rural residents, with 1.8m2 of public space designated for sport and fitness activities per person.
Football
The plan outlines a strategy to increase the amount of football grounds by including their construction in urban and rural construction plans. It will also encourage football training and coaching in all levels of educational institutions, and diversify football teams and matches to make the sport accessible to more groups of society. The plan's emphasis on football could hail from the state backed policy to drive to popularity of the game and eventually become a leading force in football, producing one of the world's most competitive football teams by 2050.
Consequently, there has been a recent surge of Chinese investors buying stakes or outright purchases of football teams and broadcasters, especially in Europe, and Chinese football clubs signing overseas football players. Early this year, Guangzhou Evergrande Taobao Football Club signed Colombian forward Jackson Martinez from Atletico Madrid for an Asia record-breaking RMB 300 million (€42 million), and Chinese entities have also recently purchased Aston Villa, and bought controlling stakes of Manchester City and Inter Milan, with AC Milan still in talks.
The standard of Chinese football has been developing steadily in the last decade, and players are drawn to China by the lucrative deals that clubs and the state are offering. For example, former England manager Sven-Goren Eriksson is now head coach of Shanghai SIPG. In the end, these investments and efforts to popularize the sport will help improve China's football infrastructure, and could also support a successful bid for China to host the 2026 World Cup.
Winter sports
The plan also aims to promote winter sports on a large scale, utilizing the Beijing 2022 Winter Olympics winning bid as the main driving force behind rousing popularity. Projects for the construction and improvement of existing multi-purpose winter sport facilities will be initialized, in conjunction with goals to establish figure skating, ice hockey, skiing, and other such sports as both leisure and fitness activities by creating clubs, training institutions, and playoff events. It also depends heavily on natural resources and landscapes to facilitate the development of winter sports, with aims to have 300 million people participating in a form of winter sports by 2020.
The winter sports plan is based on the same principle as football, in that stimulating interest for that area of sport will ultimately win medals in international competitions. Efforts mapped out by the state before the 2016-2020 National Fitness Plan for winter sports not only pledged to construct numerous new snow resorts, skating rinks, and winter sports themed schools, but also mapped out generating millions of followers, and teaching primary and middle school students the etiquette of watching matches in time for the Olympic games.
China is battling with numerous obstacles regarding the Winter Olympics, such as polluted air and lack of water needed to make snow and ice, but nevertheless beat Kazakhstan's capital Almaty, abundant with natural snow and mountains, to host the games.
Observations
What is evident from both the 2016-2020 National Fitness Plan, China's plans for football and winter sports, and preexisting goals for the sports in terms of the Beijing Winter Olympics and the 2026 World Cup, is that there is huge scope for foreign investment. This is particularly true with football, where foreign input is highly valued in China.
Sport is only one side of the coin: fitness also provides a large opportunity, and with the Fitness Plan aiming for greater volume of fitness facilities and infrastructure, demand for gyms and other such services will undoubtedly increase in the coming years.

About Us
Asia Briefing Ltd. is a subsidiary of Dezan Shira & Associates. Dezan Shira is a specialist foreign direct investment practice, providing corporate establishment, business advisory, tax advisory and compliance, accounting, payroll, due diligence and financial review services to multinationals investing in China, Hong Kong, India, Vietnam, Singapore and the rest of ASEAN. For further information, please email china@dezshira.com or visit www.dezshira.com.
Stay up to date with the latest business and investment trends in Asia by subscribing to our complimentary update service featuring news, commentary and regulatory insight.
 ‍
Establishing & Operating a Business in China 2016
Establishing & Operating a Business in China 2016, produced in collaboration with the experts at Dezan Shira & Associates, explores the establishment procedures and related considerations of the Representative Office (RO), and two types of Limited Liability Companies: the Wholly Foreign-owned Enterprise (WFOE) and the Sino-foreign Joint Venture (JV). The guide also includes issues specific to Hong Kong and Singapore holding companies, and details how foreign investors can close a foreign-invested enterprise smoothly in China.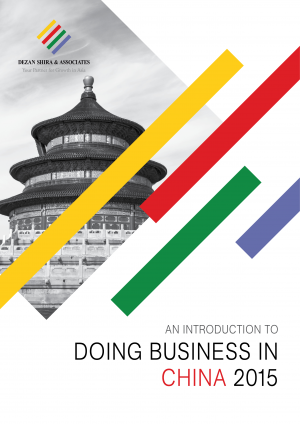 An Introduction to Doing Business in China 2015
Doing Business in China 2015 is designed to introduce the fundamentals of investing in China. Compiled by the professionals at Dezan Shira & Associates, this comprehensive guide is ideal not only for businesses looking to enter the Chinese market, but also for companies that already have a presence here and want to keep up-to-date with the most recent and relevant policy changes.
China Investment Roadmap: the Commercial Real Estate Sector
In this issue of China Briefing, we explore the latest trends in commercial real estate in China, and discuss how foreign companies can benefit from China's massive construction boom. We provide a guide to how firms can sell construction materials in China, and finally detail how foreign architects can most effectively enter and take advantage of China's rapid urbanization.