China Announces Seven New Free Trade Zones, Signaling Intent to Diversify Economy
On August 31, 2016, Beijing passed approval for Chongqing, Zhejiang, Hubei, Henan, Sichuan, Shaanxi, and Liaoning to establish seven new free trade zones (FTZs), bringing China's total number to 11.
The decision to increase China's FTZs by such a significant amount is widely seen as an effort to combat slowing economic growth in the Middle Kingdom, with 2015's GDP growth of 6.9 percent the slowest in 25 years. As the country's economy continues to diversify, the FTZs are also seen as a means to open up key markets and industries for foreign investment.
Of particular interest are the locations that Beijing has selected for the new zones. China's FTZs to date have all been established along its coast, making five of the seven new zones the first to be established inland. This is reflective of China's overall economic targets, with Chinese Minister of Commerce Gao Hucheng stating earlier this year that Central and Western China will be the "new frontier" for foreign investment in the country.
Makeup of the New FTZs
The new FTZs will adhere to the "negative list" concept that is present in the country's existing zones. While the full plans for the FTZs have yet to be announced, certain details have been released on why they were chosen and how they will be structured:
Chongqing (Liang Jiang New Area, West Logistics Park, and a micro-electronics park)
Chongqing has been identified as an important gateway city to open up China's west, making its FTZ key to driving the region's overall development in the coming years.
Zhejiang
Zhejiang's FTZ will primarily serve to improve the construction of Zhoushan Free Trade Port, push commodity trade liberalization, and enhance China's ability to configure global trade of commodities.
Hubei (Wuhan, Xiangyang, Yicheng)
Hubei's FTZ is planned to be 127 square kilometers. The zone will look to develop a number of strategic new sectors and high-tech industrial bases, as well as be a key component of the Yangtze River Economic Belt.
RELATED: Entry Strategy Advisory from Dezan Shira & Associates 
Henan (Zhengzhou, Luoyang, Kaifeng)
Henan's FTZ is planned to be a 120 square-kilometer area encompassing provincial capital Zhengzhou, Luoyang, and Kaifeng. Its main purpose will be to implement a modern three-dimensional traffic system and modern logistics system by hastening the construction of north, south, and east infrastructural links. It will also focus on transforming into a state-of-the-art integrated transport hub to become a key location along China's "One Belt, One Road" connection with Eurasia.
Sichuan
Similar to Chongqing, Sichuan province will serve as a gateway to opening up China's western inland areas. Its FTZ is intended to build an inland open economic highland to improve collaboration between interior and coastal areas.
Shaanxi
Shaanxi's FTZ will also aid in the construction of the "One Belt, One Road" network, and utilize it as a means to promote international economic cooperation and cultural exchange with China.
Liaoning
The Liaoning FTZ will be primarily involved in reigniting the competitiveness of the northeast's traditional industries and opening up various sectors to increased foreign investment.
Key Takeaways
The overall effectiveness of China's FTZs as a draw for foreign investment is not guaranteed, as highlighted early last month when the government decided to further liberalize the existing FTZs in Shanghai, Tianjin, Fujian, and Guangdong to increase interest. However, with the announcement for the new zones arriving only 18 months after the policy frameworks for FTZs in Tianjin, Fujian, and Guangdong were published, the importance that the Chinese government is attaching to the FTZs as a driver for investment shows no signs of wavering.
The goal of the new FTZs will not be to act as a testing ground for nationwide reform like the Shanghai FTZ before them, but to drive regional growth by encouraging selected industries to develop. It's still too early to say how successful this plan will be, but the fact that the majority of these zones will be established in China's central and western regions is indicative of the policy direction that the Chinese government is pursuing. When considered alongside the various investment incentives that have recently been implemented and the extensive development targets laid out in China's 13th Five Year Plan, China's central and western provinces look set to be amongst the most dynamic in the coming years.

About Us
Asia Briefing Ltd. is a subsidiary of Dezan Shira & Associates. Dezan Shira is a specialist foreign direct investment practice, providing corporate establishment, business advisory, tax advisory and compliance, accounting, payroll, due diligence and financial review services to multinationals investing in China, Hong Kong, India, Vietnam, Singapore and the rest of ASEAN. For further information, please email china@dezshira.com or visit www.dezshira.com.
Stay up to date with the latest business and investment trends in Asia by subscribing to our complimentary update service featuring news, commentary and regulatory insight.
 ‍
A Guide to China's Free Trade Zones
In this issue of China Briefing magazine, we examine China's four Free Trade Zones and discuss the differences and strongpoints that exist in each of them. We begin by providing an introduction to the FTZs, and then take an in-depth look at the market access conditions, registration procedures and tax environments of each. Finally, we highlight some of the key considerations that foreign companies should be aware of when choosing an FTZ to invest in.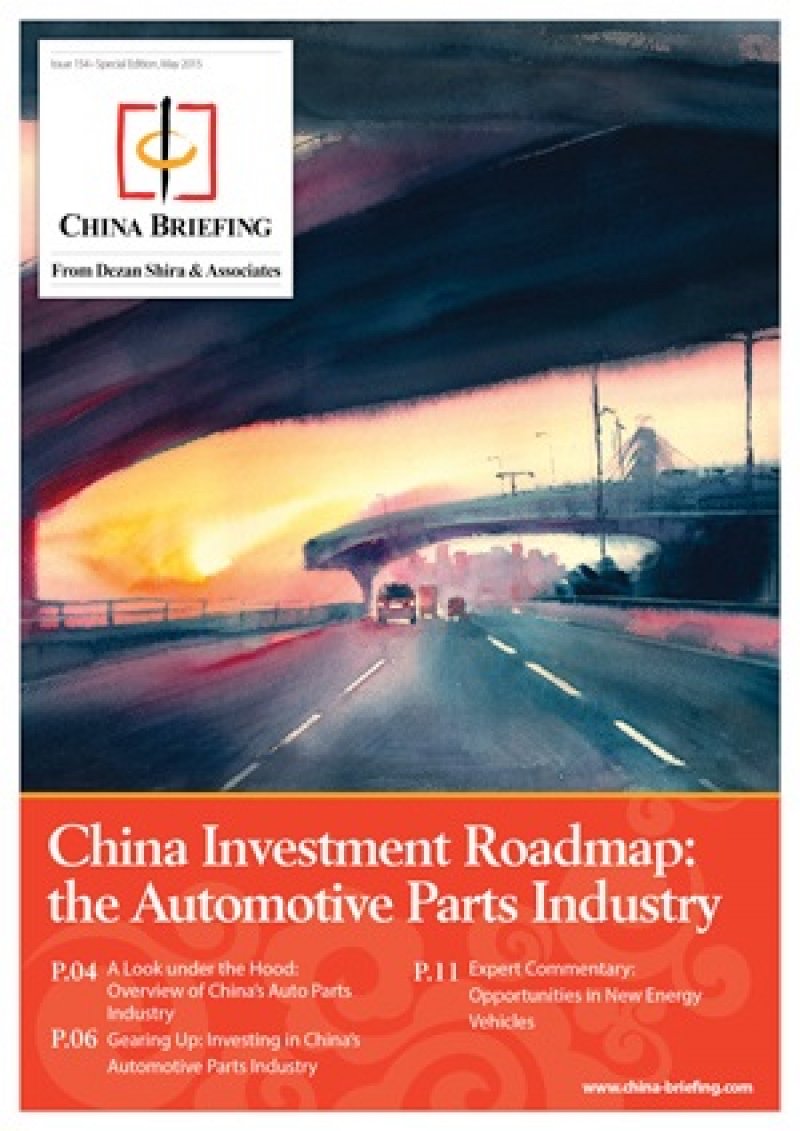 China Investment Roadmap: the Automotive Parts Industry
This issue of China Briefing presents a roadmap for investing in China's automotive industry. We begin by providing an overview of the industry, and then take a comprehensive look at key foreign investment considerations, including investment restrictions, tax incentives and manufacturing requirements. Finally, we discuss foreign investment opportunities in a part of the industry that receives substantial government support: new energy vehicles.
Revisiting the Shanghai Free Trade Zone: A Year of Reforms
In this issue of China Briefing, we revisit the Shanghai FTZ and its preferential environment for foreign investment. In the first three articles, we highlight the many changes that have been introduced in the Zone's first year of operations, including the 2014 Revised Negative List, as well as new measures relating to alternative dispute resolution, cash pooling, and logistics. Lastly, we include a case study of a foreign company successfully utilizing the Shanghai FTZ to access the Outbound Tourism Industry.