Shifting Gears: Investing in China's Electric Vehicles Market
By Zolzaya Erdenebileg
Many in the industry already saw it coming, but China now officially outranks the United States in one more category: sales of new-energy vehicles (NEVs). According to 2015 statistics provided by the China Association of Automobile Manufacturers (CAAM), China produced and sold over 300,000 units of NEVs, an increase of over 300 percent year-on-year. Other areas of the industry are almost as dynamic: battery electric vehicles (BEVs) totaled almost 250,000 units during the same year – an increase of over 400 percent year-on-year – while plug-in hybrid electric vehicle (PHEV) sales totaled over 80,000 units, increasing almost 200 percent year-on-year.
Conversely, the United States saw its NEV sales slow down as oil prices decreased. This change in ranking comes as China continues to strengthen its push towards green development. NEVs, which here refers to all-electrics, plug-in hybrids, and hydrogen fuel-cell vehicles, is one of the key industries that China will foster for at least the next half-decade.
Government Support
At the Fourth Session of the 12th National People's Congress this past March, Premier Li Keqiang outlined the major energy shift that China looks to accomplish within the next five years. This shift includes both reducing the number of inefficient energies and vehicles, and also creating advantages for energy-saving technologies. At the event, Li specified that about 3.8 million old or high-emission vehicles would be eliminated from the roads.
In addition, Li announced that China will increase support for policies that encourage the use of energy-saving and environmentally friendly advanced technologies and equipment. In particular, the Chinese government wants to improve efforts at developing and promoting the use of NEVs. Under the new Five-Year Plan, total production and sales volume of NEVs will reach five million by 2021. Urban car parks and charging infrastructure construction will follow to support this goal.
It seems that the government is going to lead by example. In May 2016, the National Government Office Administration (NGOA) announced that over half of new vehicles owned by China's central state department will be new-energy vehicles within the next five years.
RELATED: Business Advisory Services from Dezan Shira & Associates
Policy Incentives
The government is using a multilateral policy approach to create better conditions for the competitiveness of NEVs. This includes macro strategies, such as energy development and pollution control; infrastructural development to introduce more charging stations; industry management through stimulants for rapid technological innovation; and tax and subsidy incentives for the consumers.
Many of these policies are already in place. Early in 2009, the government introduced a pilot scheme called "Ten Cities, Thousand Vehicles," which required each of the ten cities to deploy 1000 NEVs onto city roads. As a result, most of the newly deployed NEVs were local government vehicles, such as city buses, taxis, and garbage trucks. Following the success of the program, the central government introduced purchase subsidies for Shanghai, Changcun, Shenzhen, Hangzhou and Hefei. In these cities, passenger car buyers could receive subsidies of up to RMB 60,000 per vehicle for BEVs and RMB 50,000 per vehicle for PHEVs.
In addition to subsidies, electric vehicle (EV) owners also benefit from preferential traffic treatment. Many large cities place restrictions on cars during rush hours to combat traffic jams and air pollution. For example, in Beijing, cars with odd and even license plates can only drive on alternate days. EVs, however, are exempt from this rule. EV owners are also exempt from having to partake in the painstaking and expensive process of obtaining a license plate.
In the latest move to boost its electric vehicles industry, the State Council held an executive meeting in February 2016, which built upon those parameters and reiterated the need for greater R&D and technological development, as well as more incentives for private users.
Tax Incentives to Encourage New Energy Vehicle Consumption
In practice, the government's repeated encouragement of the NEV market has resulted in a number of financial advantages for consumers. These tax incentives include:
Consumption tax: Under the Regulating Passenger Vehicle Consumption Tax Policy, purchases of battery and fuel-cell electric (FCEV) passenger vehicles are exempt from consumption tax.
Purchasing tax: Between September 1, 2014 and December 31, 2017, purchases of BEVs, PHEVs and FCEVs are exempt from purchasing tax.
Vehicle Registration Fee: On May 7, 2015, the Ministry of Finance (MOF), the State Administration of Taxation (SAT) and the MIIT announced that the vehicle registration fee for NEVs would be reduced by 50 percent.
Import Duty: According to the Announcement on Executing Industry Restructuring Guidance Catalogue (2011), NEVs imported for self-use are exempt from import duties. Simultaneously, NEV products enjoy provisional preferential tariff rates (such as for EV inverter modules, moto controllers, vehicle-mounted charges, power brakes, and lithium-ion power batteries).
Foreign Investment Policies
Despite these substantial subsidies and tax incentives, the NEV market has thus far failed to meet expectations. According to CAAM, NEVs made up only 0.9 percent of market share in China. One obstacle facing the market is the number of charging stations that are available, the lack of which is a strong disincentive for potential buyers. The other major issue is the battery, which is expensive and unreliable. To advance the battery's potential, the government has made NEV technology an encouraged product for foreign investment and import.
The Catalogue of Industrial Guidance for Foreign Investment (amended in 2015), issued by the National Development and Reform Commission (NDRC), lists the industries that are encouraged for foreign investment. Key parts and components of NEVs feature in this catalogue, in particular:
Energy power battery (energy density of 110Wh/kg or above, cycle life of 2,000 or more times, and foreign investment proportion of not more than 50 percent), positive materials of battery (specific capacity of 150mAh/g or above, cycle life of 2,000 times which is not less than 80 percent of the initial discharging capacity), and battery separator (with thickness of 15-40μm and porosity of 40-60 percent).
Battery management system, motor management system, electronic integration of electric cars.
Drive motor for electric cars (peak power density of 2.5kW/kg or above, high efficient area: 65 percent, and working efficiency of 80 percent or above), DC/DC for vehicles (input voltage of 100V-400V), high power electronics (IGBT, voltage level of 600V or above and current of 300A or above).
Plug-in hybrid electromechanical coupling drive system.
RELATED: Electric Vehicles Receive Tax Exemption in China
Major Players
Currently, China's NEV market leader is Build Your Dreams (BYD), a Chinese car and battery maker based in Shenzhen. In 2015, BYD sold over 60,000 vehicles with plugs, making it the largest producer not only in China, but also in the world. Besides passenger cars, BYD has also seen success with its electric busses, which can be found in over 160 cities worldwide.
Coming in second behind BYD, Tesla Motors sold about 50,000 cars in 2015. Its China expansion has been slower than expected, with the company delivering 3,025 units by the third quarter of 2015. While domestic producers enjoy subsidies and preference from the government, foreign companies have struggled to gain a foothold. Other foreign players include BMW, Ford, General Motors and Nissan, all of whom see China as a key market.
However, a number of well-staffed and well-funded startups are aggressively looking to enter the market. Faraday Future, founded in 2014, is a California-based, China-funded company. At the 2016 Beijing Auto Show, it introduced the Le SEE (Super Electric-Eco System), a mix between a car, an entertainment center and a living room. NextEV is another newly-founded, China-funded company with bases all around the globe. There is also Atieva, whose shareholders include Beijing Automotive (a partnership between Mercedes and Hyundai in China) and the owner of Faraday Future, Jia Yueting. Future Mobility Corp, founded just this year and backed by Tencent Holdings, has already hired away the core development team of BMW's i3 and i8 models.
Looking Ahead
Due to the number of new entrants and 2015's encouraging performance, Miao Wei, the head of MIIT, predicts that sales will more than double in 2016. "I believe the industry will continue to grow with upward momentum as the government is also adamant in supporting it with policy incentives," Miao said.
Yet, the industry is undergoing change as allegations of subsidy fraud surface, and as the government peels away policy support. In April 2016, BYD became suspected of falsifying information in order to receive additional subsidies. A central government investigation into whether carmakers have abused the subsidy program launched in January. 90 automakers in 25 provinces and cities that received subsidies between 2013 and 2015 are under scrutiny.
China's Finance Minister said subsidy-related fraud would be punished severely and criticized NEV producers for overly relying on government support. In May 2015, the Ministry of Finance announced plans to cut NEV subsidies by 20 percent between 2017 and 2018 from 2016 levels, and by 40 percent between 2019 and 2020. By doing so, the government hopes to force Chinese producers to innovate and compete internationally.

About Us
Asia Briefing Ltd. is a subsidiary of Dezan Shira & Associates. Dezan Shira is a specialist foreign direct investment practice, providing corporate establishment, business advisory, tax advisory and compliance, accounting, payroll, due diligence and financial review services to multinationals investing in China, Hong Kong, India, Vietnam, Singapore and the rest of ASEAN. For further information, please email china@dezshira.com or visit www.dezshira.com.
Stay up to date with the latest business and investment trends in Asia by subscribing to our complimentary update service featuring news, commentary and regulatory insight.
 ‍
Establishing & Operating a Business in China 2016
Establishing & Operating a Business in China 2016, produced in collaboration with the experts at Dezan Shira & Associates, explores the establishment procedures and related considerations of the Representative Office (RO), and two types of Limited Liability Companies: the Wholly Foreign-owned Enterprise (WFOE) and the Sino-foreign Joint Venture (JV). The guide also includes issues specific to Hong Kong and Singapore holding companies, and details how foreign investors can close a foreign-invested enterprise smoothly in China.
Selling, Sourcing and E-Commerce in China 2016 (First Edition)
This guide, produced in collaboration with the experts at Dezan Shira & Associates, provides a comprehensive analysis of all these aspects of commerce in China. It discusses how foreign companies can best go about sourcing products from China; how foreign retailers can set up operations on the ground to sell directly to the country's massive consumer class; and finally details how foreign enterprises can access China's lucrative yet ostensibly complex e-commerce market.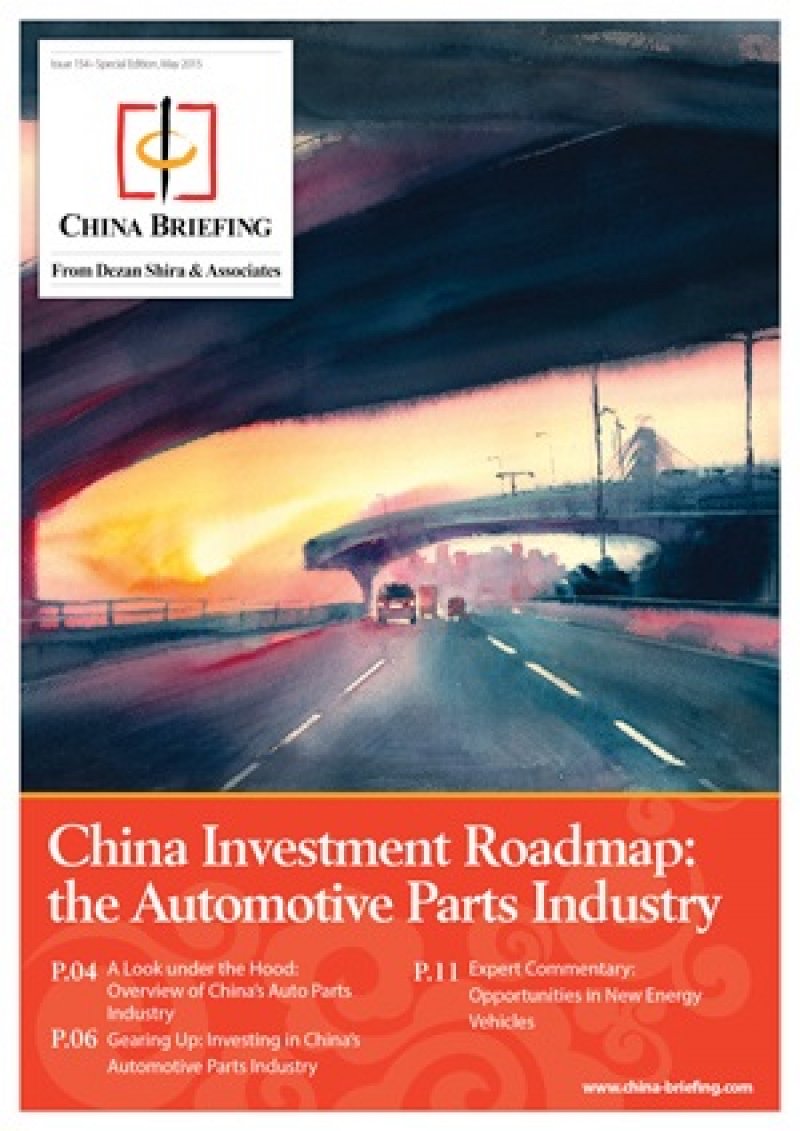 China Investment Roadmap: the Automotive Parts Industry
This issue of China Briefing presents a roadmap for investing in China's automotive industry. We begin by providing an overview of the industry, and then take a comprehensive look at key foreign investment considerations, including investment restrictions, tax incentives and manufacturing requirements. Finally, we discuss foreign investment opportunities in a part of the industry that receives substantial government support: new energy vehicles.