China Announces 2016 Official Holiday Schedule
Editor's Note: You can find the updated National Holiday Schedule for 2016 here.
China's General Office of the State Council released the "Circular on the Arrangement of Certain Holidays in 2016 (Guobanfamingdian [2015] No.18)" on December 10 and announced the official national holiday schedule for 2016 as follows:
New Year
January 1 – 3 (3 days in total)
Spring Festival
February 7 – 13 (7 days in total)
February 6 (Saturday) and February 14 (Sunday) are official working days.
Tomb Sweeping Day
April 2-4 (3 days in total)
Labor Day
April 30-May 2 (3 days in total)
Dragon Boat Festival
June 9-11 (3 days in total)
June 12 (Sunday) is an official working day.
Mid-Autumn Festival
September 15-17(3 days in total)
September 18 (Sunday) is an official working day.
National Holiday
October 1 – October 7 (7 days in total)
October 8(Saturday) and October 9 (Sunday) are official working days.
It is important to note that the above dates are the official holidays, but private companies have the right to determine their own schedules as long as the official holidays above are maintained.

About Us
Asia Briefing Ltd. is a subsidiary of Dezan Shira & Associates. Dezan Shira is a specialist foreign direct investment practice, providing corporate establishment, business advisory, tax advisory and compliance, accounting, payroll, due diligence and financial review services to multinationals investing in China, Hong Kong, India, Vietnam, Singapore and the rest of ASEAN. For further information, please email china@dezshira.com or visit www.dezshira.com.
Stay up to date with the latest business and investment trends in Asia by subscribing to our complimentary update service featuring news, commentary and regulatory insight.
 ‍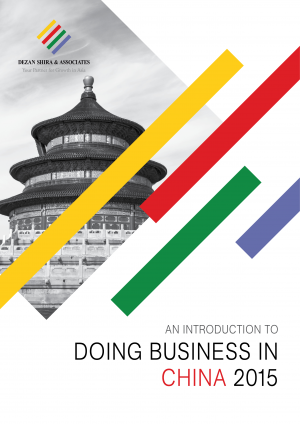 An Introduction to Doing Business in China 2015
Doing Business in China 2015 is designed to introduce the fundamentals of investing in China. Compiled by the professionals at Dezan Shira & Associates, this comprehensive guide is ideal not only for businesses looking to enter the Chinese market, but also for companies that already have a presence here and want to keep up-to-date with the most recent and relevant policy changes.
Selling, Sourcing and E-Commerce in China 2016 (First Edition)
This guide, produced in collaboration with the experts at Dezan Shira & Associates, provides a comprehensive analysis of all these aspects of commerce in China. It discusses how foreign companies can best go about sourcing products from China; how foreign retailers can set up operations on the ground to sell directly to the country's massive consumer class; and finally details how foreign enterprises can access China's lucrative yet ostensibly complex e-commerce market.
Annual Audit and Compliance in China 2016
In this issue of China Briefing, we provide a comprehensive analysis of the various annual compliance procedures that foreign invested enterprises in China will have to follow, including wholly-foreign owned enterprises, joint ventures, foreign-invested commercial enterprises, and representative offices. We include a step-by-step guide to these procedures, list out the annual compliance timeline, detail the latest changes to China's standards, and finally explain why China's audit should be started as early as possible.