China's AIIB Approves 13 New Member Countries
The Asian Infrastructure Investment Bank (AIIB) has approved applications from 13 new countries to join. They are Afghanistan, Armenia, Belgium, Canada, Ethiopia, Fiji, Hong Kong, Hungary, Ireland, Peru, Sudan, Timor Leste, and Venezuela.
These members will officially join the bank once they complete their required domestic processes and deposit their first capital. The shares allocated to them come from an existing pool of un-allocated shares.
The bank, which began operations at Beijing's instigation in January 2016, pools financing from its members and repackages these into mutually agreed funds for "Asian investment" projects. AIIB's largest shareholders include China, India, and Russia, with a total of 70 member countries now on-board.
RELATED: China's AIIB – The Facts To Know
Many of these are One Belt, One Road (OBOR) related, with the first AIIB approved loan being for power station investments in Pakistan. More recent loans have been granted to finance US$125 million for a dam project in Indonesia and a further US$100 million for the Indonesian Regional Infrastructure Development Fund. Both the Indonesian projects have been co-financed by the World Bank.
Another US$60 million loan was granted to improve a gas transmission network in Bangladesh, co-financed by the Asian Development Bank (ADB). The new loans increased the multilateral development bank's total lending to over US$2 billion.
Meanwhile, in other OBOR news, Dezan Shira & Associates and Asia Briefing have launched their new Silk Road Briefing portal today. The website features updates on OBOR projects, regional analysis and developments, together with commentary from along the entire overland and maritime routes.
"China's OBOR trade now consists of 26 percent of China's total annual trade volume and represents a current annual spend of US$965 billion," says Dezan Shira & Associates Chairman Chris Devonshire-Ellis. He further said, "Our new Silk Road Briefing will track this and provide analysis on infrastructure trends, as well as advise how foreign investors can get involved and handle the complexities of dealing in multilateral markets with differing investment, legal, tax, and customs regimes".

About Us
China Briefing is published by Asia Briefing, a subsidiary of Dezan Shira & Associates. We produce material for foreign investors throughout Asia, including ASEAN, India, Indonesia, Russia, the Silk Road & Vietnam. For editorial matters please contact us here and for a complimentary subscription to our products, please click here.
Dezan Shira & Associates are a full service practice in China, providing business intelligence, due diligence, legal, tax, IT, HR, Payroll and advisory services throughout the China and Asian region. For assistance with China business issues or investments into China please contact us at china@dezshira.com or visit us at www.dezshira.com
Silk Road Briefing
Our new portal examining China's OBOR and the multilateral trade and investment opportunities along both the overland and maritime routes.
Silk Road and OBOR Business Intelligence
Dezan Shira & Associates' Silk Road and OBOR investment brochure offers an introduction to the region and an overview of the services provided by the firm. It is Dezan Shira's mission to guide investors through the Silk Road's complex regulatory environment and assist with all aspects of establishing, maintaining, and growing business operations in the region.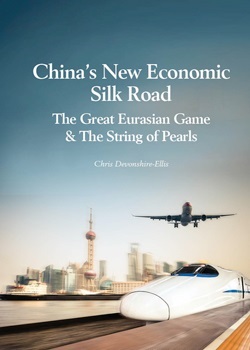 China's New Economic Silk Road
This unique and currently only available study into the proposed Silk Road Economic Belt examines the institutional, financial and infrastructure projects that are currently underway and in the planning stage across the entire region. Covering over 60 countries, this book explores the regional reforms, potential problems, opportunities and longer term impact that the Silk Road will have upon Asia, Africa, the Middle East, Europe and the United States.