China's Growing Ties with ASEAN Opens up New Opportunities for Foreign Investment
In recent years, closer economic links between China and the Association of Southeast Asian Nations (ASEAN) has opened up new opportunities for trade and investment between the two. China has been ASEAN's largest trading partner since 2009, while ASEAN has been the third-largest trading partner of China since 2011, largely thanks to the Free Trade Agreement between the two.
The China-ASEAN Free Trade Agreement, which came into force in 2010, is by far the single most important FTA that China has yet reached, and currently the only multilateral one. The agreement is expected to eliminate import-export tariffs and other barriers on some 90 percent of all products traded between China and the ASEAN member states. Bilateral trade between China and ASEAN totaled US$480 billion in 2014, up 8.3 percent from the previous year and growing six-fold from US$78 billion in 2003. This number is expected to reach US$500 billion by the end of this year.
Tensions between China and some of its Southeast Asian neighbors over the South China Sea have been simmering for some time, which may have a negative impact on the relations between China and ASEAN nations.  However, as economic cooperation is further enhanced between the two, we are sure to see significant growth and an investment boom within ASEAN, as outlined in the latest ASEAN Business Optimism Index by Dun & Bradstreet. Below, we break down China's trade with three ASEAN nations – Thailand, the Philippines and Malaysia
RELATED: Why Indian and ASEAN Relations are Set to Prosper
Thailand
In 2014, bilateral trade between Thailand and China totaled US$63.6 billion, expanding by 39 percent compared with 2010. Both countries' governments predict this number to reach US$100 billion by 2020. In 2014, China overtook Japan to become Thailand's largest trading partner. Thailand's investment in China is currently more than US$6 billion.
Thailand's National Council for Peace and Order (NCPO) has approved a US$23 billion project to connect two high speed railways with China's rail network by 2021. The railway lines will directly link to Kunming, in China's southern Yunnan province. Constructing these railways in Thailand is part of China's scheme to build a 3,000km (1,860m) high-speed track stretching from Kunming to Singapore. This railway will pass through Laos, Thailand and Malaysia. Further, China has planned to help Thailand build a high-speed railway and upgrade the country's infrastructure. Under the plan, the more-than-11-hour train ride from Bangkok to Chiang Mai could be shortened to three hours with China's high-speed railway technology.
The Philippines
Despite the territorial dispute between the two countries, China and the Philippines' economic relationship and trade remains stable. Bilateral trade between the two reached US$14.6 billion in 2013, a considerable increase from the total trade of US$ 12.84 billion in 2012. China continues to be an important source of tourists for the Philippines. China ranks fourth in number of tourist arrivals – from January to October in 2014, 354,202 Chinese tourists visited the Philippines – approximately nine percent of overall traffic.
In another move to strengthen the economic ties between the two countries, the Philippines has joined China's "maritime Silk Road" program proposed by President Xi in 2013, which aims to strengthen economic links, joint infrastructure projects, and cooperation on maritime security between China and its neighbors in the wider Asia-Pacific region.
RELATED: Assessing Foreign Investment Prospects in ASEAN
Malaysia
Malaysia, the first Southeast Asian nation to establish formal diplomatic ties with China, has been China's top ASEAN Trade partner for six consecutive years. In 2014, bilateral trade between Malaysia and China totaled US$63.5 billion, making China its second-largest trading partner, behind only Singapore. In 2013, Malaysia formally launched the first joint Malay-Sino industrial park in Kuantan (Malaysia-China Kuantan Industrial Park), the state capital of Pahang Province. The new park will be completed by 2020 and is expected to attract in excess of US$1 billion in annual revenues, employing some 5,500 Malay workers. The country is also in negotiations with China about setting up an RMB clearing center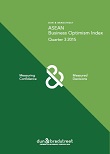 The ASEAN Business Optimism Index, released every quarter by Dun & Bradstreet, is considered a leading economic indicator for turning points in business activity and measuring business sentiment. The Index captures business expectations for the quarter ahead based on six parameters: sales volume, net profit, selling price, new orders, inventory, and employment. Sampling in the Index represents key business sectors including manufacturing, construction, wholesale, transportation, services, finance, mining and agriculture, according to their GDP contribution in each nation.
The ASEAN Business Optimism Index for Q3 2015 is out now and available as a complimentary download in the Asia Briefing Bookstore.