China's Logistics Sector: E-Commerce, Storage Shortage and Investment Opportunities
By Jake Liddle
Alibaba Group's 'Singles' day', China's equivalent of Black Friday and the world's largest e-commerce event, will take place on Wednesday November 11. Preparations for the day have put pressure on China's logistics infrastructure, highlighting issues with the country's lack of logistics space. Cainiao, a logistics arm of Alibaba, has made estimations that it is to deploy more than 1.7 million delivery personnel, 400,000 vehicles, 5,000 warehouses and 200 aircraft to support the event, according to SCMP. Cainiao has had to utilize cross border delivery partners, delivery routes and warehouses in order to aid international deliveries.
Logistics Space Shortage
Bonded online shopping has become increasingly popular with the rise of cross border e-commerce, and Chinese customers can enjoy lower tax rates when purchasing through government approved websites, essentially avoiding customs levies. However, the bonded logistics storage necessitated by bonded onlsine shopping has been the latest challenge for China's logistics sector. Despite rapid development in recent years, logistics space cannot keep up with the increased demand: in the first half of 2015, China's nine major logistics operators accounted for only 20 million square meters out of the near 7 billion square meters of warehouse space in China, with two thirds new stock. Policies promulgated by the Ministry of Land and Resources that reduce the volume of industrial facilities have contributed to this lack of logistics space.
GLP, China's leading logistics operator, and a group of investors founded a US$7 billion logistics infrastructure fund this July. The fund, which aims to develop a series of modern warehouse facilities across China, has already accumulated US$3.7 billion and plans to reach US$7 billion; developing 130 million square meters by 2019.
RELATED: Business Advisory Services from Dezan Shira & Associates
Chengdu as a New Logistics Hub
Chengdu has benefited from the government's initiative to develop the western region of the country, with improved infrastructure and strategic geographical location. An intersection of the 'one belt one road' with a highway linking to Europe, it is set to become China's next logistics hub. In recent years, GLP, Goodman, Prologis and other international warehouse developers have set up logistics parks there, and as of the first half of 2015, Chengdu has 1.2 million square meters of logistics property. Chengdu is also China's fourth largest aviation center, and is set to build another airport, making it the third city in China to host two airports, after Beijing and Shanghai.
1st tier Cities' Expansion
Smaller neighboring cities are also being increasingly utilized as important hubs for logistics operations, driven by 1st tier cities' large consumer demand. With more free land and cheaper investment options, cities such as Langfang and Wuqing around Beijing, and Dongguan and Huizhou around Guangzhou are more open to expansion in distribution logistics.
Attractive for Investors
Foreign property developers have not been perturbed by China's economic downturn, and have continued to invest in the logistics sector, which is endorsed by the state according to the Catalogue of Industries for Guiding Foreign Investment. Investors look to operate via joint ventures and platform level deals. For example, Blackstone created a logistics subsidiary with Shenzhen based Vanke, and GAW Capital partners a joint venture with logistics developer Vialog. Businesses' profit margins hit a high during the first half of the year, with tier 1 cities providing best results for investment. This trend is set to last due to the increase in consumer demands and diversifying methods of e-commerce.

About Us
Asia Briefing Ltd. is a subsidiary of Dezan Shira & Associates. Dezan Shira is a specialist foreign direct investment practice, providing corporate establishment, business advisory, tax advisory and compliance, accounting, payroll, due diligence and financial review services to multinationals investing in China, Hong Kong, India, Vietnam, Singapore and the rest of ASEAN. For further information, please email china@dezshira.com or visit www.dezshira.com.
Stay up to date with the latest business and investment trends in Asia by subscribing to our complimentary update service featuring news, commentary and regulatory insight.
 ‍
Selling, Sourcing and E-Commerce in China 2016 (First Edition)
This guide, produced in collaboration with the experts at Dezan Shira & Associates, provides a comprehensive analysis of all these aspects of commerce in China. It discusses how foreign companies can best go about sourcing products from China; how foreign retailers can set up operations on the ground to sell directly to the country's massive consumer class; and finally details how foreign enterprises can access China's lucrative yet ostensibly complex e-commerce market.
Importing and Exporting in China: a Guide for Trading Companies
In this issue of China Briefing, we discuss the latest import and export trends in China, and analyze the ways in which a foreign company in China can properly prepare for the import/export process. With import taxes and duties adding a significant cost burden, we explain how this system works in China, and highlight some of the tax incentives that the Chinese government has put in place to help stimulate trade.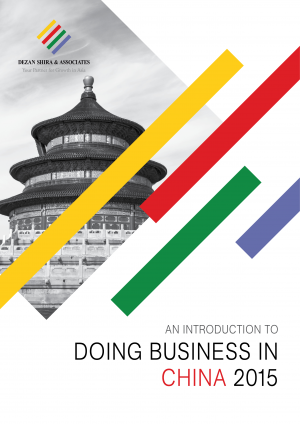 An Introduction to Doing Business in China 2015
Doing Business in China 2015 is designed to introduce the fundamentals of investing in China. Compiled by the professionals at Dezan Shira & Associates, this comprehensive guide is ideal not only for businesses looking to enter the Chinese market, but also for companies that already have a presence here and want to keep up-to-date with the most recent and relevant policy changes.