China's New NGO Law: Navigating the Restrictions and Application Procedures
By Dezan Shira & Associates
Editor: Jake Liddle
Since China's reform and opening up in the 80s, foreign NGOs have been instrumental in channeling capital, intelligence and expertise into the country's development and expansion. Over the years, this contribution has alternately been welcomed and looked upon with skepticism by the state. Now, with the recent ratification of the "Administrative Law on Activities of Overseas Non-government Organizations within the Territory of the People's Republic of China" – the first comprehensive guiding law for foreign NGOs – China's position on their activities is set to take a new and more restrictive form.
Promulgated on April 28 and due to come into effect on January 1, 2017, the new law places stringent constraints on the registration, operation and funding of foreign NGOs in the name of protecting national security. It is estimated that around 7000 foreign groups and organizations with existing operations in China will be affected, and that the incorporation process for new NGOs will be significantly more difficult.
Supervision
The most striking aspects of the law center around the supervision and penalties imposed on NGOs for perceived wrongdoing, and new registration procedures that they have to navigate. Foreign NGOs in China will be subject to the supervision of the Ministry of Public Security, indicating that they are increasingly coming to be perceived as a potential threat to the state. Local police units hold the right to take action, including issuing warnings, seizing illegal property and detaining liable individuals for up to 10 days. The law states that any of these actions can be taken under the following circumstances:
Conducting NGO activities without required registration or filing;
Conducting activities after the registration certificate has been cancelled, revoked or deregistered;
Holding activities after temporary activities are either banned or the registration period expires; and
Entrustment or funding of activities to an entity within China without registering the representative office or filing the temporary activities.
Registration, application and requirements
As with supervision, the application and registration of NGOs in China will now be governed by the Ministry of Public Security. The application process is notably lengthy, and will take months from start to finish. A foreign NGO must initially register their representative office in order to host activities in China, and must satisfy certain requirements in order to do so.
The law defines 'overseas NGOs' as non-profit-making and non-government social organizations such as foundations, social organizations and think-tanks that are duly incorporated overseas, and must have existed and operated for more than two years. They should be able to bear civil liability independently, with scope of business conducive to public interest. The following materials are required to file an application:
Filled out application form;
Credentials and materials that meet the above given requirements;
ID certificate, resume, proof or statement of non-criminal record of the chief representative;
Proof of domicile of the representative office;
Proof of source of funds;
Approval document of the competent administrative department concerned; and
Other documents and materials specified in the laws and administrative regulations.
Registration authorities will make an approval decision within 60 days of receiving the application. If the registration application is accepted, a registration certificate will be issued and registration information (name, domicile, scope of business, scope of activities, chief representative and administrative department concerned) will be made public.
A foreign NGO is responsible for applying for tax registration, engraving an administrative seal and opening an account with a domestic Chinese bank using the certificate. A photocopy of the tax registration certificate, seal specimen and bank account should then be submitted to the registration authority.
RELATED: Business Advisory Services from Dezan Shira & Associates
Allowed and prohibited industries
The law allows foreign NGOs to conduct activities in the fields of economy, education, science and technology, culture, health, sports and environmental protection, and may provide financial aid and disaster relief as long as it is in the public interest. They cannot, however, participate in activities that involve profit making, politics or religion. The law specifically states that foreign NGOs cannot harm national or ethnic unity, security, national or public interest, the rights or interests of citizens, or other organizations, but a definition of 'harm' is notably absent, creating ambiguity on its interpretation.
Restrictions and obligations
The law states that a foreign NGO is only allowed to carry out activities specified within its registered scope of business and in areas registered under the organization's name, and may not establish a branch office or recruit members within China, unless otherwise stated by the State Council.
By law, a foreign NGO representative office is required to submit an activity schedule by December 31 each year to the relevant administrative department, with information such as project implementation and fund distribution plans. A yearly work report must also be submitted to the relevant administrative department before January 31 each year. A finished report, affixed with the opinions issued by the administrative department, must then be submitted to the registration authorities before March 31 for annual inspection.
Funding may only be derived from a legal overseas source, from interest on bank deposits within China, or from other funds obtained legally within China. Other means, such as soliciting donations, are forbidden.
In addition to paying taxes, foreign NGOs must also comply with China's unified accounting system and are required to hire accounting personnel who are qualified in China's Accounting Standards (CAS). Statements produced in the accounting process are audited by a certified Chinese accounting firm.
Key takeaways
The NGO law is in keeping with President Xi Jinping's campaign to restrict opposition to the Chinese Communist party, reflected elsewhere in the intensification of internet censorship and the greater controls placed on the media. NGOs in China were previously afforded relative independence – largely as a result of an incomprehensive policy framework – but the new law furnishes Chinese authorities with greater power over foreign NGOs, and shifts administration of them from the Ministry of Civil Affairs to the Ministry of Public Security.
The law may be instrumental in expelling foreign NGOs from China, or even discouraging them from entering in the first place. A knock on effect could be the damage inflicted to Chinese domestic NGOs, which commonly receive support and funding from their foreign counterparts.

About Us
Asia Briefing Ltd. is a subsidiary of Dezan Shira & Associates. Dezan Shira is a specialist foreign direct investment practice, providing corporate establishment, business advisory, tax advisory and compliance, accounting, payroll, due diligence and financial review services to multinationals investing in China, Hong Kong, India, Vietnam, Singapore and the rest of ASEAN. For further information, please email china@dezshira.com or visit www.dezshira.com.
Stay up to date with the latest business and investment trends in Asia by subscribing to our complimentary update service featuring news, commentary and regulatory insight.
 ‍
Establishing & Operating a Business in China 2016
Establishing & Operating a Business in China 2016, produced in collaboration with the experts at Dezan Shira & Associates, explores the establishment procedures and related considerations of the Representative Office (RO), and two types of Limited Liability Companies: the Wholly Foreign-owned Enterprise (WFOE) and the Sino-foreign Joint Venture (JV). The guide also includes issues specific to Hong Kong and Singapore holding companies, and details how foreign investors can close a foreign-invested enterprise smoothly in China.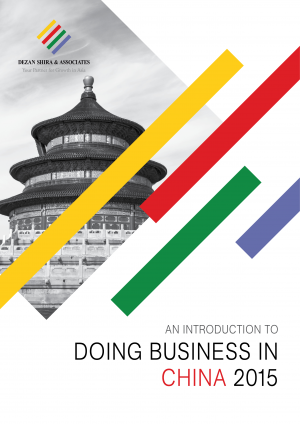 An Introduction to Doing Business in China 2015
Doing Business in China 2015 is designed to introduce the fundamentals of investing in China. Compiled by the professionals at Dezan Shira & Associates, this comprehensive guide is ideal not only for businesses looking to enter the Chinese market, but also for companies that already have a presence here and want to keep up-to-date with the most recent and relevant policy changes.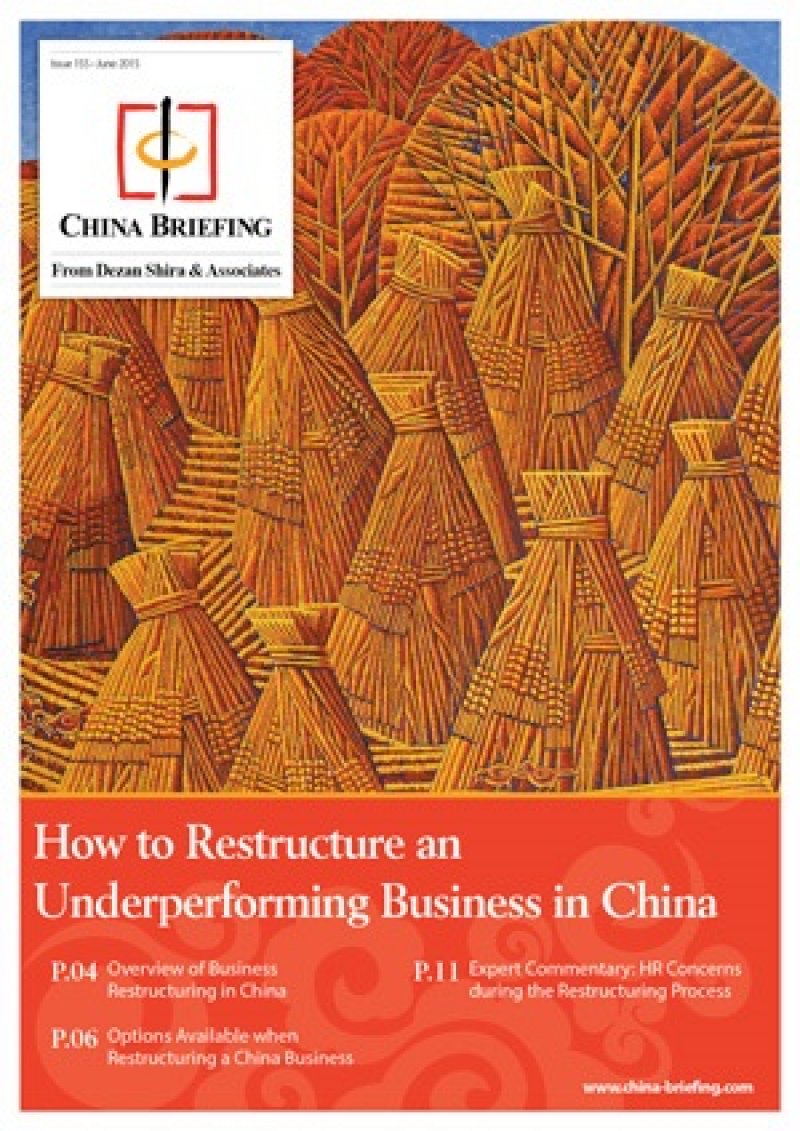 How to Restructure an Underperforming Business in China
In this issue of China Briefing magazine, we explore the options that are available to foreign firms looking to restructure or close their operations in China. We begin with an overview of what restructuring an unprofitable business in China might entail, and then take an in-depth look at the way in which a foreign company can go about the restructuring process. Finally, we highlight some of the key HR concerns associated with restructuring a China business.