China's Proposed New Silk Road Free Trade Area
Chinese President Xi Jinping has been busy in Central Asia, touring the region last year and including visits to Turkmenistan, Kazakhstan, Uzbekistan and Kyrgyzstan. He also proposed, in cooperation with leaders of the Shanghai Cooperation Organisation (SCO), the establishment of a new Silk Road that would encompass free trade throughout Central Asia.
The SCO is an official grouping that includes China, Kazakhstan, Kyrgyzstan, Russia, Tajikistan, and Uzbekistan, with Afghanistan, India, Iran, Mongolia and Pakistan as observer states; Belarus, Sri Lanka and Turkey as dialogue partners; and ASEAN, the Commonwealth of Independent States (CIS) and Turkmenistan as guests.
Xi is looking for both new markets and to leverage some economic clout over the region's vast oil and gas reserves, as well as hoping to minimize the potential for conflict that could spill over into China's Xinjiang Autonomous Region by raising local incomes and wealth throughout the region. He has stated that the proposed region contains "close to 3 billion people and represents the biggest market in the world with unparalleled potential."
The ultimate aim of the proposed Silk Road economic belt is to complete infrastructure linkages and then develop trading points all the way along this route and into Europe. Not since Genghis Khan took his warriors to the gates of Moscow has there been such a gigantic expansion westwards from Asia. Russia's official policy on Chinese expansion into its previously ruled territory may be rather more pragmatic than emotional, as Russians generally are. The Kremlin spin is that the Russian and Chinese economies are complementary – China's "sizable financial resources" match Russia's "technologies, industrial skills, and historical relations with the region" according to Russian President Vladimir Putin, represented in the region by Russia's membership in the CIS.
RELATED: The New Eurasian Economic Union – A China FTA in the Offing?
Accordingly, Xi's strategy makes sense. As the only power in Central Asia that can afford financial, military and mass-population support, China is poised to transform Central Asia from the backward days of the Soviet Union, while cementing peace via encouraging trade and helping to develop infrastructure in ways in which the Russians have lately appeared unable to do.
Additionally, with the region controlled by governments of similar minds to those of China's Communist Party leaders, the political dynamics match. This means that a China-Russia-Iran axis is likely to develop core interests in European markets, affecting the organization's political and trade relationships with governments and countries throughout the EU and beyond.
However, China's primary objective at this stage in developing the old Silk Road route is mainly to do with energy – the country is energy deficient and must import a great deal of its oil and gas, accordingly. Redeveloping trade routes across Central Asia would give China access to numerous deposits, and some of these are already transforming the economies of Central Asian nations.
RELATED: China-Russia Trade to Boom in 2015
Beyond the energy gambit, the route will also offer development potential for trade. That is also key to China, not least because it recognizes that keeping the peace in what can be a volatile region is essential. Urumqi is already Central Asia's wealthiest city, and that is partly to do with keeping the Uyghurs from pushing for too much autonomy.
Xi's proposed Silk Road economic belt would concentrate on free trade, connectivity and currency circulation (denominated in RMB). This was only made possible because border problems between Russia and its former Central Asian allies have now largely been solved. For example, the Commonwealth of Independent States allows visa-free access for its members. This lines up perfectly with China's push to develop its Far West in Xinjiang.
Beijing is already massively investing in new roads and bridges across the region via a wealth of separate projects. Linking these countries together then is a network of highways, railways, fiber optics and pipelines – with the added Chinese push for logistics centers, manufacturing hubs and, inevitably, new cities and towns. The New Silk Road is set to become a reality.
This article is taken from the new issue of China Briefing magazine "Understanding China's Free Trade and Double Tax Agreements". The issue identifies over 100 DTAs that China has with different countries and explores all its Free Trade Agreements, both those in force and under negotiation. It is essential reading for International CFO's, CEO's, Tax Experts and Financial Analysts looking at maximizing China profitability. It is downloadable now on a complimentary basis for this month only from the Asia Briefing bookstore.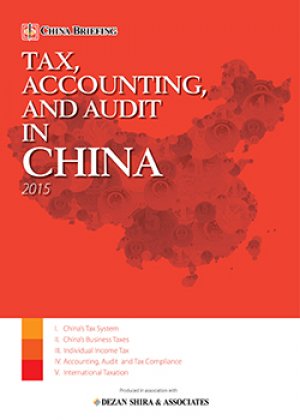 Tax, Accounting, and Audit in China 2015
This edition of Tax, Accounting, and Audit in China, updated for 2015, offers a comprehensive overview of the major taxes foreign investors are likely to encounter when establishing or operating a business in China, as well as other tax-relevant obligations. This concise, detailed, yet pragmatic guide is ideal for CFOs, compliance officers and heads of accounting who must navigate the complex tax and accounting landscape in China in order to effectively manage and strategically plan their China operations. 
Structuring the General Director Position during Crisis Time 
In this issue of Russia Briefing we focus on a true revolution that is occurring in Russia- the ongoing transformation of the role of General Director in Russia. We focus not only on the legal changes that have occurred, but also on the consequences for management and the new options available for structuring signature rights. Additionally, intercultural aspects are considered since the new structures may be difficult for employees to be comfortable with at first. Finally, the possibility of fully outsourcing the General Director role is explored. 
Sanctions Affecting International Business
This current issue of Russia Briefing gives you an overview of the regulations on U.S. and E.U. sanctions and also goes beyond this by trying to find out the potential effects they have and – most important for you – what to do in order to find out whether or not your business is affected by the sanctions.