Common Labor Issues Encountered During the Reduction of a Business's Operations
By Dezan Shira & Associates
Editor: Qian Zhou
Changing location
During a downturn in the Chinese economy, shifting operations to a less expensive location in order to reduce the impact on profits can be particularly attractive for foreign investors. Invariably, however, not all employees will be willing to be relocated, and problems often arise as a result. For example, an employee may show strong dissatisfaction by delaying relocation, or may request remuneration – sometimes of unreasonable amounts – to terminate a contract.
Can the company terminate the labor contract unilaterally if the employee refuses to move to the new workplace?
In this situation, the employer is able to terminate the labor contract unilaterally, but certain conditions must first be met.
Article 39(2) of the PRC Labor Contract Law, which stipulates that an employer is entitled to cancel a labor contract where an employee has committed a serious breach of company rules, offers the first possibility of unilateral termination. This is typically dependent on whether the employer has supplied an employee handbook which identifies the penalty for absenteeism, and whether the employee's behavior constitutes a serious breach of the rules contained in this handbook. Where the company provides countermeasures to minimize the inconvenience of a change of location for its employees – such as transportation, accommodation, catering and personal accident insurance – and the employee still refuses to accept the relocation, the court tends to consider continuous absenteeism as a serious breach of company rules. However, whether the countermeasures are sufficient and reasonable is still decided on a case-by-case basis. If the company successfully achieves unilateral termination by using this method, the employee is not entitled to any severance payment.
If there is no breach of company rules by the employee, Article 40(3) offers another possibility for the company. According to this Article, if 'significant changes' are made to an employee's labor contract, and an agreement cannot be reached on the changes made, the employer can terminate the contract by providing a written 30 day notice or by making an additional remuneration payment of one month's salary. Additionally, the employee is entitled to severance payment.
In judicial practice, employees facing termination often try using this Article as an argument to get more compensation. However, when an employer provides reasonable countermeasures to minimize the inconvenience of a location change, the court tends to view relocation as an insignificant change. For employers, fully preparing for the change of location is therefore critical in order to lower the risk of a hefty pay-out.
RELATED: Payroll and Human Resource Services
Reducing staff
Simply reducing staff is a more straight-forward method of minimizing company expenditure. However, the process for doing so in China is both complex and difficult. Here, we discuss the options available.
Termination upon expiration
When an employer considers terminating an employee's employment contract, the first question the employer should ask is whether the term of the employment contract is about to expire. If it is, the employer can choose to not renew the employee's contract for a second term. As stipulated by Article 46 (5) of the PRC Labor Contract Law, an employee whose fixed-term labor contract isn't renewed is entitled to a severance payment. Notably, following expiration of a second fixed-term contract, the employer is obliged to accept if an employee requests to sign a new open-ended employment contract. Under such a contract, the option of termination upon expiration is no longer available to the employer.
Early Termination
If a labor contract is not terminated upon expiration of the labor contract, it is classed as an early termination. Generally speaking, the best way to achieve early termination is through mutual agreement, which will safeguard against an arduous and costly labor dispute. If it is the company that proposes this, the employer generally provides additional remuneration to obtain the employee's consent.
Can a company achieve early termination by attributing "financial difficulty" as the "significant change"?
Unfortunately, financial difficulty is not considered sufficient to use Article 40(3) as a termination cause. If a company is experiencing financial difficulty and is no longer able to maintain its labor bill, the employer must find other causes to terminate its staff. Considering the nuanced and idiosyncratic nature of China's labor law, it's highly recommended that companies in this situation seek professional help to mitigate the risk of wrongful termination.
RELATED: Terminating an Employee in China (Part 1)
Other considerations
Certain groups of people are protected from early termination by labor law, even during a company downsizing. These include:
Employees suspected of having occupational diseases and awaiting diagnosis;
Employees completely or partially incapable of labor due to occupational disease or work injuries;
Employees who are pregnant or on maternity leave;
Employees who have worked continuously for the employer for more than 15 years and have five years left before retirement.
Where an employer looks to terminate 20 or more employees, or where the number of employees to be terminated make up 10 percent or more of overall staff, this is classified as a 'mass lay-off'. Under this circumstance, reducing staff is subject to the additional following procedures:
An employer is required to explain the situation to the labor union or to all staff 30 days in advance;
An employer must report the detailed mass layoff scheme to the labor administrative authorities.
Detailed downsizing procedures are stipulated in the provisions for "Reduction of Staff for Economic Reasons" (Lao Bu Fa [1994] No.447) and other local-level legal documents. If the procedures are not properly executed, the employer will not only be unable to perform the mass lay-off, but will also potentially receive a penalty from the labor administration bureau.
This article is an excerpt from the December issue of China Briefing Magazine, titled "Labor Dispute Management in China." In this issue of China Briefing, we discuss how best to manage HR disputes in China. We begin by highlighting how China's labor arbitration process – and its legal system in general – widely differs from the West, and then detail the labor disputes that foreign entities are likely to encounter when restructuring their China business. We conclude with a special feature from Business Advisory Manager Allan Xu, who explains the risks and procedures for terminating senior management in China.
Human Resources and Payroll in China 2015
This edition of Human Resources and Payroll in China, updated for 2015, provides a firm understanding of China's laws and regulations related to human resources and payroll management – essential information for foreign investors looking to establish or already running a foreign-invested entity in China, local managers, and HR professionals needing to explain complex points of China's labor policies.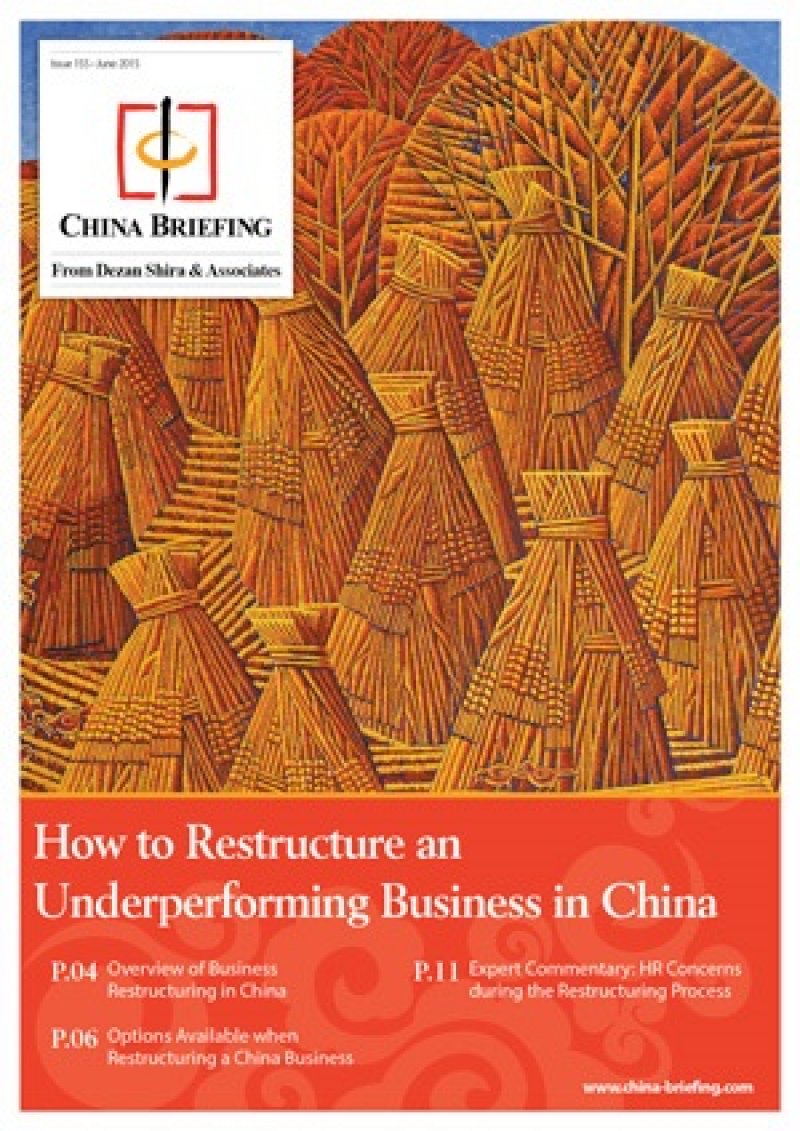 How to Restructure an Underperforming Business in China
In this issue of China Briefing magazine, we explore the options that are available to foreign firms looking to restructure or close their operations in China. We begin with an overview of what restructuring an unprofitable business in China might entail, and then take an in-depth look at the way in which a foreign company can go about the restructuring process. Finally, we highlight some of the key HR concerns associated with restructuring a China business.
Employing Foreign Nationals in China
In this issue of China Briefing, we have set out to produce a guide to employing foreign nationals in China, from the initial step of applying for work visas, to more advanced subjects such as determining IIT liability and optimizing employee income packages for tax efficiency. Lastly, recognizing that few foreigners immigrate to China on a permanent basis, we provide an overview of methods for remitting RMB abroad.