A Complete Guide to 2015 Minimum Wage Levels Across China
By Rainy Yao and Edoardo Rosettani
UPDATED: Please refer to our 2016 update of minimum wages across China.
China Briefing releases an update of minimum wage levels across the People's Republic of China every year, with the view of helping foreign investors understand the current state of the China market. Wages have an important bearing on production costs, and play a key role for foreign investors deciding  where to set up or expand operations. As we shall see, minimum wage trends are also indicative of the developments in China's consumer base.
Minimum wages in China are set at the local level and updated throughout the year. This is done to account for the different standards of living across the country. Local governments will take into consideration:
Minimum cost of living
Economic development and labor dynamics in the area
Average wages
Average consumer prices in the area
Social security and housing fund contributions paid by individual employees
In addition, the minimum wage should fall between 40 and 60 percent of the area's average monthly wage. The local government has to revise this at least once every two years. The figures published feature a monthly minimum wage for full-time employees, and an hourly minimum for part-time workers.
Minimum wages have risen rapidly over the past decade in China, averaging an approximate 13 percent increase every year. This is mainly due to the central government's decision to peg minimum wages to average wages. While the pace of wage increases has slowed down, rising labor costs have driven much of the lower-end manufacturing to countries with cheaper labor. India, Vietnam and Cambodia are all good examples.
RELATED: A Complete Guide to Minimum Wage Levels Across China 2014
Comparing this year's minimum wages to the previous year, the most striking changes are the monthly wage hikes in Shaanxi and Tibet (16 and 17 percent respectively) and the 22 percent raise of the hourly minimum wage in Guangzhou city.
Given the factors that the minimum wage is pegged to, minimum wage developments offer an interesting view on regional economic growth in China, often down to the city level. For example, it is interesting to note that in 2015, the minimum wage reached RMB 2,000 for the first time – in both Shanghai and Shenzhen. Also, where Shanghai (RMB 2020) traditionally led Chinese cities in minimum wage levels, Shenzhen (RMB 2030) overtook China's most populous city in 2015. This is a narrow margin, to be sure, but a telling sign nonetheless.

About Us
Asia Briefing Ltd. is a subsidiary of Dezan Shira & Associates. Dezan Shira is a specialist foreign direct investment practice, providing corporate establishment, business advisory, tax advisory and compliance, accounting, payroll, due diligence and financial review services to multinationals investing in China, Hong Kong, India, Vietnam, Singapore and the rest of ASEAN. For further information, please email china@dezshira.com or visit www.dezshira.com.
Stay up to date with the latest business and investment trends in Asia by subscribing to our complimentary update service featuring news, commentary and regulatory insight.
Human Resources and Payroll in China 2015
This edition of Human Resources and Payroll in China, updated for 2015, provides a firm understanding of China's laws and regulations related to human resources and payroll management – essential information for foreign investors looking to establish or already running a foreign-invested entity in China, local managers, and HR professionals needing to explain complex points of China's labor policies.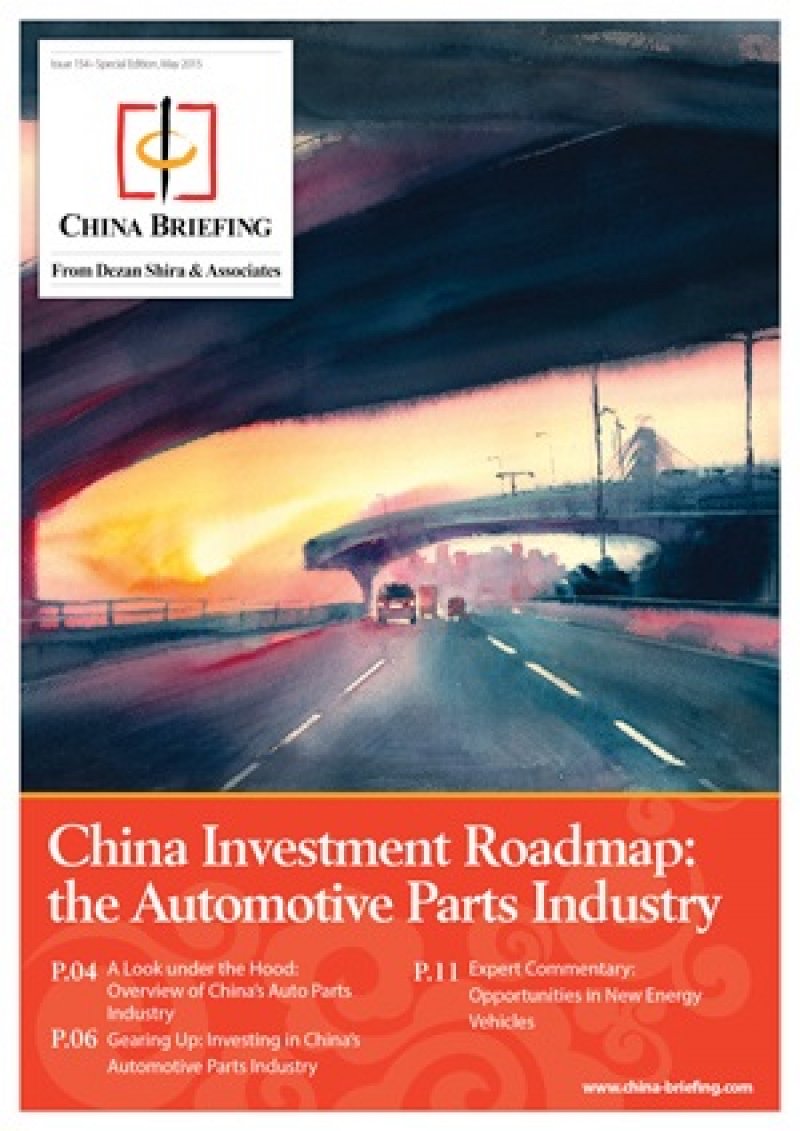 China Investment Roadmap: the Automotive Parts Industry
This issue of China Briefing presents a roadmap for investing in China's automotive industry. We begin by providing an overview of the industry, and then take a comprehensive look at key foreign investment considerations, including investment restrictions, tax incentives and manufacturing requirements. Finally, we discuss foreign investment opportunities in a part of the industry that receives substantial government support: new energy vehicles.
Employing Foreign Nationals in China
In this issue of China Briefing, we have set out to produce a guide to employing foreign nationals in China, from the initial step of applying for work visas, to more advanced subjects such as determining IIT liability and optimizing employee income packages for tax efficiency. Lastly, recognizing that few foreigners immigrate to China on a permanent basis, we provide an overview of methods for remitting RMB abroad.