Emerging Trends for Venture Capital Activities in China's Privatized Education
By Emerging Strategy
China has slowly started to encourage private investment in its education systems and services. Despite the presence of some larger scale, established educational service providers, on the whole (and especially in emerging sectoral hotspots such as Learning Management Systems) the industry remains somewhat fractured, with numerous competing start-ups and young enterprises battling for market share.
In such a business environment offering enormous upside financial benefits for first movers, 2015 saw a marked increase in venture capital (VC) investments in education service providers and ed-tech companies. While a pickup in capital flows to the industry is a trend that has been noticeable for the past several years, 2015 saw significant investment in Chinese K-12 education and ed-tech related services as watershed trends. The influx of VC funds into these areas, especially in emerging ed-tech niches such as gamification and mobile learning, represent significant opportunities that should be noted for the future.
The Rise of VC Interest in K-12 Learning and Chinese Ed-Tech
According to a study conducted by Emerging Strategy, up until the end of Q3 2015, 115 of 171 publically announced education sector VC deals were conducted in USD. While the dollar has long been the most commonly used currency by investors in the sector, the Chinese Yuan has displayed a continuing steady increase that is not only indicative of China's economic heft, but of the importance of the country as an emerging investment destination for ed-tech.
RELATED: Business Advisory Services from Dezan Shira & Associates
In 2015, VC deals in K-12 education captured not only the largest number of transactions (65, or roughly 30 percent of total transactions), but also accounted for the highest overall value of deals at 521 million USD. Other significant sectoral focuses were VC deals for companies targeting Workforce Education (WF – 18 percent), Higher Education (HE – 17 percent), and English Language Learning (ELL – 11 percent). Still lacking in significant inflows of VC capital are firms targeting the pre-K field, indicating perhaps new investment opportunities in the area in the coming years.
During this period, the two largest VC deals undertaken industry-wide were for Lynda.com and Langkoo, operating in WF and ELL, respectively. Both of these greatly accounted for the overall value of WF and ELL transactions. When these two large deals are excluded from the overall data, however, the average value per transaction within the K-12 education sphere can be seen as the highest among all sub-sectors, further highlighting the high prospects assigned it by VC firms.
Within K-12 deals, out of the 22 largest during this period, seven were for Chinese companies (executed both in USD and CNY). Notable deals include those for Gaosi Education Group – an education service provider offering both online and traditional bricks and mortar K-12 tutoring across the country – worth 63 million USD; and Beijing Zhenguanyu Tech, offering Yuantiku at a value of 60 million USD. The latter company represents an emerging trend in the education service and ed-tech industries; it uses mobile technology to match students and teachers for tutoring and test prep.
While still beat out slightly by traditional bricks and mortar education centers, Chinese ed-tech companies that utilize mobile technology for customizable and social educational experiences are growing exponentially. A prime example of the rise of mobile within ed-tech is Shanghai Qianwenwandaba Cloud Technology, which realized a 50 million USD investment and offers an app that allows students to take a picture of their homework and submit to the app's community for teacher or peer assistance. Along with mobile, another innovative growth area within ed-tech is gamification, or the use of computerized gaming, to create an immersive learning experience for students.
Looking Ahead
Satoko Okamoto, Director of Emerging Strategy in Shanghai, comments: "the continuing increase in VC investment in educational services and ed-tech in 2015 reflects not only a surge in investor enthusiasm for the industry, but reveals some important industry trends. These include investors' increasing attention towards K-12 education, the rise of China as an ed-tech hotspot, and increasing utilization of mobile technology to aid the learning process. We foresee not only a continuation of these trends in 2016, but a quickening of enthusiasm for Chinese ed-tech companies by foreign investors over the next five years, with an emphasis on mobile and social learning experiences."
About Emerging Strategy
Emerging Strategy is the leading provider of customized market intelligence in the education industry. Their work in this industry focuses on bringing cutting-edge content, technologies, language learning, skill training and assessments in front of institutional and retail customers. For more information on Emerging Strategy and our services, please contact us at info@emerging-strategy.com.
 ‍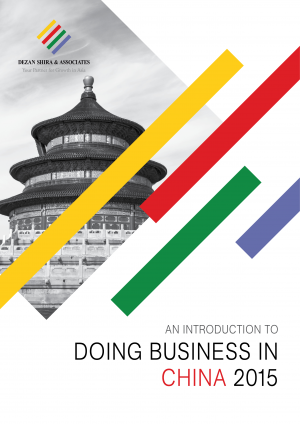 An Introduction to Doing Business in China 2015
Doing Business in China 2015 is designed to introduce the fundamentals of investing in China. Compiled by the professionals at Dezan Shira & Associates, this comprehensive guide is ideal not only for businesses looking to enter the Chinese market, but also for companies that already have a presence here and want to keep up-to-date with the most recent and relevant policy changes.
Establishing & Operating a Business in China 2016
Establishing & Operating a Business in China 2016, produced in collaboration with the experts at Dezan Shira & Associates, explores the establishment procedures and related considerations of the Representative Office (RO), and two types of Limited Liability Companies: the Wholly Foreign-owned Enterprise (WFOE) and the Sino-foreign Joint Venture (JV). The guide also includes issues specific to Hong Kong and Singapore holding companies, and details how foreign investors can close a foreign-invested enterprise smoothly in China.
Tax, Accounting, and Audit in China 2016
This edition of Tax, Accounting, and Audit in China, updated for 2016, offers a comprehensive overview of the major taxes that foreign investors are likely to encounter when establishing or operating a business in China, as well as other tax-relevant obligations. This concise, detailed, yet pragmatic guide is ideal for CFOs, compliance officers and heads of accounting who must navigate the complex tax and accounting landscape in China in order to effectively manage and strategically plan their China-based operations.