Free Baidu Tools That Can Help You Understand Your Chinese Target Audience: Part I – Baidu Zhishu (Index)
By Rebecca Li
KoMarketing Associates
For most small and medium sized foreign companies, digital marketing has opened a window to enter the China market with a relatively small budget. Gone are the days when extensive (and expensive) research data and analysis from a marketing agency was a necessary part of entering a new global market.
These days an online store can be created with low overhead, and businesses can get very precise insight on their Chinese target market using free tools available through the Baidu search engine.
In our previous article on Baidu, we mentioned three of their free tools: Baidu Zhishu (Index), Baidu Keywords Planner and Baidu Analytics. These three powerful tools are not limited to search engine marketing implementation; they can also be used to understand the market and target audience. This essential data can then inform an online strategy and allow marketers to craft the right messages to the right people.  
In this two-article series, we will provide an in-depth look at how to use each Baidu tool and the insights each one provides. In this post, we'll discuss Baidu Zhishu (Index). 
Baidu Zhishu (Index) 
Based on the behavioral data generated, Baidu Index (index.baidu.com) provides insight on the relative volume of searches for specific keywords on Baidu.
Baidu Index is fairly straightforward to use. Start by entering a search term in the query box – from there you'll get a wealth of relevant data. The results can then be mined for actionable insights: Historical & Forecasting Search Trend, Users Interests & Needs, Public Sentiment, Regional Interests, and Audience & Industry Traits.
Historical & Forecasting Search Trend  
Users can look at this function to find out how interest in a search term has changed over time. It shows historical changes and forecasting trends for specific keywords. The tool has several filtering options to help narrow the focus: 
By region: Defines your search by national, province, or even city/metro area, and offers localized data for specific trends.
Time frame: Provides a variety of predefined time frames (last seven days, last 30 days, 90 days, half year, and the entire search history of the search term).
By device: Returns the Index results by type of device used to perform the search. Options include mobile, desktop and total (mobile and desktop)
Other keywords: Compares up to five keywords and their trending data.
Comparison data: Gain insights on how search terms have changed with year over year and month over month search trends.
User Interests & Needs
This insight identifies Internet users' interests related to a specific search term. It can help companies better understand the concerns and/or needs of users and provides a clear picture of extended and related interests.  
The results are conveyed in a report format. The screenshot below displays customers' interest in the term "Amazon."
The left side (in blue) is the core term – "Amazon." The closer a dot is to the core term, the greater the level of customer interest/need. 
From this report, we know that Japanese Amazon is the term that consumers care about the most; followed by American Amazon, online bookstore, overseas, Germany, direct mail, coupon, Taiwan, etc. Gradually, user interest is decreasing.
Related Searches
Similar to Google Trend, Baidu Index provides the top 15 related search queries by their search popularity and top 15 related queries by rising rate. 
Using the same example, we find that the most popular related queries of "Amazon" are actually not directly relevant to the term, but rather other companies that offer similar services, like JingDong, Dangdang, Suning. This finding not only gives us the insights about consumers' interest on Amazon, but also helps define some main competitors in the same industry.
With this function of Baidu Index, foreign companies could get industry insights and consumer interests, even before they enter the China market or develop a localized marketing strategy.
Public Sentiment
This function gathers relevant news from news websites and Baidu Zhidao, a Q&A platform for consumers. The relevant news helps companies understand public attitudes and current updates on that specific brand, product, or industry. With Baidu Zhidao, companies can easily get a sense of consumers' concerns.
RELATED: Best Practices for Launching Your China Website
Regional Interests
This is a search index relative to geographic region. It offers the top 10 provinces that generate the most search for the term. By clicking on any region/province, we can review more details on the search index there.
A company with a limited budget can start marketing to a few key provinces and/or cities to gain a higher market penetration since this brand already has a high exposure or acceptance there. 
Audience Traits
This insight provides clear demographic data of audience, including ages and gender. With this, you can better define a target audience and guide a more customized marketing strategy.
Typically, companies look to the Baidu index for information like the health of an existing brand or changes to its customers' interests. However, foreign companies should not overlook the potential use of Baidu Index to gain insights on local consumer behavior. This data can be even more valuable than surveys or focus groups because it is not influenced in any way.  
Baidu Index is only one way to gain continuing insight into customers and their behaviors. In our next article, we will discuss two other free Baidu tools: Baidu Keyword Planner and Baidu Analytics.
Rebecca Li is a digital marketing strategist for KoMarketing Associates – specializing in Pay-Per-Click (PPC) campaign management with Google Adwords and Baidu Ads. Being fluent in English, Mandarin and Cantonese, she helps U.S. clients manage international digital marketing campaigns.

About Us
Asia Briefing Ltd. is a subsidiary of Dezan Shira & Associates. Dezan Shira is a specialist foreign direct investment practice, providing corporate establishment, business advisory, tax advisory and compliance, accounting, payroll, due diligence and financial review services to multinationals investing in China, Hong Kong, India, Vietnam, Singapore and the rest of ASEAN. For further information, please email china@dezshira.com or visit www.dezshira.com.
Stay up to date with the latest business and investment trends in Asia by subscribing to our complimentary update service featuring news, commentary and regulatory insight.
 ‍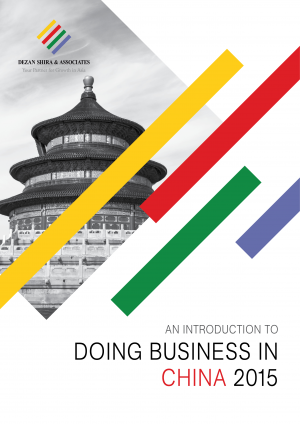 An Introduction to Doing Business in China 2015
Doing Business in China 2015 is designed to introduce the fundamentals of investing in China. Compiled by the professionals at Dezan Shira & Associates, this comprehensive guide is ideal not only for businesses looking to enter the Chinese market, but also for companies that already have a presence here and want to keep up-to-date with the most recent and relevant policy changes.
Importing and Exporting in China: a Guide for Trading Companies
In this issue of China Briefing, we discuss the latest import and export trends in China, and analyze the ways in which a foreign company in China can properly prepare for the import/export process. With import taxes and duties adding a significant cost burden, we explain how this system works in China, and highlight some of the tax incentives that the Chinese government has put in place to help stimulate trade.
E-Commerce in China
In this issue of China Briefing Magazine, we cover the current laws pertinent to the e-commerce industry in China, as well as introduce the steps involved in setting up an online shop in the country in order to help provide foreign investors with an overview of the e-commerce landscape in China.