10 Things Businesses Need to Know When Setting Up a Company in China and the UK: Episode 1
UK businesses need to access China's consumer market and China's financial industry needs British wealth management expertise. Our new series examines mutual investments from both the British and Chinese perspectives, with Part One concerned with Holding Company structures.

Despite the political rhetoric, British investment interest in China remains strong, with corporate needs to access a high growth consumer market of what is expected to be a 1 billion middle-class consumer base by 2030 – an overriding sentiment – as European economies look set for a possible recession. Likewise, the UK is an attractive market for Chinese businesses looking to partner with British financial services capabilities, with these both important as Beijing and Hong Kong look to develop their various cross-border wealth connect schemes, offering international wealth management access to the mainland's estimated US$3 trillion in privately held assets.
This series concentrates on the UK-China business angle. Every week, we will add a new video that answers some of the most frequently asked questions about setting up a company in China and the UK. Each video answers the same issues from both the China and UK perspectives.
Key insights will be provided by, Maria Kotova, Head of UK Business Development and China market entry director at Dezan Shira & Associates, and Lisa Gui, Assistant Manager at HW Fisher.
If you have any questions about doing business in China or the UK, reach us at UK.Ireland@dezshira.com
In the first video, Maria Kotova and Lisa Gui explain how to define the holding structure in China and the UK with regards to the tax and legal implications.
See Also:
BRITAIN AND CHINA'S COMPETITION FOR ASIAN TRADE AND INVESTMENT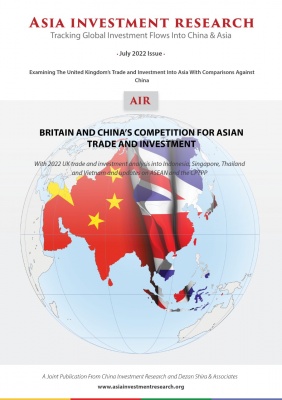 The latest issue of AIR is a unique study into the trade and investment statistics and policies that China and the United Kingdom have chosen to adopt when it comes to their Asia policy. Complimentary download.
About Us
China Briefing is written and produced by Dezan Shira & Associates. The practice assists foreign investors into China and has done so since 1992 through offices in Beijing, Tianjin, Dalian, Qingdao, Shanghai, Hangzhou, Ningbo, Suzhou, Guangzhou, Dongguan, Zhongshan, Shenzhen, and Hong Kong. Please contact the firm for assistance in China at china@dezshira.com.
Dezan Shira & Associates has offices in Vietnam, Indonesia, Singapore, United States, Germany, Italy, India, and Russia, in addition to our trade research facilities along the Belt & Road Initiative. We also have partner firms assisting foreign investors in The Philippines, Malaysia, Thailand, Bangladesh.