Investing in China's Heavy Lift Helicopter Market
By Roy K. McCall
The US$7.5 billion global civil helicopter market has been split four ways between North America, South America, Europe (including Russia), and Asia-Middle East-Africa – each with about a quarter of demand. Over the next 30 years, China is about to break out of the muddle and become the biggest helicopter market in the world.
The most popular categories are the light single engine and single to double engine intermediate weight helicopters. Italy's Finmeccanica subsidiary AgustaWestland, Airbus, and Textron subsidiary Bell are dominant suppliers in this light to intermediate category.
Boeing, Sikorsky and Moscow-based Russian Helicopters have historically dominated the heavy lift helicopter market – primarily for military transport. Boeing's CH-47 Chinook (Model 414 is the international export version of the CH-47D) has been flying for over fifty years and set the standard for weight and height (not speed). Now Sikorsky has developed a super heavy model CH-53E Super Stallion for the Marines which can lift 85,000 lbs. and fly 150 k/hr.
Why isn't China in the market for heavy helicopter standard-bearer, CH-47/Model-414 or a civilian version of the CH-53? It's simply because China seeks to internalize best in class technology from around the world and develop products internally. Therefore, it was no surprise that China was actively promoting its own helicopters during the September Tianjin helicopter fare. Therefore the likely starting point for any firm interested in entering the market will be AVIC Sichuan Chengfa Aero Science & Technology Co., Ltd.
Enter the Avicopter AHL (Advanced Heavy Lifter). The AHL was designed to speed at 250 knots per hr., and lift 38 MT (84,000 lbs) to 5,700 meters (close to 18,000 ft.) – almost twice the lift rating of the CH-47F. It uses a seven-blade rotor with air-gripping shoveled tips.
Heavy helicopters have a special use in China. Sparsely populated Tibet is the highest region on earth, with an average elevation of 4,900 meters (16,000 ft). Only heavy lift helicopters can navigate Tibet's rigors. Tibet sees a million tourists a year and tourism forms an important part of its GDP. Remote search and rescue will be a side application of heavy lift helicopters in China.
Historically, the oil & gas industry has been the main driver of heavy helicopters. China has plenty of explorations interest, both in the Tarim Basin and the rich underwater deposits requiring rig supplies off its coast.  
Foreign investors may find China market opportunities in developing China's subsidiary needs such as engines, flight controls and telemetry. Over the next few years it's a projected US$3 billion opportunity for those interested.
Roy K. McCall CFA has provided strategic advice to aerospace firms.  Roy earned a BA in economics from Davidson College 1978, and an MBA from Harvard in 1984.

About Us
Asia Briefing Ltd. is a subsidiary of Dezan Shira & Associates. Dezan Shira is a specialist foreign direct investment practice, providing corporate establishment, business advisory, tax advisory and compliance, accounting, payroll, due diligence and financial review services to multinationals investing in China, Hong Kong, India, Vietnam, Singapore and the rest of ASEAN. For further information, please email china@dezshira.com or visit www.dezshira.com.
Stay up to date with the latest business and investment trends in Asia by subscribing to our complimentary update service featuring news, commentary and regulatory insight.
 ‍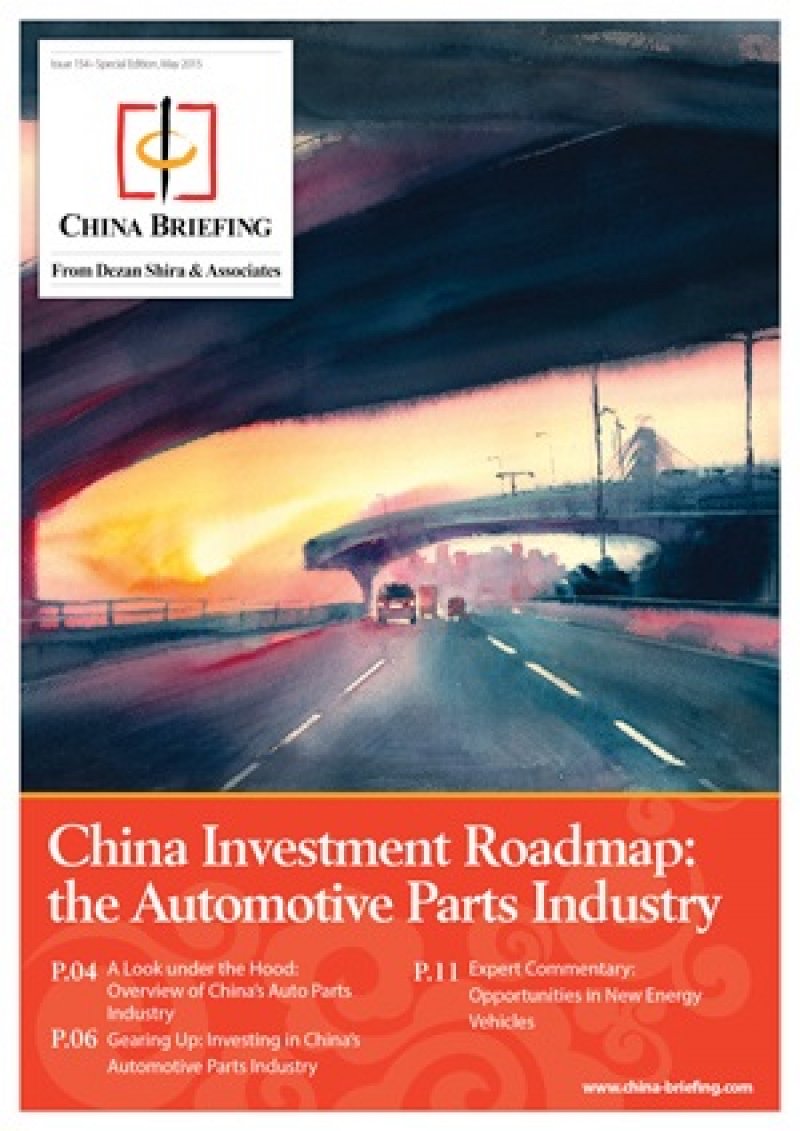 China Investment Roadmap: the Automotive Parts Industry
This issue of China Briefing presents a roadmap for investing in China's automotive industry. We begin by providing an overview of the industry, and then take a comprehensive look at key foreign investment considerations, including investment restrictions, tax incentives and manufacturing requirements. Finally, we discuss foreign investment opportunities in a part of the industry that receives substantial government support: new energy vehicles.
Importing and Exporting in China: a Guide for Trading Companies
In this issue of China Briefing, we discuss the latest import and export trends in China, and analyze the ways in which a foreign company in China can properly prepare for the import/export process. With import taxes and duties adding a significant cost burden, we explain how this system works in China, and highlight some of the tax incentives that the Chinese government has put in place to help stimulate trade.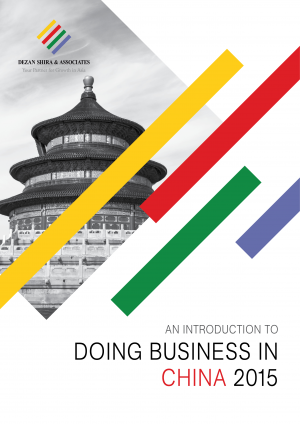 An Introduction to Doing Business in China 2015
Doing Business in China 2015 is designed to introduce the fundamentals of investing in China. Compiled by the professionals at Dezan Shira & Associates, this comprehensive guide is ideal not only for businesses looking to enter the Chinese market, but also for companies that already have a presence here and want to keep up-to-date with the most recent and relevant policy changes.