Is Nokia's China Kingdom Crashing?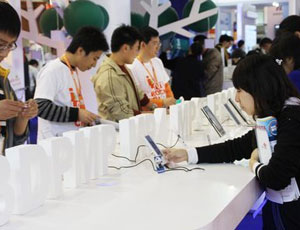 By Vivian Ni
Aug. 17 – Nokia, the Finnish multinational cell phone maker, may be losing its most solid stronghold – China. Faced with competition from other smartphone producers such as Apple and Samsung, Nokia's sales in China are plummeting and local distributors are refusing to buy more of their handsets.
Nokia's second-quarter financial report shows its sales performance in China during this period is worse than anywhere else in the world. Distribution dropped an astonishing 52 percent compared to the first quarter of the year, and 41 percent from a year earlier – a sharper decrease than the record of 30 percent it saw in Europe. The company's disappointing Q2 China report has largely contributed to the 20 percent shrinkage in its global sales.
It is almost surprising to see the mobile giant start losing its luster in China, as it was only two years ago that the company maintained an impressive sales record in China. While the global economy was still in gloom during the first three quarters of 2009 and Nokia's global sales declined by 20 percent from a year earlier, its sales in China still surged by some 38.7 percent, according to a report in China's Caixin Century Magazine (CCM).
Loss in market share is also taking away Nokia's say in its relationship with distributors. While in the past Nokia has always appeared to be the rule maker, distributors are now refusing to increase their Nokia phone stock.
In its Q2 interim report, the company blamed over-sufficient inventories during the first quarter as the major culprit behind the second quarter's sales drop.
"At the end of the first quarter 2011, our sales channel inventories were slightly above normal levels given then anticipated volumes. During the second quarter 2011, distributors and operators purchased fewer of our devices across our portfolio as they reduced their inventories of Nokia devices," the report said.
The statement indicates distributors may still have plenty of stocks available that were purchased during the first quarter, meaning consumer demand is marching downwards. The CCM report cited a Nokia insider describing the first quarter as a time when "there were hardly any Nokia distributors making profit and some of them suffered (RMB) millions in losses."
Nokia used be the most recognized cell phone brand in China, and even in the whole of Asia, when 2G phones dominated the market. The diversity in their product lines offers distinct consumer groups various choices, which range between low-end phones priced only hundreds of RMB and high-end products that could cost thousands.
However, diversity did not turn out to be an advantage strong enough to beat the competition from smartphones, which heavily rely on the software platform and internet. Nokia's own Q2 financials acknowledged the fact that a decline in the company's total devices and services volumes were driven by declines in both smart devices and mobile volume, but the decline in smart devices volume takes up a greater percentage.
Nokia also announced in February this year that it is going to switch its smartphone platform to Windows Phone 7 (WP7) from Symbian, the operating system that is growing less competitive and saw a salient 12.6 percent drop in its Chinese market share last year, according to statistics released in a research report on China's mobile phone market published by iMedia Research.
Whether or not Nokia's new decision is going to help the company reverse its downward trend in China remains unknown. The market share of Windows Mobile – the predecessor of WP7 – was only moderate, lingering between 5.7 percent and 7.1 percent. Furthermore, there is still no clear schedule confirming when WP7 will land in the country, due to various time-consuming approval issues. In contrast, the Google-developed Android system has seen rapid growth, taking up 14.3 percent of market share by 2010 compared to the 0.3 percent it had back in 2008. A number of major smartphone producers – including Motorola, Samsung and HTC – have switched to the Android system, and could all turn into strong competitors that eat away at Nokia's smartphone sales size.
The recent marriage between Google and Motorola Mobility will likely increase the Android system's competitiveness by reducing the system's fragmentation and allowing the software provider (Google) to realize customization on its own-produced hardware, commentaries say.
In addition to Android phones, iPhone is obviously another imposing threat on Nokia's high-end products. iOS' market share jumped by an impressive 10 percent over the past four years, even though Apple only sells costly high-end phones that merely take up 3 percent of the whole Chinese smartphone market. The deal Apple inked with one of China's three top mobile operators Unicom back in 2009 has greatly facilitated iPhone's sales. Nowadays, Chinese consumers waiting in long lines for the newest iPhone has become a regular occurrence, and it is not surprising to IT experts that another two Chinese major mobile operators – China Mobile and China Telecom – are chasing Apple for cooperation deals.
Nokia's declining performance has made its stock prices plummet by 45 percent – to a price low enough to attract acquirers – since the beginning of the year. Google's recent acquisition of Motorola Mobility has strengthened the speculation that Nokia may also be bought up by an internet company such as Microsoft, and investors seem to be happy about such speculation. Nokia's stock prices marched up by 17 percent on August 15, the same day Google officially announced its acquisition.
Related Reading
Best Buy's Withdrawal: American Morals Fail to Transcend Chinese Consumer Market
Unilever Case Demonstrates China's Consumer Politicization
Apple's China Revenue Surpasses Lenovo
Sony Ericsson and China Mobile to Cooperate on 4G Phones