Labor Dispute Management in China – New Issue of China Briefing Magazine
The latest issue of China Briefing Magazine, titled "Labor Dispute Management in China", is out now and available to subscribers as a complimentary download in the Asia Briefing Bookstore through the month of November. 
Contents:
The Unique Characteristics of Chinese Labor Arbitration
Common Labor Issues Encountered During an FIE Restructuring
Special Feature: Firing Senior Management in China
During the past five years, China has experienced a marked increase in labor dispute cases. This increase coincides with the beginning of the slowdown in the Chinese economy and with the country's surging average income amounts, which continue to rise every year.
These two occurrences, both separately and in conjunction with one another, have been the cause of many foreign invested enterprises (FIEs) choosing to rethink their China strategy. In the past year, Dezan Shira & Associates have serviced numerous clients looking to restructure their China operations for precisely these reasons. Two important aspects of this process, which can exponentially add to the cost of a restructuring if not conducted correctly, are HR disputes and the labor arbitration proceedings that can arise from them.
In this issue of China Briefing, we discuss how best to manage HR disputes in China. We begin by highlighting how China's labor arbitration process – and its legal system in general – widely differs from the West, and then detail the labor disputes that foreign entities are likely to encounter when restructuring their China business. We conclude with a special feature from Business Advisory Manager Allan Xu, who explains the risks and procedures for terminating senior management in China.
As we enter a new year, making informed HR decisions to protect your China business's bottom line will be critical. With our extensive experience in labor dispute management in China, we at Dezan Shira & Associates can work with interested parties to ensure that such changes don't turn into costly labor arbitration cases.

About Us
Asia Briefing Ltd. is a subsidiary of Dezan Shira & Associates. Dezan Shira is a specialist foreign direct investment practice, providing corporate establishment, business advisory, tax advisory and compliance, accounting, payroll, due diligence and financial review services to multinationals investing in China, Hong Kong, India, Vietnam, Singapore and the rest of ASEAN. For further information, please email china@dezshira.com or visit www.dezshira.com.
Stay up to date with the latest business and investment trends in Asia by subscribing to our complimentary update service featuring news, commentary and regulatory insight.
 ‍
Human Resources and Payroll in China 2015
This edition of Human Resources and Payroll in China, updated for 2015, provides a firm understanding of China's laws and regulations related to human resources and payroll management – essential information for foreign investors looking to establish or already running a foreign-invested entity in China, local managers, and HR professionals needing to explain complex points of China's labor policies.
Employing Foreign Nationals in China
In this issue of China Briefing, we have set out to produce a guide to employing foreign nationals in China, from the initial step of applying for work visas, to more advanced subjects such as determining IIT liability and optimizing employee income packages for tax efficiency. Lastly, recognizing that few foreigners immigrate to China on a permanent basis, we provide an overview of methods for remitting RMB abroad.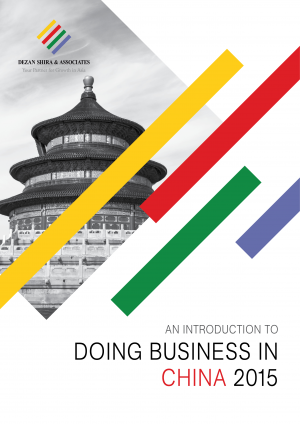 An Introduction to Doing Business in China 2015
Doing Business in China 2015 is designed to introduce the fundamentals of investing in China. Compiled by the professionals at Dezan Shira & Associates, this comprehensive guide is ideal not only for businesses looking to enter the Chinese market, but also for companies that already have a presence here and want to keep up-to-date with the most recent and relevant policy changes.